The Lexus LFA feels old. It may have only gone into production in 2010, but it was on the concept car circuit for five years before that. That's an eternity.
And that was the start of a trend. Now, automakers are milking their concept cars for all they're worth and have taken the same ones around the auto show block quite a few times. It's getting boring.
Part of the whole auto show experience is looking at the new and exciting concept cars that are only sometimes grounded in reality but show off some "Holy crap, what is that?" new technology that is just cool to talk about.
This year's LA Auto Show is decidedly lacking in any of that. In fact, a few of the concepts we're seeing have been seen ad nauseum over the last few years. Sure, they may have been given a new set of wheels, new stripes or paint colors and may have slightly altered bodies – but you can't call them new, even if they were new and exciting when they were first announced. Where's the innovation? Where's the creativity?
Here are some of the ones we saw and thought, "This again?"
---
G/O Media may get a commission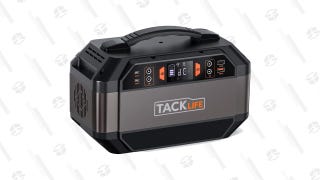 Tacklife Portable Solar Generator
Acura NSX Concept
It's still a nice piece of design and it is going to be built, but everyone's seen the NSX. If not at its Detroit debut, then at Geneva. Or New York. Or Paris. Or during the Super Bowl when Jerry Seinfeld wanted to buy the first one and there was so much interest it crashed the Acura website.
Other than adding Hybrid badges to it, though, there wasn't much to spark interest in the NSX concept on the Acura stand in Los Angeles. With production still some years off, maybe it'll get a new paint job before it hits the circuit again.
---
BMW i3 Coupe Concept
BMW made a big deal about making the tall i3 a Coupe for Los Angeles, as well as throwing a copper shade of paint that's somewhat striking, but this is basically the same vehicle that made the rounds at auto shows in late 2011.
Clearly, BMW wants us to still be interested in the car when it does go on sale, which is supposed to be 2014-ish.
---
BMW i8 Concept
As for the i8, well that's been on the circuit since as long as the i3, and has received even fewer changes. And it goes back further than that, since it's an offshoot of the Concept Vision Efficient Dynamics that first appeared in 2009. That's nearing LFA levels of conceptualtivitiveness.
It really doesn't look any different, even if it's a futuristic-looking sports car. BMW insists it's still going into production "soon," but I guess everyone has a different definition of soon.
---
Chevrolet Code 130R and Tru 140S Concepts
Back at Detroit in January, former Jalopnik editor Ray Wert got angry over these coupe concepts aimed to young people. As a young person, I hate that kind of pandering. The worst thing for me about the 130R is that it looks like a carbon copy of a BMW 1-series Coupe. A little rear-wheel drive Chevy is a great idea, as long as it looks like a Chevy. That didn't happen in LA, but they did paint it gray.
As for its sibling 140S, they painted it yellow and that's pretty much it. It still looks like a Mitsubishi Eclipse. And that car's dead. And it's front-wheel drive, so it's like a more bubbly Scion tC. Pass.
---
Honda EV-Ster
I think it's a neat-looking little roadster that reminds me of the cool '90s Japan-only Honda Beat. We knew back when it debuted at last year's Tokyo Motor Show it wasn't destined for production because it was far too cool and interesting for Honda to sell to the public.
But it's not really that cool to be still be making the auto show rounds, especially if no one will ever own one. Maybe that's changing. But probably not.