It seems like every pickup truck has some sort of gimmick these days. The GMC Sierra has the six-way tailgate, the Honda Ridgeline has a cubby in the bed floor, the F-150 has stowable loading ramps, etc. But the new Volkswagan Atlas Tanoak concept, revealed at the New York Auto Show today, has a cool feature unique to trucks that's been on European sedans forever.

01:08
Danny DeVito Explains Old-School Car Customizing to His Daughter Lucy
2 hours ago
Once you get over the giant overhanging lightbar halfway down the Tanoak's bed, you notice the briefcase-sized cutout that connects into the cabin. As I clawed my way around the Tanoak on the VW stand, I was evidently the first person to ask to open the dampened tailgate. This seemed to really excite the VW representative who, I assume, had been waiting to talk about truck beds, possibly for months.
If you've ever owned a sedan that included a ski-door in the backseat, you'll know it could open up just enough to stick a pair of skis or a snowboard through the trunk and into the cabin. Volkswagen has taken that idea and applied to their truck.

That little square opens up so that you can pull through any particularly long wood planks you're hauling, or to use as a gateway for your adorable dog(s) or other domesticated animals, folding down into the bed floor, according to two German designers I spoke with. (I did not, alas, get a chance to test it.)
G/O Media may get a commission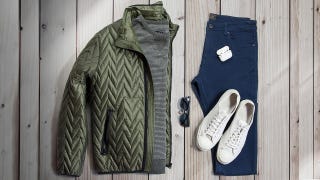 60% off
Jachs NY Fall Sale 60% Off
What's odd is that VW didn't bother to include an opening rear window on the Tanoak concept, which most trucks have and which most people already use as a gateway for their extra-long hauling, but it may just be because it's a concept.

The rest of the truck is a solid design, with cool, dramatic, futuristic lines, a lot of lights, and the interior features a dual screen infotainment system, mood lighting and nice leather seats, which I'm not sure would take a load of wood planks coming in from the bed very well.
Still—I really like this idea, and it's just another thing that seems obvious but is only just now making its way into a truck, at least in concept for.
This is a cool gimmick, especially coupled with the light bar that's designed to hideaway in the body over the rear window until you need it to mount longer loads on the roof. Neat.