We knew Chevrolet was turning the Colorado pickup truck into some kind of military test bed, but I was not expecting the thing to look straight out of Call of Duty: Infinite Warfare. Forget a Raptor rival, GM has gone totally Hollywood and I kind of love it.
Let's get this out of the way first– the Colorado ZH2 is technically "real" (though these media shots look a lot like illustrations) but you will not be running in fear while these things roam the streets any time soon.
Don't let it be your excuse for enlisting either: I wouldn't count on satellite radio or Recaro seats making it onto the battlefield.
The ZH2 was born out of the U.S. Army's desire to test the viability of hydrogen as a fuel for ground vehicles. But I can assure you it only got that Hollywood body kit out of Chevrolet's desire to have some cool pictures for a press release.

G/O Media may get a commission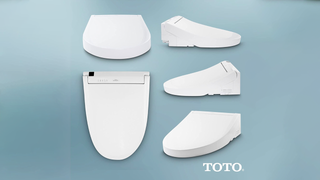 44% off
Toto Washlet Electronic Bidet Toilet Seat
Not that I'm complaining, I'll never knock an opportunity for a car designer to get let off the leash a little.
But at least it sounds like the ZH2 will get a little further off the car show carpet than the last ZR2 concept did; the Army actually is taking this thing out to their enormous sand boxes to see how hydrogen holds up in the kinds of hell that soldiers call their office over the next year.
GM reports that they worked directly with the U.S. Army Tank Automotive Research, Development and Engineering Center to take the Colorado ZH2 "from contract to concept in less than a year."

You probably recognize the crew cab from the civilian Colorado as introduced in 2015, but the chassis has been stretched and body ended up at over 6.5 feet tall and 7 feet wide.
Oh, and don't worry, it has red tow hooks. Did I mention the red tow hooks? You're not a real off-roader with that shit, hoss.
There's obviously some kind of lift underneath to fit those 37-inch BF Goodrich M/T tires, but the most significant mechanical difference between this beast and the Colorado you bought last year would be the drivetrain–it's basically an electric drive motor powered by a hydrogen-burning generator. It can also apparently make water or export power as needed in the field.

The military's interested in the technology because it's quiet, runs cool, has electric drive's advantage of high torque at low speed, and could end up being a lot more efficient than the Duramax diesel engines motivating the Oshkosh JLTV—the U.S. military's recently-named "Hummer" replacement.

GM reports that the ZH2 is scheduled to finish calibration at its Milford Proving Ground in early 2017, and will be handed off to the Army shortly after that for a year of field testing.
GM will benefit from the Army's experiments whether or not the company ends up winning a bigger contract to send something like this into combat, just in terms of the big field-test data dump they'll have after that year in Army evaluation. Having the showpiece to trot out isn't a bad bonus, either.
Meanwhile, maybe somebody at SEMA had better start figuring out how to make this body kit for the rest of us.