The "Washington DC" 24 Hours of LeMons race (held at Summit Point Motorsports Park in West Virginia) took place a couple of weeks back, and it was one of the all-time best!
First of all, a huge German luxury car took the overall win, then a Subaru-engined East German car won the Index of Effluency, we had our first-ever supercharged GM 3800 and the first-ever BMW V12-powered Ford Thunderbird... and after that we enjoyed a machine-gun-versus-Chrysler-Sebring Second Amendment Extravaganza. Gotta love West Virginia's lax full-automatic-weapons policies (and the cheapness of used Sebrings).

Next weekend, get ready for the B.F.E. Grand Prix in Colorado; I was AWOL at the last couple races— something about getting married— but the LeMons Supreme Court will be in full arbitrary-justice effect at High Plains Raceway.

Not enough LeMons action for you? Check out the top lemons of past races: Altamont '07 • Arse Freeze '07 • Altamont '08 • Ohio '08 • New England '08 • South '08 • Texas '08 • Arse Freeze '08 • Texas Spring '09 • South Spring '09 • Reno '09 • New Orleans '09 • New England '09 • Buttonwillow '09 • South Fall '09 • Ohio '09 • Texas Fall '09 • Arse Freeze '09 • Phoenix '10 • South Winter '10 • Texas Winter '10 • Sears Point '10 • Detroit '10 • New Orleans '10 • Goin' For Broken '10 • South Spring '10 • Dallas Summer '10
Photographs by Nick Pon, Team Big Red, and FinalGear.
Disclosure: Murilee Martin gets crazy baksheesh for his work on the 24 Hours of LeMons Supreme Court
G/O Media may get a commission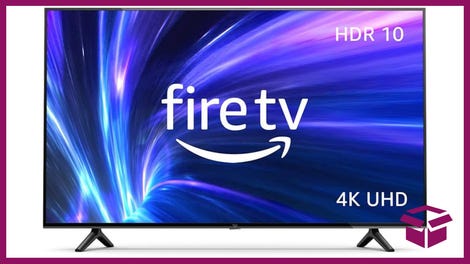 42% Off
Amazon Fire TV 50" 4K Smart TV
1. Sgt Schultz Zwei, Mercedes-Benz S500
Winner on laps


2. Duct Tape Motorsports, BMW 318iS
Winner, Class Good


3. Tiger's First PGA (Probably Gettin' Arse) Racing, Mercury Cougar XR7
Winner, Class Bad
Winner, Least Horrible Yank Tank


4. Team Paisley, Subaru Impreza


5. Mod Squad Racing, Toyota MR2


6. Team Pro-Crash-Duh-Nation, Alfa Romeo Milano


7. Near-Orbital Space Monkeys, BMW 528e


8. The Volvo ElCowMino, Volvo 240
Winner, Grassroots Motorsports Most From The Least award


9. Government Motors Racing, Mazda 626


10. Deconstruction, BMW 318


11. Dai Mondai II, Toyota Corolla


12. Booby Prize Racing, Nissan 200SX


13. FASTish & The FURRiest, Volvo 240


14. Keystone Kops, Volvo 240


15. The B Team, Ford Escort LX


16. Nemesis Ridiculi, Nissan 240SX


17. Track Pillagerz!, Buick Le Sabre


18. Cow Patch Kidz, Audi 80


19. World Class Motorsports Livers, Geo Storm


20. The Bridesmaids, BMW 535i
Winner, Big Tool award


21. Ricky Bobby/Laughing Clown Malt Liquor, Ford Thunderbird Turbo Coupe


22. Greenhouse Gassholes, BMW 325e


23. Rusty Bolt Racing, Porsche 944


24. Track Daze of Thunder, Volkswagen GTI


25. Fissure Brothers Racing, Toyota Celica


26. No Whammies, Honda CRX


27. Ghetto Motorsports, Eastern Chapter, Chevrolet Malibu


28. Team Cardorks, Acura Integra


29. Shallow Pockets Racing, Volkswagen Golf


30. Team Margaritaville, BMW 325


31. Schumacher Taxi Service - Revenge of the CoROLLa, Toyota Corolla FX-16


32. Big Red, Geo Metro Convertible
Winner, Class Ugly


33. Elmo's Revenge, Saturn SL2


34. Gasholes, Ford Mustang


35. Obamacare, BMW 325iS


36. MTV's Jersey Shore Racing Team, Dodge Daytona ES


37. Sinical Racing, BMW 325i


38. Team 44 Cup, Porsche 944


39. FML Motorsports, Ford Mustang


40. Overengineer'd Racing, BMW 325i


41. Morrows Auto & Woodstock's NAStiCAR Quest For the Holy Nickelbag, Pontiac Grand Prix
Winner, Best Carbureted


42. DIRTy e-Thirties, BMW 325e


43. Final Gear: Bootleggin' It, Pontiac Grand Prix


44. Days Of Plunder, Saturn SC2


45. Metro-Dade Vice Squad, Mazda RX-7


46. We Are Fubar, Pontiac Grand Prix


47. The Nerd Herd, Infiniti J30


48. Please Start! Racing, Plymouth Acclaim


49. Nutjob Racing, Honda Civic Wagovan


50. Huntin' Tewwowist Wabbits, Mitsubishi Eclipse


51. Maryland Scratchers, BMW 535i


52. Team Chickin Lickin, BMW 325


53. BuckSnort Racing, BMW E30


54. Funky Kong, Fiat X1/9


55. Misfit Toys Racing, Wartburg 311
Winner, Index of Effluency award


56. Dorks of Hazard, Dodge Charger


57. Mannschaft Panzers, Audi 4000 Quattro


58. Dai Mondai I, Toyota MR2


59. GoGodyne Racing, Nissan 300ZX


60. DOS Boot Racing, Volkswagen GTI


61. The Meat Wagon, Honda Civic


62. Team Police Brutality, Lincoln Mark VIII
Quickest lap time of race (1:55.113)


63. Team Cosworthless, Ford Escort


64. Schumacher Taxi Service: GI Slow, Toyota MR2


65. Scuderia Fluffball, Fiat 128
Winner, Organizer's Choice award


66. The Lemon Juicers, Ford Mustang LX


67. Team Self-Tapping Screws, Chevrolet Camaro


68. Top Fool Elemonator, Subaru Impreza


69. DeCuzzi Racing Tele tubby formerly Speed Racer Style, Pontiac Fiero


70. Morrows Auto & Snoopy's Quest For the Holy Nickelbag, GMC 1-ton Van


71. Trophy Wife Racing, Toyota MR2


72. Oil Pains, Pontiac Grand Am


73. ReVolvolution Racing, Volvo 850 Wagon


74. Adopted By Jets, Saab 99


75. Team Nein24, Porsche 924
Winner, Judges' Choice award


76. BoneYard Racing, Dodge Neon


77. The E-Lemon-ators, Mercury Cougar
Winner, Heroic Fix Award


78. Pimpalicious, Cadillac Seville SLS


79. Baghdad Taxi, Honda CRX


80. Scuderia Limoni, Alfa Romeo Milano Verde


81. Champions On Fire, Nissan 240SX


82. Stugots Racing, Ford Thunderbird


83. F.A.C.E. Racing, Pontiac Fiero


84. Team Police Brutality - Beating Up Breast Cancer, Ford Thunderbird