The Tesla Model Y electric crossover is coming in less than two weeks, China's still in a car slump, and the cobalt market so critical for EVs is boom-bust. All this and more in The Morning Shift for Monday, March 4, 2019.
1st Gear: The Model Y Is Coming
We knew the Model Y was coming at some point, of course, but last night Tesla CEO Elon Musk tweeted the date. March 14, in Los Angeles, is when we'll finally see Tesla's new electric SUV. The Model Y, whenever it's delivered, will complete one of the dumbest jokes in automotive history, in that Tesla's lineup will now spell out S3XY. Elon, thanks.
G/O Media may get a commission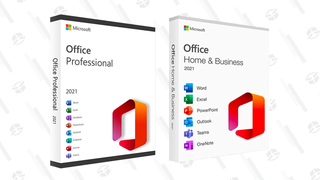 95% off
Cyber Monday - Lowest Price Ever - Microsoft Office Lifetime License
The Model Y is about 75 percent based on the Model 3, meaning that while technically a new model it shouldn't be a huge manufacturing lift for Tesla, unlike how the Model 3 was. Emphasis on should. This is Tesla, after all. The company isn't short on ambition.
2nd Gear: Fiat Chrysler's Giant New Detroit Plant Is Far From a Sure Thing 
The $4.5 billion investment in Michigan facilities was announced last week to great fanfare, but as Automotive News reports this morning, there are still quite a few hoops that the city of Detroit has to jump through to make it a reality. And that will all have to happen relatively quickly.
To secure the Mack project, the city has less than two months to acquire about 200 acres of land from various owners.
Asked what would happen if the city can't secure the extra land, FCA said only: "We have full confidence in the city of Detroit."
It could also have a huge reverberations with the UAW.
If the city delivers on the land, and secures the 3,850 jobs that come with the Mack project, it could have big implications for labor talks with the UAW beginning this summer. For one thing, FCA would come to the bargaining table on the verge of surpassing GM's hourly worker count.

[...]

It could also help ease tensions between the rank and file and UAW leadership, said Kristin Dziczek, vice president of industry, labor and economics at the Center for Automotive Research. Relations were frayed by a scandal involving union leaders accepting bribes from FCA officials in exchange for labor peace.

Yet she wonders how much credit UAW leaders will get from members, saying that some workers could view the investments as inevitable responses to product and political demands that didn't require much of a lift from the union brass.
I like the passive phrasing of "relations were frayed." It seems UAW members don't want their leadership to be made up of corrupt dirtbags. Who knew.
3rd Gear: The Number of Car Dealerships Is Down
Car dealerships are generally not great, but they exist as they do in part because of state franchise laws that protect them. Still, manufacturers have been in recent years exploring alternative sales models. Tesla said last week they would be going online-only, for example, and Volvo and Polestar have been trending there as well.
While those are planned actions for the future, dealership counts are down right now, as Automotive News reports. AN conducts a yearly survey on these things and is basically the bible for dealership owners:
The dealership count fell by 52 stores to 18,275 as of Jan. 1, while the number of new-vehicle franchises also dipped, by 0.5 percent, or 172 franchises, to 32,099. Slightly lower General Motors and Ford Motor Co. dealership and franchise counts largely contributed to the declines.

[...]

With a small dip in franchise count and a 0.2 percent drop in U.S. light-vehicle sales, excluding Tesla, in 2018, average industry throughput increased 0.2 percent from a year ago to 533 vehicles per franchise. Industry sales, including Tesla, were 17.3 million, the fourth-highest on record.
If you're curious, Toyota's dealers sold the most cars per franchise, 1,718 of them per year on average. Honda, Lexus, Nissan, and Subaru dealerships also sold north of 1,000 cars, while Mercedes-Benz, BMW, Hyundai, Ford, and Kia sold in the upper hundreds. You should check out Automotive News' full report here.
4th Gear: China's Car Market Deep Slump Stays Deep
It's the worst "in a generation," according to Bloomberg, and has led manufacturers there to resort to sales tricks that aren't uncommon in the States. Interest-free loans and other incentives have been rolled out to buyers, but that hasn't seemed to help.
What's to blame? Trump's trade war, for one thing, as B'Berg notes in this continuing coverage:
Consumers are shunning big-ticket purchases like cars as the world's second-largest economy slows and the trade war with the U.S. weighs on stock prices and consumers' spending power. The heavy discounting threatens to put further strain on automakers' finances, potentially foreboding job cuts and mergers among the industry's hundreds of manufacturers.

"2019 should be a year of the survival of the fittest and we may see more merger and reorganization cases in the auto industry," Shi Jianhua, a deputy secretary general of China Association of Automobile Manufacturers, said at a conference in January.
Foreign automakers have relied on the Chinese market as a backstop, but that's now becoming a bit less reliable. If Buick still exists in a few years, in other words, that'd be a (somewhat) surprising outcome.
5th Gear: The Cobalt Market Is in the Trash Can
Cobalt, a key ingredient in the lithium-ion batteries that power electric cars, spiked in price last year, as investors betted on the future being electric. But it turns out that cobalt isn't all that rare, meaning that prices on them metal are now in a freefall.
From Bloomberg:
Adding to the allure was a widely-held view that cobalt supply is constrained. Geologically speaking, the metal isn't rare, but almost exclusively produced as a byproduct of copper and nickel mining. The idea that more cobalt supply depended on higher prices for those metals turned out to be a myth.

Instead, the surge in cobalt prices triggered a boom in supply from the Democratic Republic of Congo. Prices have plunged more than 60 percent from a peak in April 2018, to $15.88 a pound, according to Fastmarkets MB.
Investing is basically gambling, and don't let anyone tell you different.
Reverse: Jim Clark Is Born
Neutral: Thoughts on the Model Y?
I want to see Tesla's new roadster more than anything else, but the Model Y seems perfectly aimed at the currently SUV-mad market. You in or out?