"Fat, dumb and happy." That's how convicted former Fiat Chrysler exec Alphons Iacobelli and Monica Morgan, the wife of former United Auto Workers Vice President General Holiefield, wanted to leave union officials feeling as a result of an illegal scheme they'd crafted that—according to the feds—involved using money from a worker training center to support a lavish lifestyle.
That phrase acutely captures the impact of the pair's scheme, and the stain it could leave on labor negotiations across the auto industry. What better way to reinforce some of the worst stereotypes about unions as invariably corrupt entities than a good ol' fashioned scandal over misusing funds to enrich labor officials? Elon Musk, who has been accused of pushing back on UAW organizing efforts at Tesla, surely appreciates it.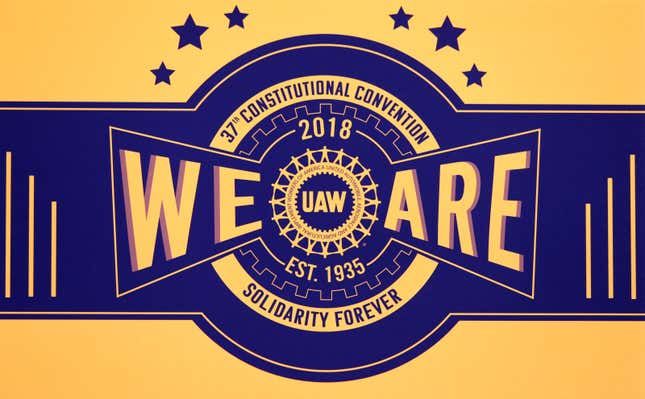 Three years on since the government launched the corruption probe that ensnared Iacobelli and Morgan—resulting in their convictions, along with five other UAW and FCA figureheads—that's the sentiment both sides need to combat ahead of upcoming negotiations in 2019: That execs hired to bargain for workers aren't trying to plump themselves up; that they're indeed aiming to scratch out the best deal possible for auto workers.

How did it get to this point? As the feds describe it through numerous indictments, Iacobelli, along with high-ranking FCA and UAW officials, illegally funneled more than $1.2 million from a training center in Detroit to union executives in exchange for a laundry list of luxury items: a $315,000 for a Ferrari 458 Spider, two limited edition Mont Blanc pens valued at $37,500 each, designer clothing, jewelry, furniture, a $262,219 mortgage paid off, and so on.

That's a stark contrast to the stated purpose of the UAW-Chrysler National Training Center. Launched in 1985, the Metro Detroit-based, the training center, according to FCA and the UAW, "oversees joint programs that improve job skills, enhance competitiveness and enrich the personal lives of UAW-represented workers at FCA US LLC." (In the interest of full disclosure, Jalopnik and the editorial arm of its parent company Gizmodo Media Group are unionized with a different entity, the Writers Guild of America East.)
But using bogus LLCs and fraudulent tax return filings over several years, the government alleges the UAW-Chrysler National Training Center concealed the illegal payments directed to Holiefield, who died in 2015, and Iacobelli, among others. In total, the scheme allegedly involved the misuse of $4.5 million dollars, in violation of laws designed to inhibit corruption among labor leaders.

David DuMouchel, an attorney representing Iacobelli in the case, said neither he nor Iacobelli could offer a comment at this time. Morgan's attorney didn't respond to a request for comment.
The probe has implicated nearly everyone up the executive chain—from former UAW President Dennis Williams and deceased former Fiat Chrysler Chief Executive Sergio Marchionne, who reportedly failed to disclose to the FBI that he'd given Holiefield a $2,200 custom made Terra Cielo Mare watch in 2010.
(The watch, according to The Detroit News, was delivered with a handwritten note from an unnamed FCA executive that said: "Dear General, I declared the goods at less than fifty bucks. That should remove any potential conflict. Best regards, and see you soon." Marchionne retained a criminal defense attorney, William Jeffress, who didn't respond to a request for comment. Marchionne died earlier this year.)
The UAW, for its part, discounts any notion that the scandal will impact negotiations in 2019, and said changes have already been made to stop similar misconduct from happening again in the future.

"These acts had no effect on the collective bargaining agreement—which requires a vote by the entire membership, among other things," Brian Rothenberg, UAW spokesperson told Jalopnik by email. "We have put in additional safeguards to prevent a reoccurrence of those events. We are proud of these changes and eager to continue to fight for working people, every single day."
FCA portrayed itself as a "victim of illegal conduct" by Iacobelli and "certain other rogue individuals who formerly held leadership roles at the National Training Center."
"FCA US also confirms that the conduct of these individuals—for their personal enrichment and neither at the direction nor for the benefit of the company—had no impact on the collective bargaining process," FCA spokesperson Shawn Morgan told Jalopnik by email. "Rather, the behavior involved a small number of bad actors who stole training funds entrusted to their control and co-opted other individuals who reported to them to carry out or conceal their activity over a period of several years."
But if there's any indication from court records released as part of the criminal cases prosecuted so far, the UAW and FCA have their work cut out to convince workers and union opponents alike that all is in fact well, as the government's investigation doesn't appear to be winding down any time soon.
The feds wrote in a sentencing memo last month for Virdell King, a retired UAW official who pled guilty for her role in the scheme to facilitate illegal payments for other union leaders, that the "Court's sentence should recognize King's acceptance of responsibility and her early substantial assistance to the government in its ongoing investigation." Prosecutors at King's sentencing hearing reportedly acknowledged as many as five unindicted co-conspirators are still linked to the scandal.
A spokesperson for the U.S. Attorney's Office in Detroit declined to comment.
"The investigation continues and because of that, we will have to decline your request for an interview at this time," Gina Balaya, the spokesperson, said.
After a year in which the corruption probe came to a head, here's a summary of what investigators have uncovered to date.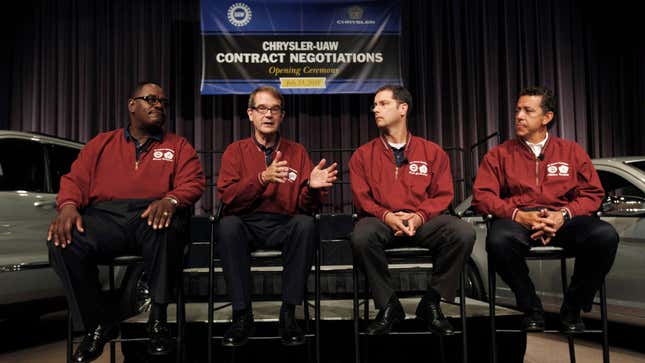 The Main Players
Iacobelli was the key player in the scheme, according to the feds. He joined Chrysler in 1993, and moved up the ladder until landing a job as the Vice President for Employee Relations for FCA. That made him the top exec to handle labor relations between the automaker and the UAW.
"Iacobelli was the senior FCA official responsible for negotiating with the UAW and for administering the collective bargaining agreements between FCA and the UAW, including the resolution of disputes and grievances that arose under these agreements," the feds wrote in a sentencing memo this August.
From 2009 to 2014, the feds say he diverted more than $1 million of funds from the training center for a smattering of goods—a period in which he and Holiefield "had primary responsibility for negotiating and administering the collective bargaining agreements between FCA and the UAW."
It's during that very notable timeframe that Iacobelli allegedly used those funds to pay for many of those aforementioned luxury items, like the Ferrari, the $37,500 pen and leasing a private jet.
Holiefield's wife, Monica Morgan, also played a big role, according to the feds:
Monica Morgan was also charged with using the companies Monica Morgan Photography, Wilson's Diversified Products, and a third company to conceal payments made by Iacobelli and others acting in the interest of FCA to UAW Vice President General Holiefield and with failing to report the income she received through those companies on her individual tax returns.
Another one of those nonprofits, the Leave The Light On Foundation, was formed, in theory, "to help children who are struggling with hardships," the indictment says.
Except, the feds allege:
at the direction of General Holiefield, the majority of operating funds spent by the LTFLOF between 2009 and 2011 were paid to his girlfriend Monica Morgan.
The foundation wound down in 2014, according to nonprofit records.
Steve Fishman, Morgan's attorney, told Jalopnik that Morgan had "absolutely no role in the scheme to misuse union funds' as evidenced by the fact that the government dismissed that count of the indictment against her."
"She pled guilty to the only crime she committed—filing a false tax return," Fishman said.
'Fat, Dumb and Happy'
Then there's perhaps the most notable quote from the indictments—that FCA execs tried to keep union officials "fat, dumb and happy," which was revealed through charges brought against FCA financial analyst Jerome Durden.
Durden agreed to cooperate early on after being charged with conspiracy to defraud the United States, by impairing, impeding, and obstructing the IRS.
The feds say he prepared and filed tax returns for the UAW-Chrylser National Training Center and helped "falsely concealed millions of dollars in payments directed to General Holiefield, Alphons Iacobelli and others."
At some point after 2012, Iacobelli told Durden to issue credit cards under the National Training Center and give them to Holiefield and other UAW officials to use for "personal purchases and personal expenditures."
Durden reported to the feds that:
he, Iacobelli, [and two unindicted co-conspirators] created a liberal spending policy for the NTC issued credit cards as part of their effort to keep the senior members of the UAW Chrysler Department "fat, dumb and happy."
Holiefield used the credit cards for over $200,000 worth of purchases, including jewelry, designed clothing, and furniture. Durden's attorney didn't respond to a request for comment. At his sentencing hearing last month, Durden came across as regretful and contrite.

"I truly regret my involvement," he reportedly said at the hearing. "I've brought dishonor to myself, and shame."
Looks Like It Went to the Top
Another official charged in the scheme was Nancy Johnson, a former labor official who accepted and arranged "illegal payments from Fiat Chrysler executives to high-level UAW officials from 2014 through 2016."
As part of Johnson's guilty plea agreement, she indicated that a "high-level UAW official directed other UAW officials to use money supplied from automobile manufacturing companies through joint UAW training centers to pay for travel, including travel solely for purported union business, as well as lavish meal and other entertainment costs of senior UAW officials and their friends, family, and allies. This directive was issued in order to reduce costs to the UAW budget from such expenditures because the UAW's budget was under pressure."
Johnson directed some "things of value" as a result of the alleged scheme that involved a "high-level" official, per the plea agreement:
The things of value funneled to UAW officials from Fiat Chrysler included personal travel, golf resort fees, lavish meals and parties, limousine services, designer clothing, designer shoes, golf equipment, electronics, and an Italian shotgun.
Johnson's attorney, Harold Gurewitz, didn't respond to a request for comment, but he said in July that she'd taken "responsibility for her conduct."
The high-level UAW official, according to The Detroit News, was ex-UAW President Dennis Williams, who retired earlier this year. That could be problematic, Wayne State University law professor Peter Henning told the News at the time Johnson's agreement was announced:

If senior UAW officials agreed to accept illegal benefits, that amounts to a conspiracy, Henning said: "It's the starting point for fairly serious criminal conduct," he added. "This is how the U.S. Attorney's Office sends a message and says who they're looking at. If you're going to cooperate, it's better to come in now rather than later."
Williams hasn't been criminally charged in the scheme. But investigators are reportedly looking into another way the union used its funds to his benefit.
A Cottage Financed by Workers Dues
The Detroit News also found that, while the feds investigation plays out, the UAW has been working on a lakefront cottage in Michigan for Williams. The cost, the News found, is being covered in part by worker dues.

One previously undisclosed expense is the Williams cottage under construction at the UAW Black Lake Conference Center, a 1,000-acre retreat in northern Michigan financed with interest from the union's $721 million strike fund, which is bankrolled by worker dues.

The UAW's nonprofit real-estate arm Union Building Corp. started building a three-bedroom, three-and-a-half bath, 1,885-square-foot cottage for Williams this year on the shores of Black Lake in Onaway, a half-hour drive south of Cheboygan. The cost of the cottage was unclear but the initial estimate was $285,000, a cost that likely increased due to labor costs.
Granted, it's nothing new—former UAW have been given cabins at Blake Lake for "generations," as the union was quick to point out. But as the News notes, "the Williams cottage is the first one being built during a federal investigation into union spending."
The kicker is that non-union workers are apparently being used to build the cottage. Per the News:
Instead of using more expensive union laborers, the UAW has hired a nonunion electrician, a nonunion excavation company and is in talks to hire a nonunion plumber to work on the three-bedroom, three-and-a-half bath, 1,885-square-foot stone home at the UAW Walter and May Reuther Family Education Center in Onaway. The 1,000-acre retreat in northern Michigan is financed with interest from the union's $721 million strike fund, which is bankrolled by worker dues.
Rothenberg, the UAW spokesperson, pushed back on the News' reporting, and said it always hires union members and contracts with union contractors "when available."
"The UAW is using members of the United Steelworkers, who work full-time at Black Lake, as the general contractor and builders of the new cabin, along with their work on other projects at Black Lake," Rothenberg said by email.

"Importantly, the new cabin is, and always will, be the property of the UAW, and is not owned by Dennis Williams," he added, underscoring "not" in his email. "It is a permanent asset of the UAW's Black Lake Education Center."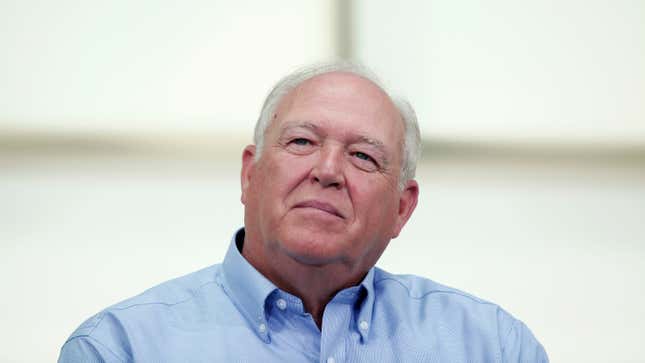 Williams couldn't be reached for comment.
The News says he retired away this summer to the new cabin with $100,000 worth of new boats. As of May, he told Automotive News he'd yet to be interviewed by prosecutors.
'If You See Something You Want, Feel Free to Buy It'
Virdell King, 65, was the first black woman elected as the president of a Chrysler-UAW local, before going on to senior roles with the UAW. There, the feds say, she crossed paths with Iacobelli, and ended up participating in the corruption scheme between 2011 and 2015. One of her primary roles was to help negotiate and administer the collective bargaining agreement between both sides.
But the feds say King accepted "thousands of dollars in designer shoes, clothing, jewelry, luggage and other personal items, all of which were purchased using credit cards issued through the UAW-Chrysler National Training Center."
Iacobelli allegedly told her point blank that UAW officials could use credit cards issued by the training center for personal purchases, and said "if you see something you want, feel free to buy it."
King cooperated with the government, and prosecutors told the judge she deserves some leniency for being the first person to step forward and "willingly" accept responsibility. Her attorney didn't respond to a request for comment, but she expressed remorse for her actions at a sentencing hearing last month.
"Your honor, as a parent I have always taught my children that all actions have consequences" King reportedly said, before telling her former union colleagues she was sorry.
"I truly apologize for disappointing you," she said.
Over $700,000 in Illegal Payments Approved
Another player involved in the scheme was Keith Mickens, according to the feds, a senior UAW official who "personally approved over $700,000 in illegal payments from FCA to UAW Vice President General Holiefield and Holiefield's wife, co-defendant Monica Morgan."
According to the feds:
Mickens also facilitated illegal payments from FCA to co-defendant Nancy Johnson, who was the second highest UAW official in the FCA/Chrysler Department after Holiefield retired
Mickens, the feds say, admitted that he aided the effort of senior UAW officials to accept thousands of dollars worth of clothing, electronics, golf equipment, and more. Micken's attorney didn't respond to a request for comment, but he expressed regret at his sentencing hearing in November.
"I've done wrong, I broke the law and I'm deeply ashamed of my actions," Mickens reportedly told the judge overseeing his case. "I have no one to blame but myself and will regret this for the rest of my life."
"I helped undermine and stigmatize an institution I spent my life trying to build," he added.
Helping the Alleged Cover-Up
Michael Brown, ex-Director for Employee Relations at Fiat Chrysler from 2009-2016, also played a role, but it has less to do with what he actively did and more to do with him allegedly staying silent.
That's despite being asked before a grand jury what he knew. From last month:
Michael Brown, 60, of West Bloomfield, Michigan was sentenced to 12 months in prison based on his felony conviction for providing misleading and incomplete testimony to a federal grand jury. Brown misled the grand jury in a deliberate effort to conceal the existence of the conspiracy to bribe UAW officials by FCA, FCA executives acting in the interest of FCA, the UAW, and UAW officials. Between 2009 and 2016, Brown was employed as a Director for Employee Relations at Fiat Chrysler.
A judge sentenced Brown to a year behind bars. His attorney didn't respond to a request for comment.
A $30,000 Party With $7,000 Worth of Cigars
UAW and FCA leaders enjoyed using funds from the training center for a 2014 party that also got the attention of investigators. The $30,000 party, held for UAW Vice President Norwood Jewell. The News reported last year that Jewell's home had been raided as part of the investigation, and the newspaper learned about the party in February, saying it:
covered the $7,000 cigar purchase and a $3,000 tab for wine in bottles with custom labels that featured Jewell's name, sources told The News. The party is described by federal prosecutors as an example of a cozy relationship between the automaker and UAW leaders designed to corrupt the bargaining process and implementation of a contract for thousands of workers.
Jewell was the beneficiary of a $2,180 shotgun in 2015 that was purchased with worker dues, but he later reimbursed the center in 2016, "after learning the shotgun was purchased with a training center credit card," according to The News. And on Monday, the News broke that investigators are also looking into a Florida "spending spree" that involved $10,000 from the training center being spent by Jewell on Walt Disney World tickets and golf resort accommodations.
Jewell's reported criminal defense attorney, Joseph Duffy didn't respond to a request for comment, and Jewell didn't respond to an email sent by Jalopnik. Jewell hasn't been charged in the case.
The case undoubtedly came about at an inopportune time for the UAW. Outsourcing of auto jobs overseas led to a decline in manufacturing jobs in the U.S., a longtime stronghold of union labor. As of last year, union membership comprised 10.7 percent of the total workforce, down from 20.1 percent in 1983. It's an unfortunate trend, as multiple studies have pointed to the decline of unions as part of the reason why wages have stagnated over the last few decades, while income inequality has skyrocketed.
The UAW itself has struggled to notch victories, having lost a major battle in 2017 to organize a Nissan plant in the south and has yet to breakthrough at Tesla's lone assembly plant in California, despite a concerted effort for the better part of two years now. That's why the corruption scandal is a black eye that auto labor—and probably labor in general—really doesn't need right now in America.
How the case plays out in 2019, and what sort of impact it'll have on upcoming negotiations remains to be seen. But the government aptly summed up the weight of the proceedings in a sentencing memo for Mickens filed in October.

"Millions of Americans are members of labor unions," the feds wrote in the Oct. 31 filing. "They depend on the leadership of their unions to act zealously in the best interests of the membership and their families. Given the importance of the integrity of good faith and honest dealing in labor-management negotiations, general deterrence is a critical component of the Court's sentence in this case."
"Senior union officials need to know that labor corruption will be punished," the filing continues. "They need to know that they occupy positions of trust over their members and their families."