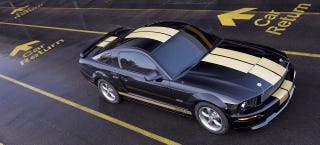 Not all rental car companies are staffed by incompetent morons and run with red tape. When you need to rent a car, look for one of these signs.
---
10.) Budget
And they have Mustangs too! Viperfan1:
I had luck with Budget rental last year. I needed a car for 4 days to go to OH from VA. Turns out it was cheaper to get the car for a whole week then just the couple days I needed it. $450 for the week for a 25 year old male.

It was the first time I rented a car so I wanted to make it special and booked a 2014 Mustang V6. I get there and the lady tells me to pick any 2 door on the lot. Naturally I picked the 2014 Camaro SS that was fully loaded and left before they could try to upcharge me to whatever else that was nicer(probably an Escalade).
Suggested By: Viperfan1, Photo Credit: dbrooksNY
---
9.) Priceline
This isn't a rental car company exactly, but as a deals website, it's worthwhile to look at when renting. Captain Kirk and good value. For Sweden:
You don't get loyalty credits, but for stupid cheap you can get a car from a class of your choosing from Hertz, Avis, National, Budget, or Alamo. I've hired cars for well under half-price, and the upgrades offered at the counter have been stupid cheap as well.

The last time I used Priceline in the USA, I hired a mid-size for $12/day + taxes, and was upgraded to a V6 Challenger for $3 a day more. Thanks Negotiator!
Suggested By:For Sweden, Photo Credit: rapidtravelchai
---
8.) Capps Van Rental
Like it or not, sometimes, you need a van. Especially if you expect groupies like Chairman Kaga:
Have you ever been in a band? And you went out for two weeks on the road playing every sweaty dive between Little Rock and St. Louis? Then thank God for Capps.
Suggested By: Chairman Kaga, Photo Credit: Capps Van Rentals
---
7.) Bandago
It's like Capps, only much more luxurious. ghost650:
Took my family on a 10 day Route 66 road trip in a Mercedes Sprinter equipped with a giant cargo hold, a big LCD screen hooked up to an XBox 360 and a wifi router hooked up to a Verizon wireless modem. Amazing road trip vehicle, all for much cheaper than anything close to this size offered by the usual rental car companies.
Suggested By: ghost650, Photo Credit: Bandago Rentals
---
6.) Europcar
Many of you recommended Europcar, so start by convincing ocbrad1, who got unlucky with them in France:
Can't say which is the best, but my vote for worst is EuropCar. Rented a Pug 3008 from them during our honeymoon. Picked it up in Paris, with the intent to drive from there to Cognac, Chambord, and Bordeaux, after which we flew to Nice to catch the time trials of the Monaco GP followed closely by the opening of the Cannes Film Festival. But for two days I had it parked in an underground garage two blocks from our hotel.

I didn't notice the scrape down the side when I took it out of the garage. When I did finally notice, it was at the drop off lot at the Bordeaux airport. I wasn't too worried, because I had selected "full coverage" insurance on the car. Apparently "full coverage" really doesn't mean "full coverage", and 600 euros later we were on our way. Lesson to be learned? Make sure you can speak the language adequately, or find someone who can speak your language.
Suggested By: Mike_Smith, Photo Credit: mattbuck4950
---
5.) Enterprise
Enterprise is far from the best, but willkinton247 says they will pick you up and Toni_Cipriani adds they offer 9.99/day weekend specials which are great for occasional Ikea runs. However...
They'll also charge your insurance several thousand dollars for a roof dent you didn't cause!

Take lots of pictures of the car, people!
bm11720 comes to the rescue:
Never had a bad experience with Enterprise. Them picking you & your luggage up is a great service.
Suggested By:willkinton247, Photo Credit: Atomic Taco
---
4.) BMW On Demand
This service is only available certain parts of the world, but if you happen to be in Munich, LVPoen says you should go for it:
In a category with severely restricted rental locations (Munich), I'd say BMW on Demand is hard to beat: an X1 2.8i xDrive equipped with a roof box, including ski tickets was about 30€/day a year ago in the winter season. Others: 335i 99€ for the day (a day = 9-17 and includes 450km). M135i xDrive 105€/day. 65oi Coupe, 640d Cabrio, E92 M3 Coupe, M235i Coupe all 135€ /day. 760Li 180€ /day. M6 Cabrio 240€/day, M6 Gran Coupe 225€/day. The Jalopnik special: M550d Touring for 150€/day. And many more...

They'll even give you advice on routes for maximum Autobahn bombing and country road hooning!
Suggested By: LVPoen, Photo Credit: Getty Images
---
3.) Avis
Hear Jasontheauger out — this is some of the best customer service you'll ever hear from a rental agency.
I'm 24. Never rented a car before and took a train with my fiancé down to Washington DC for a convention we had been planning for a solid six months. Paid for the rental online and got down to Union Station only to find that you have to be 25 to rent in DC. Okay, no big deal, I knew there was gonna be extra fees (which I had paid for already) because I was "underage" (stupid law by the way) so we took a cab to an Avis in Virginia where I could pick up the car.

Then shit hit the fan. Stay with me.

There still needed to have a $200 deposit on a credit card (not a debit card) to rent the car, which at this point was as shitbox Economy rental. I only have one credit card that only has a $300 limit on it and it was maxed out at the time. So I called the credit card company to make a payment. The card company then told me I had to was 24 hours for it to go through, and since the hotel was in Maryland (yet another state) walking was out of the question.

We walked to a local bank which did western union, since if I did a western union based payment the funds would be available immediately. NOPE need to open an account first. So fuck that.

Get back to the Avis office and tell the guy there what the issue was. At this point it was an hour from closing time. Now we get to the point where the story turns awesome.

Dude closes the store for the time being, drives us to the nearest CVS himself (in January, in a snowstorm) to make a payment via Moneygram. After about 20 minutes on the phone, we get the payment to go through. We then drive back and get the paperwork done with about 20 seconds to spare before the store systems shut off. And we got a full size upgrade for free.

TLDR Avis guy turns our first vacation ever (we saved a while for this) from total disaster due to red tape bs into a vacation we got to have. Epic customer service.
Suggested By: Buck_Turgidson, Photo Credit: Mike Knell
---
2.) Sixt
Sixt is so good, it almost made it to number one. fintail:
In Germany I always go with Sixt - they often have well equipped cars in the fleet (such a departure from North America), branches everywhere, and often the prices are competitive. I've rented from Sixt a few times in FL, too - most cost effective way to get into a German car, but the spec is as to be expected from a car in an American fleet.

Otherwise, in Murka, I like National, so I can choose my car. Alamo will sometimes let you do that, too. I've had decent experiences at Hertz, Enterprise (for cheapies especially), Budget was OK, once got a car with 4 miles on it from Thrifty, have yet to rent from Avis.
BA:
Sixt! The best car I ever rented.

c. 2011, rented a BMW 3 series automagic for cheap. Ended up with a 2011 335xi with M-Sport package w/ 2300km on the clock. Got it to 260kph on the autobahn. Good times.
Suggested By: fintail, Photo Credit: Getty Images
---
1.) Hertz
Custom Mustangs, Yellow Corvettes, the microphone drops at Hertz.
Suggested By:TokyoBayAquaLine, Photo Credit: denipet
Welcome back to Answers of the Day - our daily Jalopnik feature where we take the best ten responses from the previous day's Question of the Day and shine it up to show off. It's by you and for you, the Jalopnik readers. Enjoy!
Top Photo Credit: Mustangsdaily