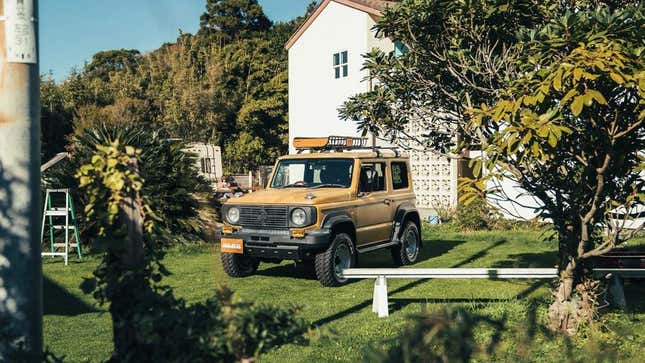 The coolest custom model of the Mercedes-Benz G-Class is not a G-Class at all, but is instead a Suzuki Jimny that's dressed up to look like the iconic off-roader from Mercedes-Benz. Japanese car tuning company DAMD calls the product of its custom Jimny body kit the "little G," as a nod to the Mercedes G-Wagen that inspired it.

And since the Mercedes-Benz G-Class has long been unavailable as a new two door model in the U.S., that makes the custom Jimny one of the raddest little SUVs around. The downside, of course, is the custom work and kit behind the "little G" is only sold in Japan, where the Suzuki Jimny is likewise also sold.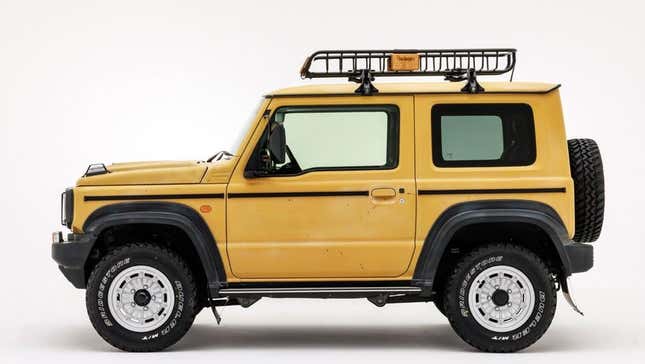 DAMD originally debuted its custom Jimny models at the Tokyo Auto Salon in 2019. The company showed off the "little G" and the "little D," another custom model that turns the Jimny into a tiny Land Rover Defender as we once knew it. Again, with two doors, which is objectively the best body style for hatchbacks, trucks and SUVs alike — I'll refuse all arguments to the contrary, thanks.

The Land Rover Defender 90 is still alive and well, but two door Mercedes Benz G-Wagens are not as easily found. Not new, anyway. So, DAMD designed the little G body kit to keep the magic of the classic German off-roader alive in Japan. The kit is slightly updated this year, and it'll be shown at the DAMD exhibit at the Tokyo Auto Salon 2023 as Car Watch reports (link in Japanese).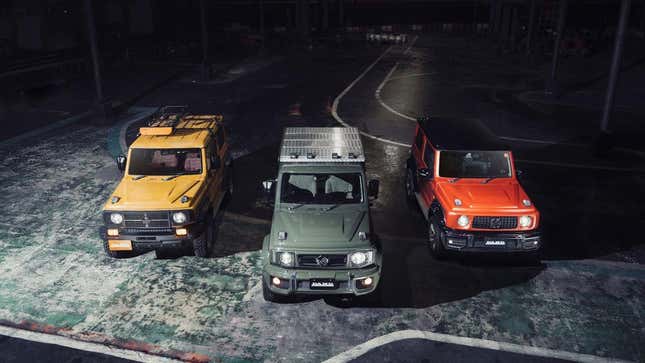 The new body kit will come in three versions called the little G Advance, little G Traditional and little G Aventura. The sporty Advance model looks like a G-Class AMG, while the Traditional and Aventura look more like mean off-roaders. The yellow Traditional model does the best impression of the M-B.
The kits come with mostly everything needed to transform the Jimny, including installation, parts, paint and even wheels. There's no mention of off-road enhancements, but the Jimny is a competent trail machine already, so that's OK.
The previous full version of the little G kit cost ¥310,000 before tax, which is about $2,368 at current exchange rates. The Suzuki Jimny itself starts at about ¥1,555,400 (pretax) in Japan, or $11,882 for a manual transmission model.
If the new little G body kits start at around the same price of the older ones, that would put the price of a miniature G-Wagen starting at around $14,250. That's a hell of a deal for a Japanese Jimny doppelgänger of Deutschland's iconic 4X4.