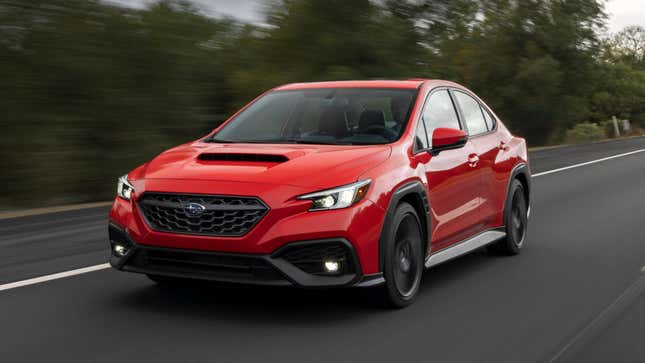 The Subaru WRX just had its best sales month ever. The Japanese automaker says it sold 2,598 of the all-wheel-drive sports sedans last month. That's an 8,280.7 percent increase over 2022. Yes, you read that right. The reason behind this wild jump isn't too wild: last year Subaru only sold 31 WRXs in February since it was in the process of dumping off inventory of the prior-generation WRX.
We're Driving the 2024 Subaru Impreza, What Do You Want to Know?
In case you missed it:
The current WRX didn't end up getting into dealers' hands until spring 2022, so the numbers at the tail end of the last generation's run are a bit wonky. All this means is despite the fact everyone complained that the new WRX was ugly, weird-looking, and the infotainment screen was too big, it doesn't seem to have stopped too many people from buying it. Like we said, the WRX literally had its best month ever in the U.S. at that time when your favorite WRX – whatever that may be – was on sale. Sorry to disappoint you.
For the 2023 model year, the WRX was completely redesigned on the inside and outside with Subaru's 2.4-liter turbocharged Boxer engine that pumped out 271 horsepower and 258 lb-ft of torque to all four wheels through either a standard six-speed manual or the "SPT" CVT automatic transmission.
In total, Subaru has sold 4,604 WRXs as of February. That's only a 1,137.6 percent increase over last year. I'm glad the automaker picked up the pace.
Overall, it's the seventh straight month of yearly month-over-month growth for the Japanese automaker that sold 45,790 vehicles (a 2.1 percent YoY increase). Another vehicle in Subaru's portfolio also had its best month ever: the Crosstrek.
Subaru says it sold 14,816 of the little crossover in February. That's up 2.4 percent from the year before.
BRZ sales were also up 5.4 percent, but those sold in such small numbers (368 made it to customers' hands in February) that it's only getting this little line at the bottom of the story. Conversely, Impreza sales were down by a pretty significant margin. Subaru sold 2,591 of those in February 2023. That's down 26.4 percent from last year. However, that isn't too surprising. A new Impreza is right around the corner.