Elon Musk is still in trouble for tweeting, Ford is eyeing those profits, the United Auto Workers union faces a growing corruption scandal and more await you in The Morning Shift for Tuesday, March 19, 2019.
1st Gear: Never Tweet
"Never tweet" is a life lesson that should be taught alongside "treat others how you want to be treated" and "don't kill people" because it is a timeless piece of wisdom. Doing the bad tweets can bite everyone in the ass. Even Tesla CEO Elon Musk. Here's the latest development between him and the U.S. Securities and Exchange Commission.
After Musk and the SEC settled last year, part of the agreement was that Tesla also had to establish a system that monitored his public statements about the company through any medium. But in February, the SEC found that Musk had violated this agreement when he inaccurately claimed how many cars Tesla would make this year. He followed up with a correction a few hours later, but it appeared to be too late for the regulators.
In a filing yesterday, the SEC found it "stunning" that Musk had kept tweeting information that would affect Tesla shareholders without getting approval for any Tesla-related tweet after the whole "taking Tesla private" debacle last year, according to CNN. Are you surprised?
G/O Media may get a commission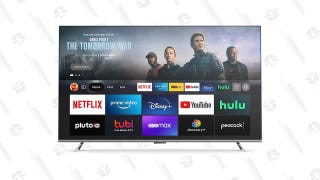 Save 46%
Fire TV 55" Omni Series 4K UHD Smart TV
Predictably, Musk argued last week, according to CNN, that:
(1) The tweet didn't contain material information about Tesla; (2) Musk diligently tried to follow the court settlement; (3) the SEC's request is a breach of Musk's constitutional right to free speech.
Which brings us to yesterday's filing. In it, the SEC did not, uh, agree with Musks arguments. Here's what it said, per CNN, and emphasis mine:
"The pre-approval requirement was designed to protect against reckless conduct by Musk going forward," the agency said. "It is therefore stunning to learn that, at the time of filing of the [contempt] motion, Musk had not sought pre-approval for a single one of the numerous tweets about Tesla he published in the months since the court-ordered pre-approval policy went into effect."

Musk is interpreting the settlement "as not requiring pre-approval unless Musk himself unilaterally decides his planned tweets are material," the agency said, adding that such an approach is "inconsistent with the plain terms" of the settlement and makes the pre-approval requirement "meaningless."

The SEC also said that Musk has "made no diligent or good faith effort to comply with the pre-approval provision of the court's order."

And it dismissed the Tesla CEO's argument that his First Amendment rights are being violated because needing pre-approval for his tweets does not mean "that he is prohibited from speaking."
The SEC has again requested that Musk be held in contempt of court over his Feb. 19 tweet about the number of cars that Tesla will build in 2019.
Tesla, as CNN notes, didn't immediately respond to a request for comment.

You can read the full filing here.
2nd Gear: Ford and Its SUVs
The insatiable thirst for big, comfortable SUVs in the U.S. has Ford increasing its efforts to deliver even more. Joy.
The automaker's truck plant in Louisville, Kentucky plans to increase the Ford Expedition and Lincoln Navigator production rate by 20 percent in July, according to Reuters. This would make for the second 20 percent increase in one year for both of these cars.
From the story:
The move highlights Detroit automakers' aggressive efforts to capitalize on popular, profitable large vehicles in America's heartland, even as policymakers in California, China and Europe push for smaller, electric vehicles to reduce carbon dioxide emissions linked to climate change.

With gasoline relatively cheap, U.S. consumers are paying premium prices for large SUVs that seat eight people and can tow a four-ton trailer.

The average transaction price of a new Ford Expedition is $62,700, Ford U.S. marketing director Matt VanDyke said, up $11,700 from the previous year. Ford does not disclose profits by model line. Average prices for the luxury Navigator rose to $81,000 in February from $78,000 a year earlier, according to Lincoln data.
If you think those prices sound high and wonder how people manage to pay them, you're not alone.
3rd Gear: Another UAW Official Charged
The UAW is going into contract bargaining soon, but before it does that it has a growing corruption scandal to contend with.
Federal prosecutors have just charged the former head of the union with conspiracy to violate the Labor Management Relations Act. Norwood Jewell is the latest and highest ranking union official to be charged so far, reports Bloomberg.
Allegations include using FCA funds to buy expensive steak dinners:
The U.S. alleges that Jewell used his National Training Center credit card, or authorized another official to use hers, to charge the costs of multiple expensive dinners at steakhouses in California and Michigan, with the center using FCA funds to pay the bills. Jewell charged $7,569.55 for one meal in January 2015 at LT's Prime Steakhouse in Palm Springs, California, the U.S. said.
That better have been some damn good steak.
The feds allege that, starting in 2009, millions of dollars were funneled from the FCA training center to union leaders in exchange for labor peace.
Jewell's lawyer told Bloomberg, "We are confident that when the facts of the case come out as it relates to Mr. Jewell, his decades-long reputation of honorable service to members of the UAW will remain intact."
Okay, bud.
4th Gear: Trump's Powerless To Save Lordstown
Over the weekend, Donald Trump put General Motors CEO Mary Barra on blast over Ohio's Lordstown Assembly plant closure, saying that he wants it back open. But here's the thing: He might not be able to get anyone to open the plant again.
This is from experts like Jessica Caldwell, executive director of Industry Analysis at Edmunds, who told the Detroit Free Press:
"Ohio is a very important place for Donald Trump, especially as he looks at the 2020 election. He ran on the idea that he'd bring jobs back in these pivotal areas. I don't think there's much to this other than some early 2020 campaigning."
You mean this could all be performative because he wants those votes??? I'm shocked.
And Kristin Dziczek, vice president of Industry, Labor & Economics at the Center for Automotive Research (CAR) in Ann Arbor, pointed out:
"This is an industry with very long planning horizons at huge scales of investment and production. It's economically significant and important to the country. But GM can't be bullied into making decisions that aren't good business decisions."
My prediction is that Trump's rant on Twitter will probably only result in just that—a rant on Twitter.
5th Gear: Vehicle Fires?
Over the past four years, Hyundai and Kia recalled three million cars after reports of the vehicles randomly bursting into flame. In January, another 200,000 cars were recalled for potentially leaky fuel tubes.
Surely sensing somewhat of a pattern, a group of U.S. states is now investigating Hyundai and Kia for "potential unfair and deceptive acts related to reports of hundreds of vehicle fires" said Connecticut Attorney General William Tong, according to Reuters.

From the story:
"We are aware of multiple fires involving Connecticut vehicles, including some allegedly already repaired through the recall process. This is a serious matter, and we are moving aggressively and responsibly to uncover the facts and to ensure accountability," Tong said in a statement.

Last month, the Center for Auto Safety, which has petitioned NHTSA to demand the recall of additional vehicles, told Congress that Kia and Hyundai must recall more vehicles at risk of fires after reports of 300 fires not the result of a collision.

On Monday, Senator Richard Blumenthal, a Democrat, asked NHTSA to launch a safety defect investigation into Hyundai and Kia vehicles with the "Theta II" engines and order an immediate recall of vehicles.
Something to keep an eye on.
Update: Here is Hyundai's full statement:
Hyundai is fully cooperating with the government in this matter, and is committed to providing American motorists with safe, high quality, efficient and affordable vehicles.

Nothing is more important than the safety and security of Hyundai customers. Hyundai has acted transparently and taken proactive actions to address engine issues with our vehicles. In close coordination with NHTSA, Hyundai in 2015 and 2017 recalled (NHTSA 15V-568 and 17V-226) more than one million 2011-2014 Sonatas and 2013-2014 Santa Fe Sports to address a manufacturing issue that could lead to bearing wear and engine failure, and in limited cases an engine fire.

Subsequently, Hyundai in January 2019 issued a follow-on recall to inspect the fuel tube installations of replaced engines (NHTSA 18V-934). We introduced an engine software update to more than 2 million vehicles and extended the warranty for those models. We also recently recalled approximately 120,000 2011-2013 Hyundai Tucson vehicles (NHTSA 19V-063) to address a potential engine oil leak. More details on these actions can be found atwww.HyundaiEngineInfo.com. 

Hyundai is closely and continuously monitoring the field performance of our engines, has made numerous improvements to our engine manufacturing, and has enhanced our customer service efforts to address every single impacted customer.
Reverse: RIP, John
Neutral: Leave Elon Alone or Nah?
Are the SEC being the fun police here? Or should Elon really just stop tweeting?
Correction: This story has been updated to correct the timing of Hyundai-Kia's recall; it has taken place over a number of years.