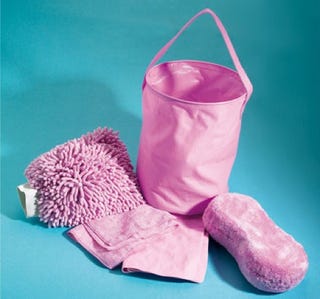 Kenneth Anger's 1965 film Kustom Kar Kommandos has already proved fluffy things and cars can mix. Prezzybox's bubblegum-pink car wash kit is a natural extension of that aesthetic.
However, the British retailer has perhaps other demographics in mind than Anger, with his weirdly macho sexual hotrod imagery. The Pink Carwash Kit is a vehicle of female empowerment. From their website:
With the fabulous pink kits available at Prezzybox, every woman can take care of the DIY. Now, make way for the newest addition to the perfectly pink tools range.

Everybody wants a nice shiny car, and now you can have it! The Pink Carwash Kit contains everything you need to clean your wheels all tucked away into a little zip-up bag.
For your £15 ($25), you get a pink bucket, a pink wash mitt, a pink sponge, a ping chamois, a pink cloth and a pink zip bag to store all that pink in.
It appears that a pink Cadillac is unfortunately not part of the retail package.
Source: Prezzybox