This six-speed manual was developed for the 2017 Porsche 911R, and will also be available as an option on the next GT3. Thank you, Porsche.
Porsche discovered that by making the GT3 and the GT3 RS PDK-only, they only managed to satisfy the hardcore track day enthusiasts, plus a few old farts who like cars with stripes but are also too lazy to even shift themselves, argle bargle, argle bargle. That meant the purists were left without a clean and purposeful 911 GT car for the road. So, they all bought Cayman GT4s instead. They were forced to do so, obviously, the poor things.
I wasn't impressed by the 991R at the Geneva Motor Show, but that was mostly due to the fact that I knew nobody could buy one anymore. Porsche offered it to 918 Spyder owners in advance, and the rest of those 991 cars were bought up other members of the inner circle. I still think that's just bullshit.
Either way, the 911R is undoubtably a very special car. They made sure it turns out that way, Porsche style.
G/O Media may get a commission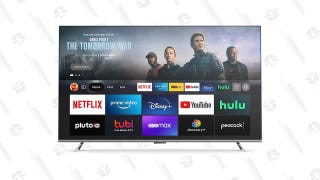 Save 46%
Fire TV 55" Omni Series 4K UHD Smart TV
At 3,020 pounds topped off with fluids, it's lighter than the GT3 thanks to all the carbon fiber, magnesium and titanium involved. Porsche went to great lengths to make it drive like no other 911 as well, recalibrating the steering both at the front and at the rear axle, making it rev faster using a single-mass flywheel, and made sound exactly like 500 naturally aspirated horsepower should by getting rid of almost all sound isolation.
This thing is louder than a GT3 RS. You don't get A/C or radio either if you don't want to, and all that attention to details makes the 911R the most desirable 911 in decades.
And possibly the best part is how the 911R came about, apparently unintentionally, according to Andreas Preuninger, head of Porsche's GT program:
We had a GT3 manual test car left and we all loved it. The manual still had many positive sides. So we took the spoiler off the test car, added some lightweight stuff, some stripes and a classic interior. At this point, I took it to the chairman. He liked it, but we had no engineering capacity so only started work 13 months ago. That's a short time, so I insisted on all the decision making and a long, long leash from the board.
Cool. But with these all gone, what's next?
Well, Preuninger also told Autocar that:
The next GT3 will get the 911R's six-speed manual as an option
The next GT3 RS will not get the 911R's six-speed manual as an option
Porsche 911s with "GT" in the name will remain naturally-aspirated, except for the GT2, obviously
The next Cayman GT4 will have a six-cylinder despite the 718 Cayman going four banger.
If the reaction is strong, they will have to find a way to produce cars like the 911R in the future without an R badge.
Herr Andreas Preuninger, head of Porsche's GT program, Jalopnik will pay for your beers. All the beers. See you at Oktoberfest.

Photo credit: Máté Petrány
---
Contact the author at mate@jalopnik.com.