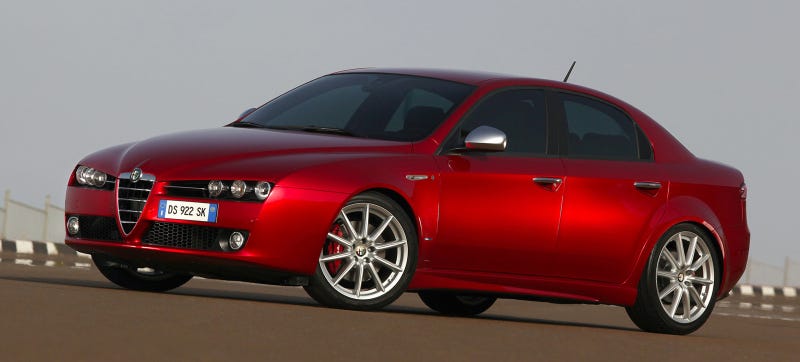 Are you kind of psyched to see your local Fiat dealership re-brand itself as an Alfa Romeo Fiat shop? It's pretty great to see both those brands back in the U.S., but the Alfa Romeo 4C sports car alone can't sustain volume sales. They need fun Italian cars with more seats, and we should see the first one next summer.
We know from Fiat Chrysler's five-year plan that the troubled Alfa brand has a whole slew of new models slated for debut between next year and 2018, and we also know they're dumping the front-wheel drive architectures they've used since the 1990s. That's good news.
Automotive News Europe reports that next June, Alfa Romeo will debut a new midsize sedan positioned in size between the BMW 3-Series and 5-Series. (But not a 4-Series competitor because that's a coupe, feel me?)
The new sedan is a successor to the old 159, pictured above, and was originally set to be called the Giulia like Alfa's old sport sedans and coupes but will likely receive a new name. Ten bucks says it will be an alphanumeric to compete with other luxury cars.
Alfa Romeo brand chief Harald Wester confirmed at the LA Auto Show that a new model will debut in June, and while he declined to say which one it would be, Alfa sources told AN that it will be the sedan. They're also planning a larger flagship sedan and a midsize SUV.
Other than that, few details are known about the 159 replacement, including what engines it will use and where the rear (and all)-wheel drive platform will come from. But if Alfa expects to fulfill Sergio Marchionne's plan of 150,000 North American sales per year, they'll have to bring their A game.