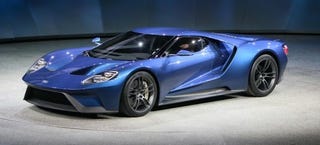 The Ford GT was the most delightful, pleasant, and AMERICAN surprise of the Detroit Auto Show. Today at the Chicago Auto Show, it has emerged that the Ford GT will be built, and it'll be built in Canada. This is excellent news, eh?
It'll be built in Markham, Ontario, which is the home of race car mavericks Multimatic. Yes, the people who make dampers for F1 cars and already do a lot of work with Ford Performance on their racing programs.
This also lends credence to the rumors and reports of the Ford GT heading to Le Mans in 2016 and possibly racing this year. Oh hellz yeah.