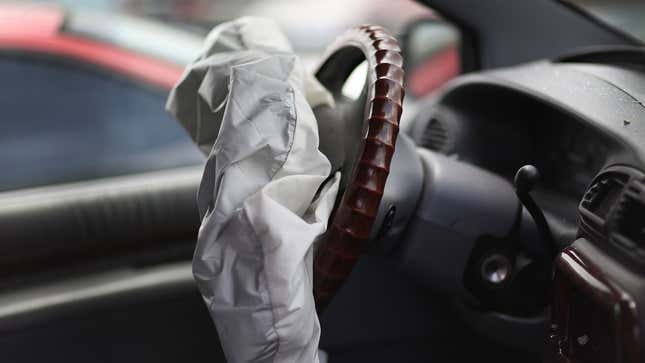 It's Friday, June 2, 2023 and this is The Morning Shift, your daily roundup of the top automotive headlines from around the world, in one place. Here are the important stories you need to know.

2024 Nissan Z NISMO | Jalopnik Reviews
1st Gear: NHTSA Not So Fast
With automotive recalls being as frequent and pressing as they are these days, it's imperative that the National Highway Traffic Safety Administration move through its investigations as efficiently as possible. That's exactly what's not happening, judging by NHTSA's eight-year-long probe into ARC Automotive's potentially dangerous airbag inflators that still hasn't produced any meaningful action. The U.S. Department of Transportation inspector general's office has had enough, calling its colleagues out this week in an audit seen by The Wall Street Journal:
The audit, covered in a report dated May 31 by the U.S. Transportation Department's inspector general's office, recommended that the National Highway Traffic Safety Administration implement a plan for meeting its targets for completing auto-defects investigations and ensure documents related to those probes are uploaded to its public website for transparency and accountability.

The lack of timely investigations may limit NHTSA's ability to identify and respond to rapidly evolving or serious auto-safety risks, the report said. "Further, delays in completing safety defect investigations could result in unidentified motor vehicle defects and safety risks to the traveling public," it added.
Specifically, the report took aim at NHTSA not holding itself accountable to its own deadlines as well as its poor data-keeping protocols, including a reliance upon "aging, decentralized databases." Sophie Shulman, NHTSA's deputy administrator, stated in the regulator's defense that just because a probe takes longer than planned doesn't mean action won't be taken before it's deemed complete. But eight years is too long, no? Continuing on:
NHTSA said that it has already implemented most of the watchdog's recommendations, and that the changes it began making in 2016 have led it to address safety risk faster than in the past. The agency added that it is continuing efforts to identify safety issues more quickly and engage with manufacturers earlier in the process to conduct more timely recalls.

The inspector general office's findings follow reporting last month by the Journal, which found that the average length for NHTSA's open investigations is now the highest in the agency's 52-year history. Many safety probes launched by NHTSA have been open for three and four years, the Journal found in an analysis of publicly available data.

Among the longest of the government's probes is NHTSA's eight-year investigation into air-bag inflators made by auto-parts supplier ARC Automotive, the Journal found.
At the moment, NHTSA has put it to ARC Automotive to answer a series of questions in a special order about the safety of its inflators. If ARC doesn't respond by June 14, it'll risk a "maximum fine of about $131.6 million and potential criminal penalties."
2nd Gear: Hyundai, Kia's Fix Is Broken
The software update Hyundai and Kia issued for cars with keyed ignitions to combat rising theft of the brands' vehicles apparently is not playing nice with remote start, according to Automotive News:
According to a service bulletin sent from Kia America to its dealers in February, the company identified a compatibility issue involving vehicles equipped with remote start accessories.

Another bulletin, issued last week, said the problem has not been remedied.

A spokesperson for Kia confirmed that the issue persists, but the company expects to release a new version of the software update this month that is compatible with the subset of vehicles equipped with remote start. The automaker remains "confident" the upgrade works as designed for eligible models, the spokesperson said.

The same software update is also available for older Hyundai models not equipped with an antitheft device.

The most recent Hyundai service bulletin sent to dealers in April also advises that vehicles with aftermarket or add-on alarms or remote start systems may not operate normally if the software patch is installed.

A Hyundai spokesperson told Automotive News that a small number of Hyundai vehicles equipped with remote start systems may not operate normally when used in conjunction with the antitheft software, and that engineers are working to resolve the conflict in communication with dealers and affected customers.
The patch works by essentially killing ignition while the car is locked, so it's not surprising that it wouldn't be compatible with remote start accessories, especially aftermarket ones. This is a real pickle Hyundai and Kia have gotten themselves into, isn't it?
3rd Gear: Infiniti's Got A New Boss
That would be former Nissan Mexico head Jose Roman, who will now oversee the luxury brand around the world, and maybe try to get it back on some radars. From Auto News, again:
Infiniti's newest leader starts on July 1 and will be based at the company's global headquarters in Yokohama, Japan, just south of Tokyo. Roman, 56, will also serve as a senior vice president at the parent company and report to Asako Hoshino, Nissan's global sales chief and executive vice president.

"Jose's human-centric leadership style, paired with a wealth of experience gained across diverse markets, will be invaluable for Infiniti to move to the next bright chapter," Hoshino said in the statement. She credited Roman with consolidating Nissan's market leadership in Mexico, where under his lead the brand achieved its 15th consecutive year atop the country's sales chart.

During his tenure, Roman introduced Nissan's e-Power hybrid powertrain system to the region.
Infiniti sold just 46,619 cars last year, so Roman has quite some work to do. He could probably use some new product to help him do it.
4th Gear: Opposition To Toyota's Old Boss
California and New York's public pensions systems, which hold millions of shares in Toyota-affiliated companies, voted against former Toyota CEO Akio Toyoda's reelection as chairman of the automaker's board, per a Reuters report:
The California Public Employees' Retirement System (CalPERS) and the Office of the New York City Comptroller both also voted for a resolution urging Toyota to improve disclosure of its lobbying on climate change, according to postings by the funds.


The details of the votes come after two leading proxy advisory firms last week raised issues about governance at the automaker. One of them, Glass Lewis, recommended shareholders vote against re-electing Toyoda, citing what it said was his responsibility for the lack of a sufficiently independent board.

The disclosures by the public pension systems with a record for activism underscored the pressure Toyota faces at its annual meeting on June 14 over board oversight and its choice to push electric vehicle (EV) alternatives, including hybrids like the Prius.

Toyota said on Friday it actively engages in dialogue with shareholders and investors, and considers the optimal board structure while receiving opinions and advice.
This comes after advisory firm Glass Lewis recommended members vote against Toyoda's appointment, stating that one-third of the company's board members should be independent. That, coupled with the lobbying and Toyota's hesitance over EVs, is earning the company considerably more criticism these days.
5th Gear: Renault Owners To Take Class Action Over Engines
Some 400,000 Renault vehicles in France built between 2012 and 2016 use a 1.2-liter engine that's believed to have serious oil consumption issues, and a group of owners have had enough. They're angling to file a "criminal" complaint over the company's alleged negligence and failure to issue a recall next week, courtesy Reuters:
"We are going to file a complaint on Monday on behalf of at least several dozen people," Christophe Leguevaques told Reuters, adding many more owners of Renault vehicles - as well as those of its Dacia brand and partner Nissan - could join the move.

The complaint, first reported by Le Parisien newspaper, will be filed with the Nanterre criminal court, with claims ranging from "aggravated deceit, questionable business practices" to "fraud" and "endangering the life of others", the lawyer said.

The decision to file the complaint follows unsuccessful discussions between Renault and the plaintiffs over the faulty engines, he added.

It will be up to prosecutors to decide whether to open a formal investigation.

A Renault spokesperson said the company had been providing technical support and financial help to affected customers.
This reminds me of our own Lawrence Hodge discussing a similar problem with many modern Hyundai and Kia engines last year — one of which he owned — which also resulted in class action. I wonder if Renault, like Hyundai, is wondering why these people won't just go out and buy new cars?
Reverse: Bruce McLaren
On this day in 1970 — 53 years ago — we lost Bruce McLaren at just 32 years old. From History.com:
Neutral: Heads Up
You may have noticed some small changes with The Morning Shift in recent days, and next week we're going to try doing things a little differently by breaking some of these industry-related stories out into separate posts. This is a warning, because I know there's nothing anyone hates more than opening the app or the website or whatever and the furniture's all moved around. Have a good weekend, and see you next week!