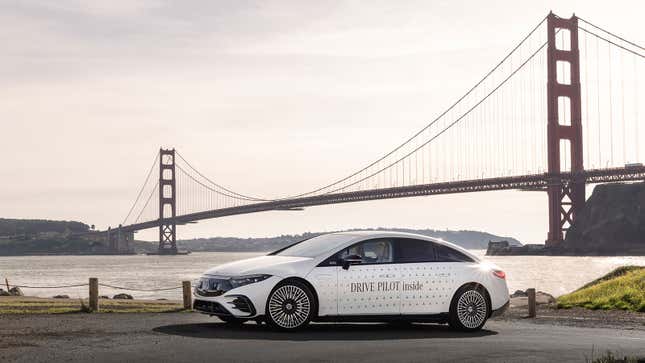 Remember Tesla and its Level 2 driver assist feature called "Full Self-Driving"? Well the feature doesn't actually let the car drive itself, as we all know. Now, after years of claiming it was the closest we would get to self-driving cars, Mercedes has come out ahead of Tesla on one of Tesla's home turfs, California, where Mercedes has been granted approval to launch its Drive Pilot software.

This NYC Garage Takes Vanlife To The Next Level | Jalopnik Visits
Drive Pilot is Mercedes' Level 3 automated driving software, meaning the car can be left to take over driving responsibilities in certain conditions. According to Reuters, the California Department of Motor Vehicles will permit Mercedes' Drive Pilot system to be activated "on designated highways under certain conditions without the active control of a driver." The site reports:
California is one of Tesla's (TSLA.O) largest markets, accounting for 16% of the carmaker's global deliveries last year, according to Reuters calculations.

But the German carmaker beat Tesla to become the first carmaker to receive authorization to sell or lease cars with an automated driving system to the public in California.

The approval was granted to Level 3 Mercedes-Benz 'Drive Pilot' system that allows a driver to legally take their eyes off the wheel but must be available to resume control in need.

The 'Drive Pilot' system can only operate on highways during daylight at speeds not exceeding 40 miles per hour, the DMV said.
California is the second state to permit Drive Pilot on its roads following Nevada, which permitted the system to roll out on highways earlier this year. The permit from California allows the system to be activated on highways in the Bay Area, the Central Valley, Los Angeles, Sacramento, and San Diego, and on interstate highways connecting Southern California to Nevada.
According to Mercedes, the system will premiere in the U.S. as an option on 2024 S-Class and EQS Sedan vehicles. The first deliveries of cars fitted with the system are expected later this year.