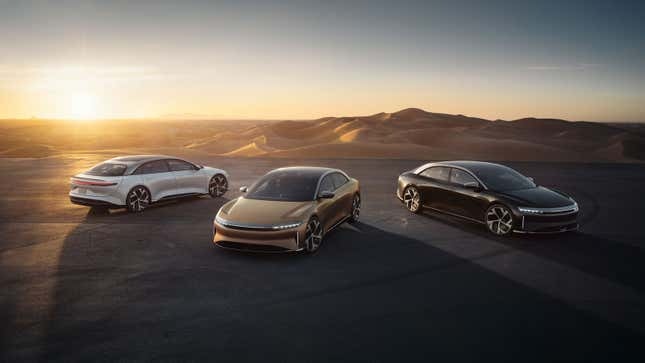 Lucid was the darling of the automotive world when its Air sedan finally hit the highway last year. Most people that drove it agreed that it could be the possible Tesla killer that was promised, but with a starting price of nearly $90,000 sales haven't been what the company expected. This forced it to cut production forecast for the year and report lower-than-expected first-quarter revenue earlier this year.

Now, Reuters reports that the fledgling automaker has a plan to turn around its fortunes: it's going to launch in China. According to the site:
U.S. luxury electric vehicle maker Lucid Group is preparing to enter the world's largest auto market, its head of China operations Zhu Jiang said on Thursday.

Lucid will sell imported cars in China while also considering local production in the country, according to a person familiar with the matter who was not authorized to speak with media.
According to Reuters, the company has confirmed that it plans to launch its Lucid Air models in China soon, but it refused to comment on rumors that it was looking into production sites across the country.
The EV maker's decision to launch in China comes just a week after it announced ambitions to raise up to $3 billion through a stock offering. The offering, which is expected to be snapped up by Saudi Arabia's Public Investment Fund, will help the automaker expand "globally at a faster pace."
Lucid's launch into China would follow similar moves from EV startups like Tesla and Polestar. Both companies have production sites in the country, with Tesla opening its factory in Shanghai and Polestar coming with the backing of Chinese automaker Geely.

At the end of 2022, Lucid reported that it had built 7,180 Air sedans, and it shipped 4,369 examples out to customers. In 2023, it hopes to double that figure and make as many as 14,000 cars.