This is The Morning Shift, our one-stop daily roundup of all the auto news that's actually important — all in one place at 9:00 AM. Or, you could spend all day waiting for other sites to parse it out to you one story at a time. Isn't your time more important?
If you hadn't noticed, someone stole Jason's Beetle. I love that car and am, understandably, bummed. Jason loves that car even more. It's his avatar. It's his go-to car drawing (that and some weird sort of Hillman Imp thing).
Today we were supposed to celebrate a new car in the Jalopnik family (more on that later), but now we're focused on getting an old car back.
1st Gear: Ferrari Is Big In Japan
G/O Media may get a commission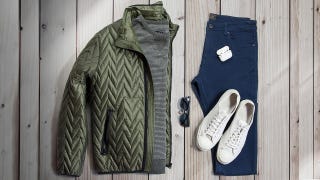 60% off
Jachs NY Fall Sale 60% Off
You know who loves Ferrari? Basically everyone, which means that the greatest barrier to owning a Ferrari is pecuniary. We mentioned that the Japanese dropping the value of their currency has meant happy times for Japanese automakers and for people hoping to buy said cars in the U.S. It's also good for Japan's 1%ers.
According to Bloomberg, Ferrari registrations in Japan jumped to a 12-year high of 558 units.
Japan is home the world's largest Ferrari owner's club and, now that we think about it, a few of them do need replacements.
2nd Gear: GM To EcoBoost Local Economy With New Plants
GM is going to put $332 million into new plants that'll build fuel efficient engines and transmissions. The new plants will be located in in Bedford, Toledo, Flint, Bay City, and North Haverbrook (wait, that doesn't sound right).
Per Reuters, these plants will build their EcoBoosttec V6, eight-speed transmission, six-speed transmission, and a mysterious new small gasoline engine that should compete with some of Ford's smaller offerings.
3rd Gear: The Smart Way To Own A Car In England
If your driving conditions see you only running around the London Metropolis, then a Smart might make sense for you. Still a little pricey, though? Enter the smart edition21.
This very black (or very white) edition is mostly a parts bin special with three-spoke wheels and "edition21" logos located, discreetly, in a few places. But it's not how it looks but what it costs.
You can get one for £79 per month (about $120) with 0% APR and a year of free insurance. It's a lease, so if you want it you'll have to pay £1,999 as a deposit and £4,010 for the final payment. Still, not that bad of a deal.
4th Gear: Korea And You
More than any other Big Three, GM is sensitive to what happens in Korea. If you only read car news you'll maybe be surprised that there's a conflict going on between North Korea and, well, everyone else. Mostly it's just Kim Jong Un making noise for attention. We hope.
GM's chief Dan Akerson was on CNBC's "Squawk Box" saying everyone would be impacted by a conflict in Korea, reports The Detroit Free Press, but there's no doubting that the biggest hurt would fall on GM, which produces 145,000 vehicles for South Korea and 1.3 million for export.
So, no Spark for you if war breaks out in Korea.
5th Gear: What's Going To Happen With Leno's Garage?
The news of Leno's departure from "The Tonight Show" has our friends at the Wall Street Journal wondering if this isn't a boon for car fans.
We all love Leno's Garage and wouldn't say no to more episodes, if that's what happens. After many, many years of work he certainly deserves a break, but from what we hear Jay is going to spend his free time working on cars whether or not there's a camera there.
Our vote is for having a camera there.
Reverse: Bill France, Jr Is Born
Bill France Jr., the leading force behind the transformation of the National Association of Stock Car Auto Racing (NASCAR) from a regional sport into a multibillion-dollar industry with fans worldwide, is born on this day in 1933 in Washington, D.C. France's father, William France Sr. (1909-92), founded NASCAR in 1948.
[HISTORY]
Neutral: How do you feel about leases or exotic financing? Would you do Tesla's weird lease-to-own? Or do you prefer to buy a car with cash?
Photo Credit: Getty Images, 1/4th