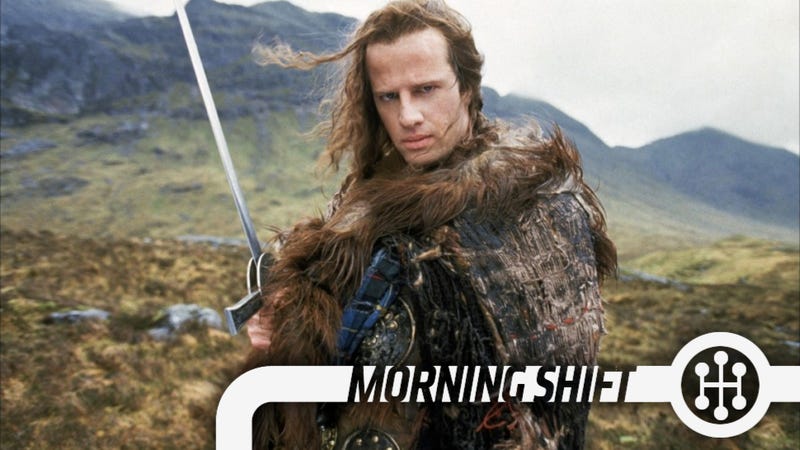 This is The Morning Shift, our one-stop daily roundup of all the auto news that's actually important — all in one place at 9:00 AM. Or, you could spend all day waiting for other sites to parse it out to you one story at a time. Isn't your time more important?
1st Gear: Bad News For Camry
Mid-size cars have historically been like toasters. Under the reign of Dull King Camry, it was decided they should be a common convenience that almost everyone has but no one cares about. Alas, the king is dead. Long live Slightly More Exciting King Accord.
Accord outside the Camry in April with 33,538 cars to 31,710 Camrys, which is still a shit ton of Camrys if you consider that they're beige, outdated appliances usurped in almost every way by the competition.
But is the Accord just a pretender to the throne? Sales of the reworked Nissan Altima and fetching Ford Fusion are also growing as sales industrywide grew 8.5%. Toyota was the only major company on the outs, with total sales of Toyota/Lexus/Scion products down 1.1% year-over-year.
Despite the bad month, Toyota's actually being strategic here, with analysts telling Bloomberg that the plan is to wait for new product to come out but not take a profit hit by offering a ton of incentives.
We'll see...
2nd Gear: What About Nissan?
Nissan's quietly rebuilt their lineup with new vehicles like the redesigned Altima, Pathfinder, and Sentra. None of those are exciting vehicles, but they're competitive, which isn't something you could always say.
Nissan was up 23% to 87,847 vehicles year-over-year with the main brand up 25% and Infiniti up 10%. They're also doing the opposite of Toyota and dropping prices on the Altima, Sentra, Juke, Murano, Rogue, Maxima, and Altima as they hope to gain market share.
This is a reversal of the way the year was going, with the brand down 2% through March according to Automotive News.
3rd Gear: GM Better Than You'd Expect
We've already discussed that both Ford and Chrysler were profitable this quarter, with Ford doing great and Chrysler hoping for more. GM come in a close second, besting estimates and posting a first quarter profit of $865 million.
Now… that's still down 13% from the first quarter of 2012, but the difference according to The Detroit News is that because of Europe they were always going to lose this quarter. Europe just wasn't as bad as it could have been.
Some analysts saw GM losing $400 million in Europe just in the first three months of the year, but they only lost $256 million. Hurray!
4th Gear: About That Volt
The electric/near-electric market is a little screwy. One month the Volt is besting everyone, then the next month the leaf swoops in and beats it. Here's where we are now per the Detroit Free Press:
Nissan sold 1,937 Leaf models this April, compared to 370 Leafs last April. GM sold 1,306 of the Volts this April, compared to 1,462 Volts in April 2012.
Granted, Nissan dropped the price of the Leaf by $6,000 to a low-low $28,800 before incentives, whereas the Volt still costs around $40,000.
And what about the Tesla Model S? There's an outside chance it outsold both.
5th Gear: BMW Is Winning And Losing At The Same Time
Europe, as it should be clear by now, is a mess, leading BMW to lose 3% in the first quarter with a profit of $1.73 billion on revenues that slumped 4.1%, reports the AP. Yet, it's not exactly bad news.
Daimler and VW are sinking, as is Ford's European unit. Vehicle sales are also up everywhere, even in Europe and especially in Asia.
At this point, if you're a European company, it's good enough to be least bad.
Reverse:
On this day in 1918, General Motors Corporation (GM), which will become the world's largest automotive firm, acquires Chevrolet Motor Company. GM had been founded a decade earlier by William C. "Billy" Durant, a former carriage maker from Flint, Michigan, whose Durant-Dort Carriage Company had taken control of the ailing Buick Motor Company. On September 16, 1908, Durant incorporated Buick into a new entity, General Motors, which by the end of that decade had welcomed other leading auto manufacturers—including Oldsmobile, Cadillac and Oakland—into its fold. In 1910, with GM struggling financially, stockholders blamed Durant's aggressive expansionism and forced him out of the company he founded. In November 1911, he launched Chevrolet Motor Company, named for his partner, the Swiss race car driver Louis Chevrolet.
[HISTORY]
Neutral: What's The Best Mid-Sized Car? New Fusion? Redesigned Accord? That hot hot Mazda6? Passat TDI? Which would you buy?
Photo Credit: Getty Images