Silverstone Circuit became the full-time home of the British Grand Prix in 1987, but may not be for much longer. The British Racing Drivers Club, who owns Silverstone, initiated a break clause in their contract to stop hosting F1 after 2019, reports the BBC, citing unaffordable hosting fees.

BRDC chairman John Grant told the BBC that they cannot afford to host F1 anymore unless a new, less expensive contract with the series can be negotiated:

We have reached the tipping point.


We can no longer let our passion for the sport rule our heads. We sustained losses of £2.8m [$3.6 million] in 2015 and £4.8m [$6.2 million] in 2016, and we expect to lose a similar amount this year.

Our hope is that an agreement can still be reached, so that we can ensure a sustainable and financially viable future for the British Grand Prix at Silverstone for many years to come.
Silverstone receives no government support in order to host the race, which is a sharp contrast with state-backed races in places like Baku and Austin. F1's hosting fees, which grow by 5% every year after starting at $15.4 million in 2010, are part of a 17-year contract that was negotiated in 2009. It has grown so much that Silverstone can't even break even on hosting the race, and will lose more and more money if they continue to do so.

On top of that, Silverstone underwent a major modernization project in order to secure that 17-year deal that left them $35 million in debt from the start.

G/O Media may get a commission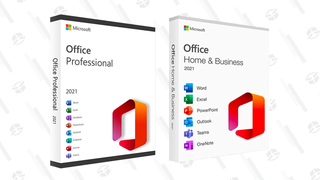 95% off
Cyber Monday - Lowest Price Ever - Microsoft Office Lifetime License
Consequently, the break clause is one of Silverstone's only ways out of this losing situation. It had to be initiated before this year's grand prix, per the contract, so they're just in time.

Silverstone's announcement mere days ahead of this weekend's British Grand Prix as a hardball tactic to force new F1 owners Liberty Media into renegotiating favorable terms for the circuit quickly. A Liberty Media spokesman lamented just that when speaking to the BBC:

The week leading up to the British Grand Prix should be a week of great celebration for F1 and Silverstone.

We deeply regret Silverstone has chosen instead to use this week to posture and position themselves and invoke a break clause that will take effect in three years' time.

Our focus is still to preserve the British Grand Prix. We will carry on negotiating with the promoter in good faith and in private to reach a fair and equitable solution.

Fortunately, Liberty Media realizes that they need to have a British Grand Prix. Not having a British Grand Prix would be even more absurd than F1 skipping the German Grand Prix in a year when Mercedes (who races under the German flag) are the reigning driver's and constructor's champions in F1.

Mercedes doesn't do most of its F1 work at the company's base in Germany. Most of the F1 team's operations—along with those of Red Bull, Force India, Williams, McLaren and numerous others—are in the United Kingdom. Most F1 teams are based within 80 minutes of each other in what's called Britain's "Motorsport Valley." Silverstone Circuit is also located within the same region.

Silverstone has an irreplaceable history with Formula One, having been the site of the very first world championship F1 race in 1950.

So far, Liberty Media has been willing to negotiate with many of F1's historic venues in Europe to get them back on the calendar. They've already added the German and French grands prix back to the calendar for 2018, so renegotiating with Silverstone doesn't seem out of the question.

Alternately, they could opt to choose another venue for the British Grand Prix, such as the rumored street race through London. F1 chairman Chase Carey admitted to the BBC that there's been interest in hosting a race from other places in Britain.

However, Silverstone is currently the only track in Great Britain that meets F1's Grade 1 standards. Upgrading an existing circuit to become Grade 1 certified would be a significant, pricey undertaking. Carey also told the BBC that their preference is for the race to stay at Silverstone, however, any new deal would have to be mutually beneficial to both parties.