If you've been looking for a 1960s car that took a time machine to the future and re-crafted itself with modern components like an automotive Six Million Dollar Man, you've found it. The Gruppe5 2002 is quite obviously BMW 2002 inspired, but it has crazy huge flares and modern aero, a carbon fiber body, and a giant BMW V10 engine tuned to make up to 803 horsepower. This ain't the 2002 you remember. It's can be built. Gruppe5 has the technology.
Gruppe5 has tapped some of the most important race car builders of the last thirty years to facilitate this wild contraption, as BMW engine master Steve Dinan will build the V10s, and race-winning Riley Technologies will hand-assemble the tube-under-carbon chassis. Dinan, as well as Bill and Bob Riley are listed as co-founders of the venture.
The Riley-built chassis is billed as taking advantage of Daytona Prototype technology (a class that has been defunct for a few years already, and wasn't particularly technologically advanced when it was first designed in 2003) to provide a stiff and light 2200 pound all-in weight for the 2002. The giant wing at the back, as well as the huge under-bumper diffuser and front splitter are claimed to provide 2400 pounds of downforce, giving the Gruppe5 that often-chased ability to drive upside-down.
G/O Media may get a commission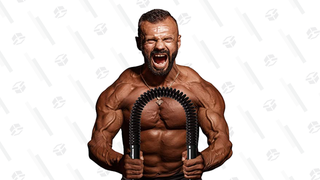 10% off
Zenooze Boa Power Twister
The engine is based on BMW's already amazing S85 V10, which was sold in the M5 and M6 from 2005 to 2010. In stock form, the naturally aspirated 5-liter produced an even 500 horsepower and revved to 8,250 RPM. After being completely re-engineered by Steve Dinan, the engine now comes in two different states of tune. Allegedly 200 examples of the car will be built with a 5.8-liter version of this engine producing 744 horsepower. Another 100 examples are available with a 5.9-liter iteration with a full 803 horsepower.
All of that power will be routed through an Xtrac sequential transaxle at the rear of the car to promote balance, and shifted through paddles on the steering wheel. The suspension is race-car trickery with pushrod operation at all four corners. Braking is handled with four race-spec Alcon mono-bloc calipers clamping a carbon ceramic rotor. All of that is held inside a set of 19" BBW 3-piece wheels wrapped in Michelin or Pirelli street-legal track rubber.
That's right, these lunatics want to offer the buying public an opportunity to buy an allegedly street legal car that makes more horsepower than a Dodge Challenger Hellcat Redeye, but weighs less than half as much.
Forget Singer, this project takes things to a whole new level of modern-classic craziness. If you're looking to take one of these wild machines home, Gruppe5 will charge you $875,000 for the 5.8-liter version, and $975,000 for the 5.9-liter version.
While it's obvious from the use of renders here that none of these cars currently exists, Gruppe5 says that construction of the first example will begin when Riley returns from France following the 24 Hours of Le Mans this June.