Formula One is the top series in motorsports, with the greatest drivers in the world. Who then, is the greatest of the great? Jalopnik readers think they know.
Welcome back to Answers of the Day — our daily Jalopnik feature where we take the best ten responses from the previous day's Question of the Day and shine it up to show off. It's by you and for you, the Jalopnik readers. Enjoy!
For decades, Formula One has been the highest form of motorsports, attracting the highest caliber of drivers. Narrowing down the very best to just ten is no easy task.
First we had to rule out the great drivers from before Formula One established itself in 1950. Few would argue that Tazio Nuvolari, who once won a race even after his steering wheel broke off his car, would be on this list. He's just not an F1 driver as we think of them today.
G/O Media may get a commission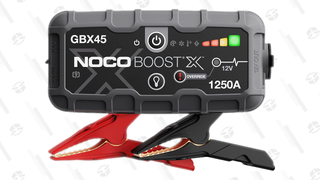 13% Off
Noco Boost X GBX75 Jump Starter
Many drivers could well have been the greatest if they had not been killed before they had a chance to shine. The young and extremely talented German Stefan Bellof was set to steal a victory from both Ayrton Senna and Alain Prost at Monaco in 1984 before the race was called early. Bellof crashed and died the next year.
Some drivers are certainly among the best in history, but they never did amazingly well in Formula One. The great Mario Andretti is the only driver to win the Indy 500, the Daytona 500 and the F1 World Championship, but he won that F1 title with a car that was miles better than the rest of the field. He floundered in F1 after that year.
Other drivers have been simply fantastic and deserve recognition; it is just that they have been outclassed by true legends. We should not forget such great drivers as Graham Hill, the only driver to win the Indy 500, the F1 World Championship, and the 24 Hours of Le Mans. Nor should we fail to mention John Surtees, the only driver to win world championships in both cars and motorcycles.
If we have left off your favorite driver, or if you don't see your personal hero at the top of the list, scream and yell at us in Kinja below and try and justify yourself.
Photo Credit: Getty Images
---
10.) James Hunt
James Hunt was pretty much the most drugged-out sex fiend to ever grace a racetrack, let alone win a Formula One world championship. He slept with 33 airline stewardesses in 14 days. His racing overalls said "sex — the breakfast of champions."
Suggested By: Bill Caswell, Photo Credit: Getty Images
---
9.) Jack Brabham
Triple-world champion Jack Brabham is the only driver to win a world championship in a car that he'd designed. He may well be the smartest F1 driver ever, and he is also the most influential driver in the design of F1 cars.
Suggested By: burningdinosaurs, Photo Credit: Getty Images
---
8.) Stirling Moss
The greatest driver never to win a championship. He has more skill behind the wheel than many who have claimed a driver's title. He is also indestructible and loved by the ladies.
Suggested By: Brian, The Life of, Photo Credit: Getty Images
---
7.) Alain Prost
Like Brabham and Schumacher, "The Professor" was one of the most complete drivers and four world championship titles speak to that. If you're a team manager, you want him driving for you.
Suggested By: Kate's Dirty Sister, Photo Credit: Getty Images
---
6.) Niki Lauda
He nearly burned to death in his 1976 crash at the Nürburgring. Six weeks and two races later, "the Rat" was back racing, competing for his third world championship. He later retired, un-retired, and won that third title. He earned the name "King Rat."
Suggested By: gometz, Photo Credit: Getty Images
---
5.) Jackie Stewart
The Flying Scot has claimed some of F1 greatest victories, not least of which being the '68 race at the Nürburgring, where he won by the largest margin in F1 to date (4 minutes and 3 seconds) and he did it in the rain and fog.
More than his skill behind the wheel, Jackie Stewart campaigned tirelessly for better safety in F1, facing resistance from his fellow drivers, the team owners, the race organizers, and just about everyone involved in the sport.
Suggested By: Oxus, Photo Credit: Getty Images
---
4.) Michael Schumacher
When teams call their drivers over the radio, the drivers are always wheezing out a few words, exhausted. When Michael Schumacher answered the radio, it was like having a normal conversation. He'd be beating everyone else, he'd be on the limit at every corner ad he'd be able to give detailed advice on the setup and design of his car.
He is the winningest F1 driver of all time, with seven world championships. He's also a complete asshole behind the wheel.
Suggested By: p.culligan.jr, Photo Credit: Getty Images
---
3.) Ayrton Senna
Senna was perhaps the most innately talented driver in F1 history. His connection to racing verged on spiritual. He was cut down in his prime, the last driver to die in a Formula One race.
Suggested By: F50F60, Photo Credit: Getty Images
---
2.) Jim Clark
Like Senna, Clark's car control was on another level compared to everyone else around him. He drove smoother and cleaner and faster than the rest of the field, every time. We remember him, though, as one of the greatest men to drive in F1. Eric Dymock in Jim Clark: Tribute to a Champion gives an anecdote of how Clark was as a person.
[1965] was [Jackie] Stewart's first drive at Spa and Clark was well aware of what his new friend was facing after his own distressing experiences. Clark was leading comfortably, and backed off to conserve his car. Stewart caught up in the BRM, until Clark could see its orange nosecone in his mirrors. He told Graham Gauld: "I could see this speck in my mirrors on the straight and I suddenly thought it's pouring with rain, it's Spa, it's an awful place. If Jackie can see me, he'll maybe think he can catch me." With typical gallantry Clark speeded up to stretch the gap, worried that the less experience Stewart might risk driving too fast in pursuit.

The evidence is in Clark's times. Between laps 19 and 25 he calmly cut 10 seconds off every lap, in order to race ahead. Courtliness in motor racing had not yet perished in 1965.
Suggested By: HopkinsonF1, Photo Credit: Getty Images
---
1.) Juan Manuel Fangio
Until Schumacher, Fangio had the most world championships of any driver, winning five titles with four different teams, and often beating drivers half his age. He won 41% of all the races he ever entered, a percentage that will never likely be beaten. He did this all in the most grueling conditions any of these drivers faced, where less than half the cars that started most races ever finished and his fellow drivers were killed regularly on the track.
He is the most respected driver in F1 history. May that always be the case.
Suggested By: Mechascroggzilla ate my Face, Photo Credit: Getty Images