The Obama administration is trying to check as many policy boxes as it can on the way out of the door, and today it finally announced a flexible framework for companies and governments involved in developing self-driving cars.

President Obama took just a few short minutes during his final State of the Union address earlier this year to push for what he heralded as a "21st Century Transportation System" that was mostly concerned with transitioning from fossil fuels to alternative energies, with no mention of the burgeoning self-driving car movement.
Meanwhile, dozens of companies from the automotive industry and Silicon Valley have been hard at work developing the future of the automobile, with Google, Tesla, Ford, General Motors and Maven, Uber and dozens of others shifting research and development towards self-driving vehicles—many companies already operating functioning prototypes in multiple states. And yet, back in January, Secretary of Transportation Anthony Foxx announced that the federal government had no plans for national regulations.
But now the government has seemingly considered it might be a good idea to catch on to this self-driving movement, and have worked up some very flexible guidelines for State and local governments and the many companies working on self-driving projects, putting a cap on the potential for an uneven patchwork of policy.
G/O Media may get a commission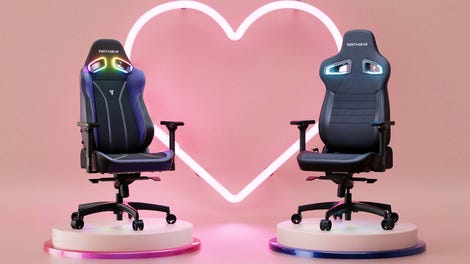 Up to $150 off
Vertagear Gaming Chairs
The framework is designed to loosely govern the development of self-driving technologies while opening communications between companies and the government concerning the emerging technologies. It also includes recommendations for State and local governments introducing legislation to safely bring self-driving cars onto public roads.
A big aspect of the new guidelines will be the new five-level scale for classifying self-driving vehicles to be designed by the Society of Automotive Engineers. Under these new guidelines, companies with existing road-going systems, like Mercedes-Benz and Tesla, will be asked to reclassify their self-driving software under the new classification, which may push the systems out of the current Level 2 classification, according to Automotive News.
As part of its autonomous-vehicle policy, the agency has scrapped its own classification of automated driving technologies and will adopt the five-level scale developed by the Society of Automotive Engineers.

The new assessments would apply to all vehicles with an SAE Level 3 automated driving systems or higher, the DOT official said. A Level 3 system can provide full autonomous driving without human intervention in certain situations, such as highway driving, while still requiring a human driver to take over in other settings.
The new guidelines, set to be released in full tomorrow, will also include a 15-point safety assessment that companies will be required to report to the federal government concerning the decision-making conditions of the self-driving cars, among other factors.
More from The Verge:
The government is seeking basic details on how these cars function, as well as how they record data, what happens when they crash, how they protect themselves against malicious hacking, and most intriguingly, "how vehicles are programmed to address conflict dilemmas on the road." They plan on publishing the responses they receive in an annual report.

Foxx said the safety assessment was developed in a way to boost transparency around self-driving cars, while also protecting privacy and competitive interests. "It's in their vested interest to be as upfront and clear and transparent as possible because there's market risk to putting a product out there that doesn't meet the expectations of the public," Foxx said of the manufacturers.

The Department of Transportation will also continue to use its power to exempt traditional features of road-going vehicles as the self-driving technologies progress—like with the removal of steering wheels—but "will not hesitate" to use its recall authority in the event of an unsafe development, according to Secretary Foxx.
Also included in the new framework, but pending congressional approval, are new authorities by the government including pre-sale approval of new autonomous vehicles, as well as federal regulation of post-sale software updates, like with Tesla's wireless updates, according to The Verge.
The Department of Transportation will seek congressional approval for these new authorities, as well as the budget to bring in more experts to tackle the developing engineering and social concerns tied to new self-driving vehicles.
Secretary Foxx stressed that the new guidelines would be flexible and open to input from manufacturers and local governments, with annual updates following a 60-day period for public commentary on the announced guidelines.
It's unclear how willing the automotive and tech industries will be to new guidelines, with the government looking for extensive communication on self-driving projects. But if we're ever going to limit the more-than 30,000 annual traffic deaths in the U.S., the driver-computer handover will have to be carefully decided before we decide to let go of the steering wheel.