The sixth-gen model was the first Mustang designed to compete in the European market. After five decades of forbidden fruit, the Europeans finally get their American freedom-machine, and boy are they liking it. Especially Germany, where the pony out-sold all other sports cars last month.
Germany's Federal Motor Transport Authority issued a new report showing the country's automotive sales figures for the first few months of 2016. The report, whose title translates to "New Passenger Car Registration By Segment And Model In March 2016," shows that ze Germans are loving the classic American pony car.
The report shows that in the "Sportwagen," or sports-car class, Ford sold 780 Mustangs last month, compared to the Audi TT's 708, Porsche 911's 752, Mercedes SLC's 364 and the Camaro's measly 18.
To be sure, the Mustang, which starts at 38,000 Euro, is quite a bit cheaper than the Porsche 911, but it is in the same ballpark as the other three mentioned above.

The Audi TT is still wining in sales for the first three months of 2016 combined, but Dearborn's pride-and-joy is hot on its tail.
G/O Media may get a commission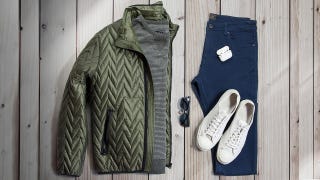 60% off
Jachs NY Fall Sale 60% Off
Why? I'm sure it has to do with the romanticized history of the Mustang. But I think it has more to do with a little something we here in America like to call "horsepower."
According to WFMZ News, Ford says their best selling model in Germany is the 435-horsepower GT, which starts at 43,000 Euro. That's not exactly cheap, costing quite a bit more than the SLC and TT. But when you consider the power figure, that's a downright bargain compared to others cars in the class.
So basically what I'm saying is: Germans like cheap horsepower. Just like the rest of us.