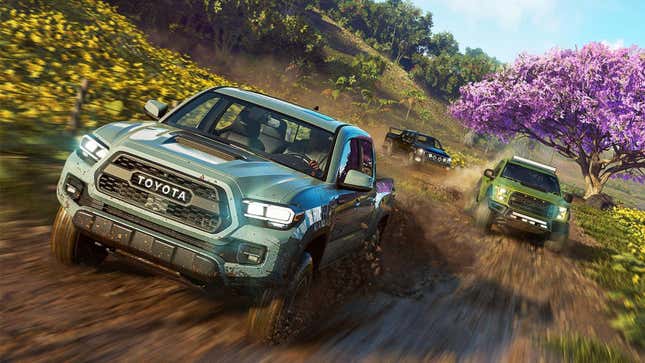 Credit where it's due, Ubisoft's Ivory Tower never let off the gas with The Crew 2, a game that's been out for five years at this point. Regular quality-of-life updates, new cars and story-based events have dropped consistently since the title's 2018 release, and will continue to all the way up until The Crew Motorfest comes out September 14. But the upcoming third act will bring a major change for the franchise — albeit one that leaves it feeling a little familiar.

I was fortunate to go hands-on with The Crew Motorfest last week. My session took me through the game's introductory sampler of various event types and disciplines, followed by the Made In Japan series of events (in Motorfest they're called "Playlists") and then ended with me dipping my toes into the game's Main Stage live challenges, which change on a weekly basis and are best compared to Forza Horizon's Festival Playlists.
It's a comparison that must be made, because there's probably no Motorfest without Forza Horizon. Before, the most distinctive quality The Crew had going for it was its setting: a map of the entire United States, shrunken down so you could drive from coast to coast in about 40 minutes. If you didn't want to travel by land, The Crew 2 introduced the option of flying or boating — probably the other biggest difference between Ivory Tower's and Playground Games' open-world racers.
Motorfest is different, though, because it's set in a downscaled version of Hawaii's O'ahu island. Racing game fans will note that some developers of the original Test Drive Unlimited comprise the Ivory Tower team, and that title featured a one-to-one recreation of O'ahu. But Motorfest's take doesn't feel like TDU's.
For one, it's less grounded in reality and more of a "greatest hits" of the Hawaiian landscape. It's also far more malleable. For those Made In Japan races I mentioned earlier, the island transforms. Night races are bathed in a murky blue light, searing neon pink light fixtures and massive dragon balloons flank the track and rows of paper lanterns are strung up overhead.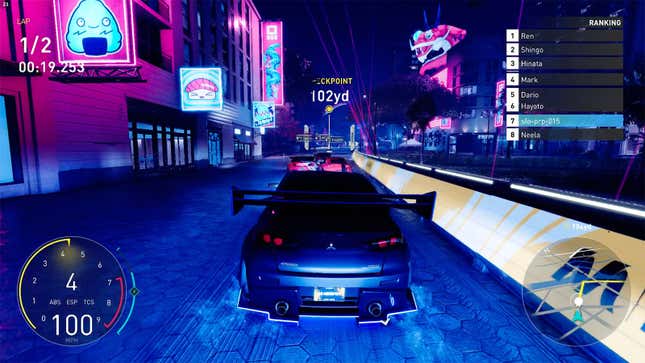 For the Motorsports Playlist, where I piloted a generic open-wheel single-seater and had to plan pit stops due to tire wear (for real), the game eschews all public roads for closed circuits contained within concrete barriers. Horizon and Motorfest's worlds do indeed seem to mirror each other, but the latter goes further lengths to change itself on occasion, to build some context for each individual Playlist.

Still, I couldn't shake the sense during my hands-on: this is Forza Horizon, if Forza Horizon was set in Hawaii and let you ride, boat and fly. There's the gaggle of too-friendly, 20-something strangers claiming they want to "see what you can do" but never seriously doubted you for a minute; the constant reliance on GPS waypoints to get from event to event, complete with a robotic Siri-type fake digital assistant to match; the unending prodding to explore, through sightseeing missions to snap photos that really just take themselves; the encyclopedic roster of cars across all categories and enthusiast niches, to ensure there's literally a vehicle for everyone. Motorfest checks all the boxes.
And why shouldn't it? Forza Horizon is the biggest racing game on the planet that doesn't let you hurl turtle shells at the competition. It's also not available on PlayStation. Of course Ubisoft would salivate at a slice of that pie and take advantage of an untapped market in Sony's install base.
But is it a good stand-in for Forza Horizon? The game is still in development of course, so it's much too soon to issue a verdict. I must take issue with Ubisoft's form of preview access here, because the entirety of my three hours with Motorfest transpired over streaming. That meant I was playing the PC version through a filter of muddy video compression and a low resolution, with all the input lag and occasional de-sync that entails, at a framerate that mostly remained in the low-to-mid 20s. This is not the ideal way to play a video game!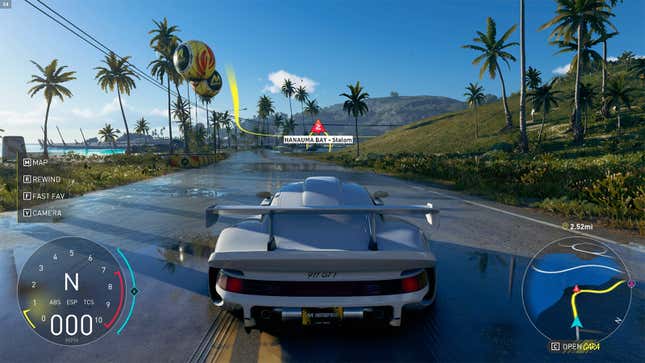 Visually it was all pretty poor on my side, but the captured footage — which you've been seeing in this article — thankfully looks much better. It was only after my session was over that I could marvel at the dense foliage and crisp reflections you can appreciate here. Plenty of photogrammetry work was done to replicate Hawaii's topography in Motorfest, Creative Director Stéphane Beley told me. Ubisoft sent artists to gather troves of images and videos "to be sure that the wood would be exactly the same, or the asphalt, or even the lighting that you see through the leaves." It was part of a concerted effort, Beley said, to sacrifice map size in order to create a richer, more thriving and detailed world. Compared to The Crew 2's repetitive AI-generated storefronts, the initiative shows.
I'm also pleased to say that even considering the requisite lag due to streaming, the handling seemed decently tight, just dramatic enough and certainly less wayward than previous Crew games. This too was the product of a campaign the dev team began "from day one, more than three years ago," in the creative director's words.

"We knew [at the start of Motorfest development] that we were challenged with The Crew 2 handling, so it was for us a big challenge — first the process was to be honest about what we had and see how we can enhance it," Beley said. "The word that came to mind was 'physicality.' So we worked on the physics of the car to have more depth; to be sure that now when you do a turn you will have some slipping and you'll see your car moving and at the same time every car will react differently. Your Lamborghini will not be the same as your Nissan Skyline, will not be the same as all of your other cars."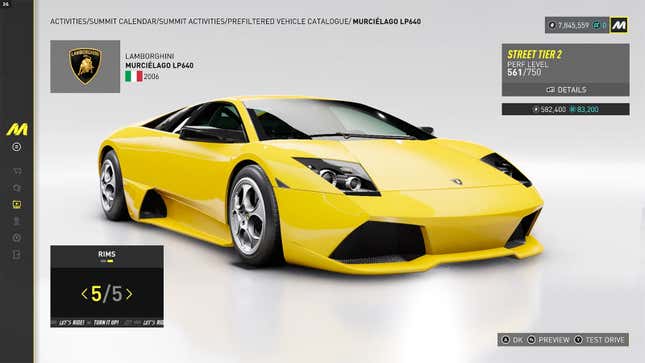 Beley's right — every vehicle does feel noticeably different, from snappy high-downforce GT3 cars to heavy, clunky old muscle to grippy all-wheel-drive sports sedans. What's more, they can't tackle all terrains equally, which is perhaps the most obvious difference between the physics of Motorfest and Forza Horizon 5. FH5 certainly plays well, and of course you'll always want to select the most appropriate vehicle for an especially difficult race in that game. But when it comes to free roam, Playground Games doesn't tend to limit where you can go depending on your choice of vehicle. Not so in Motorfest; your Lamborghini Revuelto won't take you very far through those mud-caked paths within the forest, and that means you have to be a little more strategic about what you drive, where and when.

It's a welcome wrinkle of intent and challenge to an otherwise carefree sort of racing game — the kind we've been seeing a lot of lately. But if the idea of endlessly roaming a tropical sandbox in hundreds of cars, motorcycles, boats and planes still excites you, The Crew Motorfest doesn't seem likely to let you down when it releases in about two months' time across current and last-gen platforms.