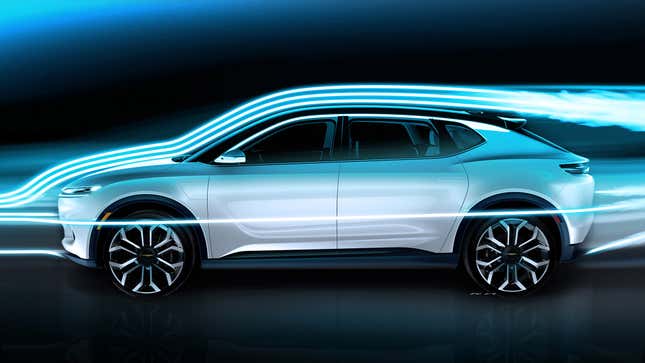 About two months ago, we overheard that Chrysler was "evolving" its Airflow electric crossover concept "in a new direction," according to Stellantis global design chief Ralph Gilles. This evolution seemed to be pretty drastic though, which painted an impression that Chrysler was in effect killing the Airflow in favor of a vehicle perhaps designed for the same segment, but with a radically different look. Gilles wants you to know, however, that the Airflow very much isn't dead. It's just changing, which is probably for the best.

Here's what the design boss posted to Instagram earlier this week:
I must clear something up. I have been seeing so many articles saying that Chrysler isn't building the Airflow EV… unfortunately misunderstanding me trying to explain that the design will evolve as we push the thesis even more under brand CEO Chris Fuell and our VP of Chrysler design [Irina Zavatski] leadership. The Airflow was just the beginning of the story… a North Star type of concept embodying a myriad of concepts we are cooking up with the extended and now even more capable Stellantis apparatus! Along with electrification, we explored advanced infotainment, whole life connectivity, sustainable cabin materials, while as its namesake underscores…explored the fusion of attractive body work versus aerodynamics, exploring fully automated and assisted driving configurations. All are active work streams in the group today and ongoing. The final product whatever it's final name and ultimate theme…will forge a refreshing new direction for the brand… So yes it may not look verbatim like the concept but that doesn't mean any work has been stopped. Stay tuned.
The Airflow was pretty much the only future vehicle we knew Chrysler was working on, so there's no way it would've been flatly canceled unless Stellantis' vision for one of its most storied marques is truly to pump out the Pacifica and only the Pacifica until the end of days. That said, Chrysler absolutely needs to get this one right because it doesn't have much of a brand to speak of anymore, and the Airflow, while looking nice, stood to look even more dated than it already does come 2025, when it was planned to launch.
So it's good that the Airflow is evolving. It needed to. The existing concept is best described as a 200 that swallowed a Jeep Compass, and only one of those two cars is still on sale anymore. That's not an inspiring impression for a model that's still two years out, while Hyundai and Kia continue to throw out weird shit every two months.
Gilles seems enthusiastic about the new approach, which we haven't seen yet. Of course he'd never admit to anything less, but the fact he's described it as a "refreshing change of direction for the brand" and told MotorTrend weeks back that Chrysler's new CEO, Chris Fuell, challenged the team by requesting a proposal that had "literally zero to do with anything that you have seen today" including the current Airflow, are good signs. If I may make a suggestion, y'all never did anything with the 1995 Atlantic concept.