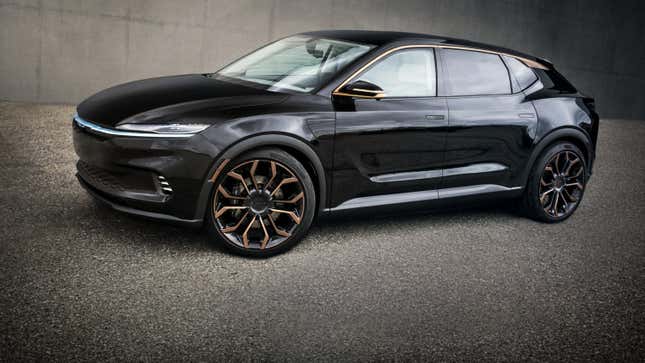 We know Chrysler has needed new product for years. Our ears perked up when we heard a few years back that Chrysler was bringing back a classic name for a concept that had production intent, the Airflow. But it would seem that's no longer the case; Motor Trend reports that Chrysler is wiping the slate clean and ditching the Airflow to go with something else.
WCSYB? | Replacing a Jeep Cherokee
Apparently, Chrysler CEO Christine Feuell, who came into the job in September 2021, wanted to start over with a new perspective, and as chief designer for Stellantis Ralph Gilles said, a new direction.
"Chris came at it with her perspective which we really enjoyed. She wanted a statement that had literally zero to do with anything that you have seen today, even the Airflow concept car. It is evolving in a new direction."
With Feuell giving designers and engineers a new point to work from, Gilles is excited about what they're working on.

Whatever this new vehicle is, it's been redone from the ground up. Everything from before was thrown out. A new platform was chosen, which is probably for the best. Weirdly, Chrysler built the Airflow on the RU platform, which is what they use for minivans like the current Pacifica. This new EV will ride on Stellantis' new STLA large platform which is dedicated for EV use.
The name was thrown out, too. While Feuell acknowledges that people may have liked or gotten used to the Airflow name, she says that the company is currently working on a new name. With the help of naming consultants they're close to choosing a new one with a short list made up of "legacy and new names." Reassuringly, Feuell says that "we are definitely not going down the alphanumeric path."
As for the design and tech, both are said to be more modern. Feuell says Chrysler is wanting to offer both 400- and 800-volt systems for fast charging as well as standard- and long-range versions with 400 miles of range. Of course, all the industry buzzwords will be implemented as well, including sustainable materials and some level of autonomous driving capability. The new design has been well received so far. The EV was shown at customer clinics in LA earlier this year with Gilles claiming that the design " blew the doors off."

While all this is well and good, it can't come soon enough and dealers are getting restless. With the 300 ending production dealers will be left with literally one vehicle to sell in the Pacifica. But to keep them satisfied, the EV was shown to dealers, though it's not known how they received it. Feuell says after the new EV hits the market in 2025 there's going to be new product every year through 2028 culminating in a whole new lineup. Hopefully the brand, its chief, designers and engineers can deliver because this is all something we've heard before that never happened.