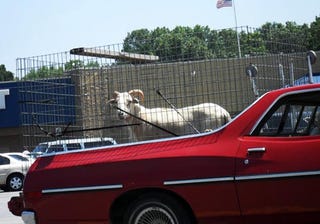 A Family Guy-inspired El Camino, a scooter-riding old man in a tutu and a man taking a dump in the parking lot; Just a few examples from this surprisingly-NSFW second edition of The Cars of Walmart.
We culled the archives at the brilliant website People of Walmart to bring you these gems, and if you're interested in seeing the actual people, you should take a look, but don't say we didn't warn you. A couple minutes there is enough to shake your faith in humanity.

Just for the record, we'd like to know why it's so easy to find pictures of goats in pickups at Walmart.
In case you missed it the first time, here's Cars of Walmart, Volume I:


[via People of Walmart]