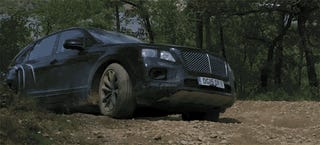 While Jaguar felt its important that we know about how their upcoming F-Pace SUV has been "driven over graveled mountain passes", Bentley went further by showing everybody how the Bentayga can in fact go where no Bentley SUV will ever go again.
Bentley's luxurious Taiga cruiser has to be able to off road decently, because even the completely insane 550 horsepower Range Rover Sport SVR is pretty capable once you leave the paved roads and that's basically where the bar is set.
There's also no question that the Jaguar F-Pace will learn a few tricks from its cousins at Land Rover, so the Bentley has a lot to compete against.
With a bigger price tag than the BMW X5 M, a Porsche Cayenne Turbo or a Mercedes ML63 AMG, Bentayga's going to have to leave some seriously quick SUVs in the dust on-road and off.
For those reasons, you need a new level of performance. And ground clearance.
Photo credit: John Lloyd
---
Contact the author at mate@jalopnik.com.