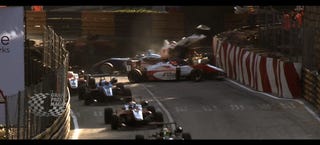 From this year's chaotic Macau Grand Prix weekend comes this gorgeous video of the Formula 3 race. Never has a lower-level formula race looked and sounded so epic. There's only fifteen laps in the season finale and the first few were interrupted by a huge crash. Make it count.
Lo and behold, there's a young guy named Max Verstappen in the field. I think we know what he's up to next year. Watch him jump ahead several places in no time and it's almost easy to understand why he's heading at Toro Rosso in F1.
Something tells me that we'll see more of this Felix Rosenqvist fellow, too.
Between the close-ups, slow-mos and footage of F3 cars tripodding through the narrow street circuit, this video is awesome. There's a brown livery in the mix as well. We approve.