Now that America has the fifth-generation 3-series, BMW announced that the sport wagon version will be available next year. No word yet on what powertrain options will be available in the wagon — most likely the same ones offered in the sedan: a 240 hp turbocharged 2.0-liter four-cylinder or a 300 hp turbocharged 3.0 liter inline six.
Europe already has a 3-series wagon, dubbed the 3-series Touring there, but Americans aren't known to have an affinity for wagons, so that explains the wait. Since Uncle Sam's children also tend to scorn diesel, we probably won't get the four- and six-cylinder diesel mills available in Euroland. The 3-series Touring comes with a choice of six-speed manual or eight-speed automatic gearboxes, so we're guessing those will show up here, too.
EPA has already done its homework on the new Sport Wagon's mileage estimates, sort of. There are no numbers for a potential four-cylinder offering. According to their figures, the six-cylinder with an automatic transmission will get 18/27 city/highway, and one mpg less for buyers who opt for the manual. That's a noticeable drop from the sedan model, which turns in 23/33 for the auto sixer, and 20/30 for the manual.
They came up with the same numbers for an automatic four banger equipped sedan and slightly higher ones for the manual, so I'm not quite sure how EPA is doing their math these days. All gasoline models run on premium, but if you're worried about those few extra bucks at the pump, you probably can't afford a Bimmer.
BMW boasts a 10 percent increase in cargo capacity — to 53 cubic feet — over the fourth-gen 3-series wagon, tying it with the Mercedes C-class wagon and making it 2.5 cubic feet larger than the Audi A4 wagon. Have you ever walked up to your wagon with an armload of crap and had to do that awkward pile-of-stuff-against-the-back-of-the-car-while-fumbling-for-your-keys maneuver? Fear not, BMW has developed something called Comfort Access that allows you open the rear hatch by waving your foot under the back bumper.
G/O Media may get a commission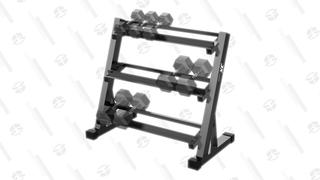 20% Off
JX Fitness Dumbbell Rack
Gains but tidy
Has a three-tier design to help store more weights more conveniently, can safely support up to 1000lbs of weight, which should be enough for most people, has a triangle base for stability, and also features anti-scratch feet which is great if you've built your own studio or workout in your garage.
Photo credit: BMW Group