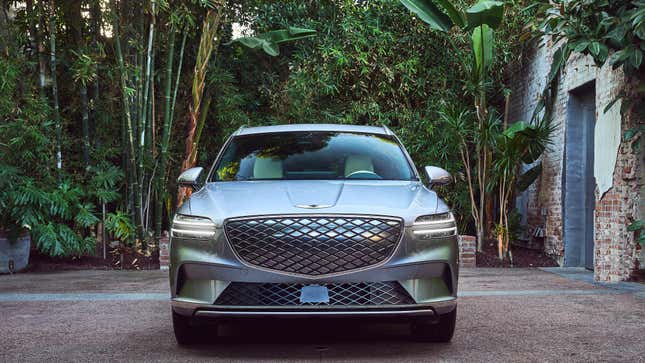 Genesis has been pushing hard into electrification recently, working towards an all-EV lineup by the end of the decade. First came the GV60, riding on the bones of the Kia EV6 and Hyundai Ioniq 5. Next, the Electrified G80, a monument to vehicular opulence with pricing to match. Now, the company's back with details on its third EV: The midsize GV70.
Genesis has built the GV70 for a while now, but this is the first time the company has brought full electrification to the model. But starting at $65,850, the electric version is over $20,000 dearer than a base-model gas-burning GV70. So what does all that extra money get you?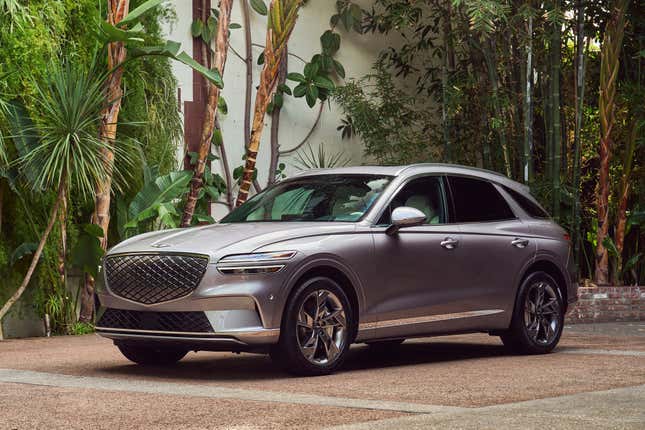 Well, it gets you closer to the competition. The Cadillac Lyriq comes in at $58,590, and the Lexus RZ is even closer at just a hair under $60,000. Audi's e-tron costs even more than the Genesis, starting at $70,800. The Genesis does offer a higher trim level, with its Prestige package starting at $72,650, but that's not out of the question for optioned-up competition — suffice to say, Genesis is in the ballpark here with pricing.
The Electrified GV70 has 160kW motors front and rear, all powered by a 77.4kWh battery. It packs electronic suspension, a big sunroof, expansive interior screens and plush, leather seats — all the kit you'd expect from a swanky electric crossover. Only its top trim, however, gets the heads-up display. This is a bit of a disappointment, as the Kia/Hyundai/Genesis HUD is one of the most interesting in the market. Everyone deserves the chance to see underglow overlayed on nearby traffic.
The Electrified GV70 will also bring another feature to the table, not found in the gas version: American production. The Electrified GV70 will be the first Genesis to be produced in the United States, and in fact the first to be built anywhere outside of South Korea. This, one has to imagine, is purely out of a desire to support American industry — and has nothing to do with any tax credits predicated on United States production.