We expected the 2020 Toyota Supra to debut at the Detroit Auto Show, but now we've got the full thing un-camouflaged thanks to a tweet by Toyota Mexico. Behold the new Supra.
Translated from Spanish, the tweet reads: "Our new #Supra arrived in Japan!, and this is the story that #AkioToyoda tells us about its return.":
Here are some screengrabs:
G/O Media may get a commission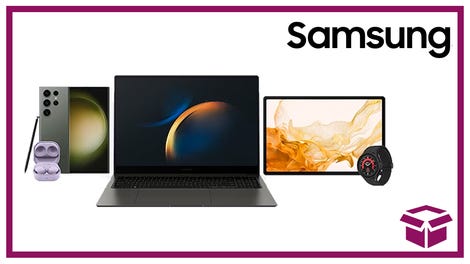 24 hour deals
Discover Samsung - Daily Deal
The new Toyota Supra has been a long time coming. Like, a really long time. But finally, the vehicle was set to debut at the Detroit Auto Show next week. Then tonight, Toyota Mexico's Twitter account posted the video above–possibly shown as part of the Toyota Gazoo Racing event for the Tokyo Auto Salon–that featured the full road car in all of its growly glory.
We don't have any new technical details on what may just be a "BMW parts bin car," seeing as it shares a lot with the new BMW Z4, including the platform and a very similar engine. But we were somehow able to review a prototype last fall, and we gleaned a ton of information:
In terms of structure and engine, it's basically a BMW. The chassis, 3.0-liter turbo straight-six engine, and the eight-speed automatic gearbox are all from Munich. Toyota says that for the Supra, the engine's software is proprietary Japanese stuff, and Tada's engineering team speak openly of it being a BMW engine.
Our reviewer, Neil Briscoe, said he thinks the car he drove had about 340 horsepower coming from its engine, which differed from the one in the BMW Z4 only in terms of software. But we're looking at more than just one engine offered in this Supra:
Well, there will almost certainly be more engine options. Four-cylinder turbo versions have been confirmed and hybrid models have been rumored, and while Toyota doesn't want to say anything specific yet, one senior engineer did tell us that: "Later there might be some additional news on engine development," and Tada did say this: "One of the joys of launching a sports car is getting the initial model out, and then keeping it fresh with regular updates."
The machine shown in the Twitter clip looks decent—especially from the side, where the proportions look right on point. I also really like the tail. I'm not entirely sure how I feel about the nose, and admittedly, it'd have been a bit more exciting if the real deal didn't look pretty much exactly like the photos that have been floating around for a while, but we'll have to check out how the thing looks in the flesh next week. So far, I like what I see.

More importantly, I'm hoping to like what I feel when I eventually drive the newest version of one of the most legendary tuner cars ever built. The last Supra was, in some whispered circles, derided a bit as a Japanese Mustang. But not the new one:
You just need to give it time, and to find the right road. Unlike the old A80, which always felt like a big car, this A90 Supra has been benchmarked against the Porsche Cayman and is similarly sized overall. It weighs around 3,284 lbs (distributed 50:50 front:rear—remember, it's a BMW underneath) and in spite of the height of that inline-six engine, actually has a lower center of gravity than the flat-four engined GT86. So it's agile, and stupendously so.
Briscoe went on:

During development, Toyota's engineers actually softened off the action of the front anti-roll bar, taking away stiffness in the hunt for more front grip, and a more progressive feel. They also added an active rear differential, that again is not about drifting and sliding, but about putting down power cleanly, and looking for sharper precision from the front end.

They certainly found it—even if you wildly over-estimate your entry speed, the Supra seems to find grip at the front, finds a turn-in point, and gets to the apex, or at least near enough.

Hammer the throttle and you'll wake up the back end, but this is not an aggressive drifting-prone machine in the manner of a V8 Mustang. Rather it feels like a half-step between a Cayman and a 911, and that seems like a good place to be.
God that sounds promising. Now here are the GIFs just in case the video gets taken down:
Update Jan. 11, 2019 10:10 A.M. ET: The tweet has been removed, but the video has been uploaded by the SupraMKV forum's YouTube account, and is shown below.
Update Jan. 11, 2019 1:20 P.M. ET: Okay, we ditched the SupraMKV YouTube video and made our own. Check it out near the top of this post.