The latest batch of Mini products kind of feel like they're carefully engineered by ze Germans to adhere to a certain level of kitsch and fun. "Ja, Dieter, if we put ein light-up panel here und here, ze car is 69% more likely to be enjoyed by ze snake-people." Somehow, though, this sort of works. Enter the new Mini Clubman.
It's bigger than it used to be, it's got a real set of rear doors now, and it's a legit wagon for the first time. And guess what? It's way better than you think.
(Full disclosure: Mini wanted me to drive the new Clubman so badly they flew me to Georgia and paid for my food and lodging.)
Mini appears to be aiming for a scientifically-determined sweet spot of buyers who've outgrown the regular Cooper but find the Countryman crossover ungainly and bulbous; people who lament the fact that the Audi A3 hatchback is now an expensive hybrid, for example. Thus, they've decided to wave a stylish little British, er, German hatchback in front of us to see if we'd take the bait.

The new Clubman sits on a larger derivative of the platform used by Cooper Hardtop, the BMW 2-Series Active Tourer, the new BMW X1, and probably some future CLA-fighting Bimmer sedan. It's bigger than the old Clubman, but still decidedly small.
G/O Media may get a commission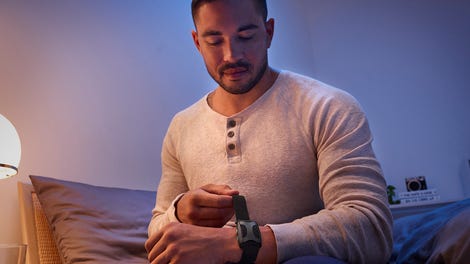 As with all modern Minis, there is plenty of precisely placed kitsch to snark about. Tartan-lined cupholders! Mood lighting in the doors, because '90s kids, ja? Screens that say "Let's Motor Hard!" whenever you throw it into Sport mode! Enough marque badges to make a modern M5 blush! The same diagonal seam in the front fender where the original Minis' front clamshells attached to the car! Aah!

But under all those cutesy touches is a genuinely competent wagon, with a manual transmission that's more enjoyable than its John Cooper Works counterpart, a spacious interior for its size, amusing handling, and an overall length a full 1.5 inches shorter than the A3 Sportback e-tron.
This makes it easy to cram into nearly anywhere with minimal assistance necessary from its rear-view camera and other optional parking aids. Bloody brilliant, or rather, ser gut.

Exterior
For the first time ever, the Mini Clubman has been developed entirely separately from the Mini Cooper Hardtop. Sure, there's a Mini Cooper Hardtop 4-Door, but unless you'd like a cargo space for ants, the Clubman is the way to go. This is Mini's first compact (as opposed to subcompact) car, but it's bigger in a good way. It's just an attractive little wagon.
Delightful two-tone paint jobs with color-contrasting roofs are the norm, as they are on the smaller Minis. Sixteen and 17-inch alloy wheels fill out the wheel wells just fine without delivering a back-breaking ride.

Mini is back to a formula that works for them: a flat roof with boxy but functional aesthetics. The Clubman's roof hasn't been sat on, and the car doesn't look like it has mumps. They've grown it in width and length in a way that's proportional and attractive, and I like it a lot.

Despite its larger size, you'd have to find the most miserly lot on the Austin Community College campus to feel as if it's too big. It's a truly compact car, and one of the smaller entries in the class.

Maneuvering this thing around the old, narrow city streets of Savannah made me feel like my 2010 Mitsubishi Lancer is just too big. Part of me wants to sit in my also-compact car and complain that this must be cheating somehow. The Clubman can turn around in spaces that would be a multiple-point turn in my daily driver. That's not fair. It's just not fair.
Problem is, compact cars have suffered the same model bloat over the years as everything else. As safety regulations demand that you be cocooned in an impenetrable cell that will cuddle (as opposed to smash and impale) any wayward pedestrians that walk out in front of you, cars have grown bigger as a result.

This Mini Clubman is a return to the size compact cars should be. More like this, please.

If I had any complaints about the exterior, it would be the plastic bits. The non-functional hood scoop on the 2.0-liter Cooper Clubman S is inoffensive enough, yet it's a tad dishonest about this cute hatch's sporting pretensions. There's a bit of Audi Allroad-style plastic around the bottom edges as well, which just isn't that pretty.
If Mini's really going for style, they would give us a proper body-colored fender flare. The black plastic looks choppy around the front wheels in a bad way, and doesn't really work.

Interior
Inside, it half-wants to be an early 2000s-era Spencer's Gifts, and half-something out of your Philosophy professor's closet, yet somehow it still works.

The Clubman's interior lighting features bright colors that stand in sharp contrast to the more muted tones available as interior fabrics. While the lighting on the doors features every color of the rainbow, it's subtle enough not to feel too distracting there. (Keep in mind, however, that my idea of subtle is heavily influenced by East Texans who have a bizarre love for pairing loud animal prints with neons and rhinestones.) That being said, it's not bad.
Two Mini designers shown reminiscing about that sweet purple mushroom color-changing blacklight they had in junior high as they examine the Mini Yours interior package.

As with much of the Mini, the Mini Yours Interior is a $400 option. Leaving it off means you won't get the additional LED door bezels, however, the door pulls and center console will still be lighted in fun colors you might want to spend some time with in Colorado.

What may feel the most out of place in Mini's artisanal charcuterie board inspired interior palettes is Mini's trademark color ring around the center dashboard display, found in all its newer cars. Everything from engine revs to driving modes to audio changes affects the psychedelic light show in the middle of the dashboard.

As flower-power the lighting is, I feel like this is one of the easier-to-use dashboards out there. The screen is nicely integrated in the big ring in the center of the dash in an era when far too many lazy designers plop them on top as an ungainly dashboard-mounted tombstone.
The iDrive-like wheel to select menu options is easy to get used to, even for a technophobe like me. The standard dual-zone climate control was straightforward to use and did a decent job of keeping two passengers with different levels of tolerance for cool happy.

The tachometer, speedometer, fuel gauge and a small display of additional information such as mileage and time move with the steering column as it telescopes and moves up and down. It's convenient and easy to see enough that the optional head-up display, while neat, seems like $750 you can keep to blow on track days instead.

Hazy Grey fabric: rabbit approved.

The rest of the interior is subdued British kitsch in a good way, with seat choices that include diamond-pattern quilting that looks like it belongs in a Rolls-Royce and the "Hazy Grey" material that feels like a cloth remnant from a good winter blazer. There's also a tasteful dark burgundy option that's so subtle and well done that it feels like the exact opposite of a 1970s Bordello Red interior.

The two front seats are genuinely nice places to sit. None of the test cars I had even had the top of the line power seats, but the six-way adjustable sport seats we tested had ample bolstering and even an adjustable lumbar support. The wheel for the lumbar support was a little hard to tighten at times, but that's an item that isn't as frequently used as the others.

Unless you swap drivers frequently enough to where programming in your seating position is a major time saver, I'd skip the $1,250 power memory seats and stick with the sport seats (a $300 option on the base Cooper trim and standard on the Cooper S). The sport seats are like cozy hugs for your butt. I also tried out the heated seats during this test drive, which is a $500 option that is worth it unless you're keeping options to a minimum.

Another option that's kind of neat? The dual-pane panoramic sunroof, a $1,000 option. Sunroofs are options you either love or hate, however, it is neat to look up and make faces at balconies and low-flying aircraft, even from the back seat.
While the Mini Clubman doesn't feel all that mini in the front seats, the big sunroof helps it feel even bigger—especially if you're stuck in the back. If you're just getting a comfortable city car as opposed to a stripped-out track wagon, why not?

While the space up front is roomy, it is a true compact car. The back seat is best for short people and occasional passengers, and there's a noticeable bar that runs underneath the back right seat cushion. Sure, tall people will fit, but they'd probably rather take your buddy's Tahoe if we're all cramming into one car.

If you have to haul full-size people frequently, the smaller back seat could get annoying. However, if your car is mostly just shared between you and one other person, or with kids or dogs, you'll be fine. There's even an air conditioning vent and a lighter plug for the back seat.
Where the Mini Clubman shines is its cavernous rear cargo area. While I didn't quite fit under the cargo cover in the John Cooper Works Hardtop, I had ample room to spare in the Clubman. The doors open with one click of the handles, and powerful struts take care of the rest.

I was just as enamored with these doors as Máté was when he drove the Euro-market Clubman. It's an idiot-proof door system that you can open with your foot, the only car in its class to do that. It's wonderful.

What wasn't great inside? Well, if you're short and tend to sit relatively low in your seat, you'll be comfortable, but the world's most useless side visor won't be able to save you from bright sunshine out the driver's side window.
A few items seemed sort of cheap and flimsy, but not too many. The dashboard was as substantial and soft to the touch as you'd expect in a luxury car, however, the shoulder belts didn't adjust up or down on the pillar behind the driver. The knobs that let you open, shut and adjust the air conditioning vents seemed a little wobbly, and several test cars' central overhead lamps felt loose in the headliners already.
The Drive

It's a Mini wagon that uses a BMW platform, so it's exactly as good as you'd expect it to be. It handles better than most small front-wheel-drive cars out there. It comes with a manual, too.
I tested out two six-speed manual versions of this wagon: 1.5-liter, turbo three-cylinder Cooper Clubman with 134 horsepower and 162 pound-feet of torque, and the turbo four-cylinder 2.0-liter Cooper Clubman S with 189 HP and 207 pound-feet of torque. There are diesel options too, just not in America.
I liked this manual transmission better than the John Cooper Works Hardtop's transmission. Come at me, bro.
Like the JCW, none of the pedals have a ton of feedback. If you're coming straight out of a Wolseley Hornet LeMons car, prepare to be disappointed in the pedal feel. However, given that the Clubman is more dog-and-kids-oriented than track-oriented, that was okay.
This clutch pedal is softer, but it didn't feel as springy as the JCW's pedal, and the engagement point wasn't a quick little slap-in all the way towards the bottom of the pedal travel. It was easier to use in traffic. I didn't get out of the car foaming with rage after using it. Great success.

Of the two engines, the base 1.5-liter requires a bit more work to keep happy. It is the Bevo of engines: no balls at all, especially at low revs. That doesn't mean it isn't any fun, though. It's still in one of the best handling little wagons on the market. You'll just need to rev it a little more to get it going and shift it a bit more aggressively to wring out the fun, especially if you want to pass slower traffic on the highway.
The 2.0-liter Cooper S trim found the Rocky Mountain Oysters pulled from the base model, and it's a bit better. Neither engine is going to be a drag strip favorite, but the 2.0-liter may or may not have laid down some solid elevenses on a Georgia backroad somewhere.

The Cooper Clubman has an optional six-speed automatic, and the Cooper Clubman S can be had with Mini's first-ever eight-speed automatic. That eight-speed is only 10 pounds heavier than the manual gearbox, and comes with launch control and paddle shifters. Still, while both engines love to be revved, I'd be happier with the manual. The clutch was soft enough to be forgiving in traffic and you'll never be kicking yourself on backroads that way.

As with most of Mini's other vehicles, it comes with three driving modes: Green, Mid and Sport. Green is great for eking out as much mileage you can out of a tank of fuel, Mid is its normal range for driving, and Sport makes the engine respond a bit more aggressively and stiffens up the suspension. You can feel a noticeable bump in power as you move up from Green to Mid to Sport modes, and it's easy to bump between them with a circular dial around the shift knob.
For the semi-responsible hoon who's been forced to purchase a car with more space and a back seat, there is one glaring travesty about this vehicle. There is no physical handbrake—unlike the Cooper Hardtop. In its place is a stupid little dingleberry of a parking brake button that will give you no fun at all when trying to do a quick turnaround in a gravel parking lot.

Mini. Mini, please. If we're going to have to sit through the eleven billionth mention of Alec Issigonis and the original Mini's rallying pedigree, please, for the love of all things holy, include a real handbrake in all of your vehicles.

You could left-foot brake it into a nice little drift on a loose surface, but in a front-wheel-drive car that's naturally biased towards understeer, my people have needs. Those needs are best solved with a handbrake.

In city traffic, though, the little wagon shined. Tight turns were where it really proved its worth. While it is a front-wheel-drive car, the handling was predictable in normal driving situations, and it felt less prone to plowing nose-forward than many other compact city cars I've driven.

Most of all, I never felt as if it was so stiff as to shake the fillings loose from your teeth on even the oldest, chunkiest cobblestone roads in Savannah. Rather, it soaked up the harshness of the bumps competently while still letting you know, "Hey, doofus, you just hit a ton of bumps."

The Verdict

At a base price of $24,100 for the Cooper Clubman and $27,650 for the Cooper Clubman S, this little wagon is both cheaper and better than the A3 hatch you can no longer get without a hybrid. It's practically a bargain considering how nice it is inside and out.

Mini is the king of offering so many options that almost no two Minis are the same, though, and many of those customizable add-ons cost money. The highest-optioned vehicle I drove came in at over $36,000.

I poke fun at all the English cues on a marque that's now owned by BMW, but it's still built in Oxford, and Mini representatives claim that Americans eat up all the Union Jack-themed add-ons more than anyone else on the planet. Go ahead, and add on all the British cheese you'd like, but expect some ribbing from That Guy who'll say "y'know, Roundel covers these cars for a reason."

Most of all, though, stop thinking of this as a fat Mini if the very notion offends you. Rather, it's a compact luxury wagon that looks especially nice in a deep metallic burgundy, and one that happens to be quite fun to drive. Then it starts to makes sense, and this car becomes somewhat tempting when you realize that most other compact cars feel gigantic in comparison.
Photo credits: Mini, Jeff Jablansky, W. Christian Mental Ward, Stef Schrader for Jalopnik

---
Contact the author at stef.schrader@jalopnik.com.