Formula One races at the Circuit de Catalunya have a tendency for tedium. Not this year. The track's particular layout managed to balance the 2011 season's runaway emphasis on offense and produced a classic thriller of a GP. Warning: spoilers.
I'm writing this in a coffee bar in Modena, where the headline of the sports section of L'Informazione di Modena reads Alonso illude, poi solita storia (Alonso illusion, then the same old story), and that's just about the perfect headline for Sunday's F1 race in Barcelona. What an magnificent illusion, though. Starting third behind the Red Bulls—led for a change by Mark Webber, who pipped Sebastian Vettel to pole by 0.3 seconds—Fernando Alonso exploited the fighting between Webber and Vettel, and made a gorgeous, gutsy move down the inside to lead the field into the first corner.
It was a sigh of relief for Scuderia Ferrari, in the doldrums since they were beat to the driver's title in Abu Dhabi last November, but it was not to last. And they were as much responsible for the story turning out the same old way as the mercurial Vettel.
Alonso was followed by Vettel until and after the first pit stop, when Red Bull decided to shuffle the cards and brought out Vettel for his second stop after only seven laps. Ferrari, following the recent pattern of shadowing Red Bull's strategy, responded by bringing Alonso to the pits a lap later, but it was too late. Red Bull's clever trap gave Sebastian Vettel fresh tires and, more importantly, clear air, and he wasted no opportunity. He tore through the field like a Wernher von Braun daydream, passing Jenson Button as if powered by something alien, and by the time Alonso rejoined the field, Vettel was clear ahead. And there's no beating Sebastian Vettel this year when he's ahead. The Ferrari then slid further down the field, finishing fifth.
G/O Media may get a commission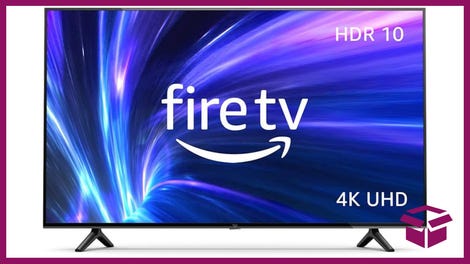 42% Off
Amazon Fire TV 50" 4K Smart TV
It's not like nobody tried. Lewis Hamilton put up a great fight for most of the race, but even though he was right on Vettel's tail for every corner of the last ten laps, he never looked like he could make a pass stick. Some of it was down to uncannily precise driving by Vettel, but he was aided greatly by the Circuit de Catalunya's layout, which negated the effects of the movable rear wing, ridding the race of the plague of fake overtakes so common in China and Turkey.
Third on the podium was Jenson Button, who tried working his tire-saving skills yet again to make do with one less pitstop then everyone else. In Turkey, he couldn't get away with it, but he made the three-stop strategy work beautifully in Barcelona. After falling down the grid to tenth at the start, he drove a calm and collected race to third, never in danger from Mark Webber, who finished fourth. Elsewhere, Michael Schumacher drove a very strong race to sixth, while Sergio Pérez picked up his first Grand Prix points with a great drive to ninth. With five races down and 14 to go, Sebastian Vettel leads the championship with 118 points, followed by Lewis Hamilton with 77 and Mark Webber with 67.
It's a very short break until the next race: practice for Monaco kicks off in three days. Will Vettel walk away with yet another win, or will McLaren and Ferrari finally catch up with him? Check back next Monday. Until then, arrivederci from Modena.
---
Australia | Malaysia | China | Turkey | Spain | Monaco | Canada | Europe | Britain | Germany | Hungary | Belgium | Italy | Singapore | Japan | South Korea | India | Abu Dhabi | Brazil
Photography by Paul Gilham/Getty Images, Mark Thompson/Getty Images and Vladimir Rys/Getty Images. Gallery curated by Natalie Polgar. Illustration by Peter Orosz.