Good Morning! Welcome to The Morning Shift, your roundup of the auto news you crave, all in one place every weekday morning. Here are the important stories you need to know.
1st Gear: I Bet GM's Really Happy With VW Right Now
Remember how the Environmental Protection Agency promised to start giving diesel vehicles more scrutiny with extra real-world testing? Looks like they're starting with the automaker the government trusts the second-least: General Motors. Via Automotive News:
GM has been told by the EPA and the California Air Resources Board that the new diesel-powered versions of the Chevrolet Colorado and GMC Canyon pickups will not be certified until they have been tested on the road as well as in the lab.

The sales launch of the trucks, which is scheduled for the fourth quarter, could be delayed slightly by the additional testing, GM says.
"The EPA and CARB told us they are going to do on-road testing," Scott Yackley, Chevrolet Trucks assistant chief engineer, said on the sidelines of a media event here for the diesel-powered Colorado.
GM officials said they're confident the truck will pass real-world testing.
Update: A Chevrolet spokesman told us they are in "the final stages of emissions certification for the new Colorado diesel, and are on track for a fall introduction."
G/O Media may get a commission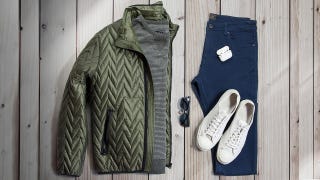 60% off
Jachs NY Fall Sale 60% Off
2nd Gear: No More 'Dog Ate Homework' Excuses

Speaking of GM, Bloomberg has a nice comprehensive profile on where the company is at post-ignition switch debacle. One of CEO Mary Barra's biggest tasks is overhauling the company's risk-averse, insular culture:
Barra wants designers to dare to do things differently. When she ran product development before becoming CEO, she told the company's engineers to push their metal-bending capabilities to let designers get more aggressive.

To push the case, she took her top managers to Silicon Valley in July to meet with venture capital firms and some of America's top technology companies to hear how they approach business.

"In Silicon Valley, people can accomplish great things because they think they can accomplish anything," she said. "I want our people to think like that."
That entire piece is worth a read.
3rd Gear: Critics Want More Tests
While the EPA said they'll do more road-testing of diesel cars juuuuust to be sure, they're wary of doing more road tests across the board because it would be expensive and logistically very difficult. But on the heels of the VW cheating scandal, environmental groups want to see exactly that. From Bloomberg:
The EPA vowed last week to do more spot-checks on data generated from indoor labs. Yet the agency remains wary of broader use of road tests, saying they are costly and the lab tests are still needed for scientific and legal accuracy.

Environmental groups called the EPA's approach flawed.

"What we're doing now isn't keeping polluting vehicles off the road," said Dan Becker, director of the Washington-based Safe Climate Campaign. "The VW scandal proves automakers cheat, and that means the rules have to change."
4th: Investors To Stay Away From VW
Not shocking. From Reuters:
"Sixty-six percent of investors responded that it is not possible to invest in VW over the next 6 months if costs, fines, legal and criminal proceedings are outstanding or inadequately quantified," Evercore analyst Arndt Ellinghorst wrote in a research note.
5th Gear: FCA-UAW Deal In Trouble
Fiat Chrysler workers aren't too happy with the deal presented by the United Auto Workers union. The Detroit Free Press says it includes "no cap on second-tier hires, now accounting for 45 percent of FCA's hourly UAW workforce; that most car production would be headed to Mexico in exchange for keeping the next-generation Jeep Wrangler in Toledo; that a proposed $3,000 signing bonus would be $500 less than four years ago." Ouch. At this point, it's likely to be rejected:
The risks are manifold, each with public perception problems. Union leaders and FCA could extend the contract on a day-by-day basis while negotiations resume. Or union bargainers could turn their attention to General Motors Co. or Ford Motor Co., leaving Marchionne and the FCA rank and file to stew.

The union could choose to strike FCA, the weakest of Detroit's three automakers in terms of cash or its ability to withstand anything more than a symbolic stoppage, particularly at its profit-rich Jeep or pickup operations.
Reverse: Relevant
Neutral: How Should The EPA Test Emissions?
It's only a matter of time before we find out someone else is cheating. How can the EPA get out in front on this?
---
Contact the author at patrick@jalopnik.com.