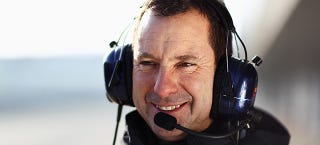 Kenny Handkammer has 25 years experience in Formula 1, eventually taking the chief mechanic gig at Red Bull Racing. Now he's been scooped up by Tesla to head up the automaker's service training.
Over nearly three decades, Handkammer worked at Benetton, Renault, and Red Bull, and was instrumental in Michael Schumacher's 1994 and 1995 wins, as well as RBR's eight titles with Sebastian Vettel.
He left RBR late last year and Elon Musk announced today that Handkammer will take the role of Global Director of Service Training:
Just like Tesla's been shaking up car buying, it's also attempting to rethink the service experience. Right now, it's doing the kind of things other premium automakers pioneered, from picking up customer cars from their homes and providing equivalent loaners. But the larger push has been to reduce turn around time. It's something Musk has talked about in the past, and Handkammer's experience with optimization is sure to be put to good use.
"I believe I had the best years in F1," Handkammer told Fox Sports. "We won 13 world championships with the best people in the sport. I wanted a new challenge and I'm now with one of the biggest innovators with road cars ever."
---
Contact the author at damon@jalopnik.com.
Public PGP key
PGP fingerprint: 7301 D7FC 2FF6 D437 E5A7 0568 3A14 624A 1800 4C85