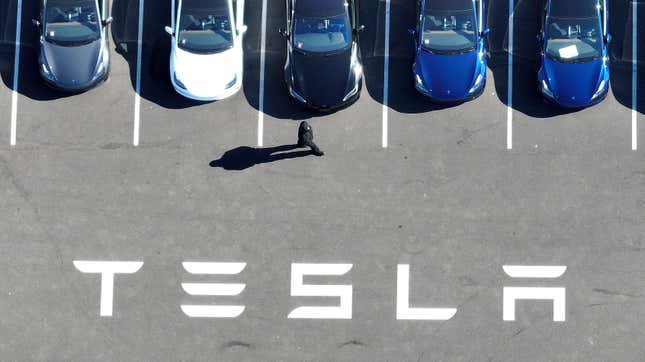 A new study says that Teslas are driven more per year on average than every other electric vehicle on the road, but still not nearly as much as vehicles powered by internal combustion engines. iSeeCars.com says that the four Teslas are driven at an average of just under 10,000 miles per year. All other EVs are being driven just 6,719 miles per year, and the average ICE vehicle gets about 12,760 miles put on the clock each and every year.
What Exactly Is Going On at Tesla Right Now?
The study looked at data from over 860,000 vehicles sold in 2020 to figure out what was driven the most and least. It then compared the numbers with traditionally-powered 3-year-old vehicles.
Altogether, the average 3-year-old electric vehicle has been driven 9,058 miles per year, according to the study. Leading the way is the Tesla Model X and 10,378 miles per year. It is then followed by the Model Y (10,199 miles), Model 3 (9,960 miles) and Model S (9,340 miles). We can thank solid range numbers and a superior public charging network for Tesla's dominance.
But still, these cars aren't getting very close to what ICE vehicles do. iSeeCars says EVs would need a 440 mile driving range to match gasoline vehicles. That would mean you have to add about 161 miles to the average 3-year-old electric vehicles' range of 279 miles to match the average gasoline car, which averages 24.7 mpg and has an average fuel tank size of 18 gallons.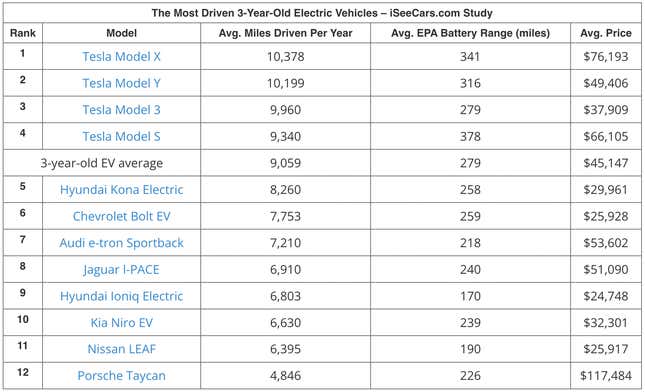 You're probably looking at this chart and realizing that range doesn't directly correlate to miles driven. Well, you're not alone, but iSeeCars says there is still a strong relationship between the two.
"Several factors contribute to EVs being driven less, including their common role as a second or third vehicle in a household, and being used less often for road trips," Karl Brauer, Executive Analyst and iSeeCars, said. "But the most powerful factor may be an EV's battery range and the associated range anxiety."
Range anxiety is shown to be a real issue for owners even if their vehicles can do more than enough driving before needing a recharge. The survey says that the average car tri[p is only 9.5 miles, and 95 percent of trips are 30.1 miles or less. Only 1 percent of all car trips are over 89.4 miles long. Even if you double that distance to 178 miles, a round trip before needing a charge is totally possible in all but one of these 3-year-old EVs. As our infrastructure improves, it would make sense that people will drive their EVs more and more.
"Range anxiety is less about being stranded in the middle of nowhere and more about the 'refueling' process for electric vehicles. In gasoline cars, regardless of how far you're going, there are always plenty of refueling options, and the process takes five to 10 minutes," Brauer said. "Until EVs can offer that level of convenience at a comparable cost, they will be at a distinct disadvantage in terms of use and market demand."
Something to note here is the fact that only EVs from 2020 were counted in this study. That means newer Tesla rivals like the Ford Mustang Mach-E, Kia EV6, Rivians and the Lucid Air are not on this list. They're just too new for us to know how much they're driven per year on average.