This is the Morning Shift, our one-stop daily roundup of all the auto news that's actually important — all in one place at 9:00 AM. Or, you could spend all day waiting for other sites to parcel it out to you one story at a time. Isn't your time more important?
---
1st Gear: Unexpectedly, Tesla May Have Lost More Than Expected
Bloomberg reports this morning that Tesla may have seen its loss widen in 2011's final quarter. We can't imagine why. Well, other than the Model S sedan isn't expected to go into production until mid-2012 — and that they've killed the $109,000 Roadster and a replacement isn't coming until 2015 — and Tesla's main revenue source right now is supplying battery packs to Toyota and Daimler. Oh, and taking deposits from people on the Tesla Model X crossover unveiled last week. Bloomberg's estimate from 12 analysts was for a loss, excluding some items, of 63 cents a share. We won't know for sure, however, until the company releases quarterly results tomorrow.
G/O Media may get a commission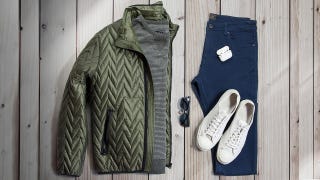 60% off
Jachs NY Fall Sale 60% Off
---
2nd Gear: Ford Blows Off Army JLTV Bid Because They Wanted Prototype Built Ford Tough
Inside Defense reported last night (sub. req.) that Ford claims the reason they walked away from the competition for design of the new Joint Light Tactical Vehicle (JLTV) was because they wanted more time than the Pentagon is allowing to deliver prototypes. They claim the Army wants JLTV chassis to start rolling within a year, and Ford would have needed 14 months beyond that — 26 months — to deliver initial prototypes in addition to time for government testing. 26 months?! Come on! Can it really take that much time to slap a Ford Explorer body atop a Taurus and spray some camouflage paint on it? We kid. Actually, according to "industry sources," the automaker was apparently "deeply troubled by a provision in the request for proposals that appeared to discourage offerors from engineering a lighter truck with better protection than the Pentagon wants." If that's true, then kudos to Ford for putting protecting American soldiers above profits. Or, you know, because they couldn't figure out how to fit armor onto a Taurus. Again, kidding!
---
3rd Gear: Ford, GM Working With Siri To Make Finding Escorts Easier
Automotive News reminded us this morning that Nuance Communications, the company behind Apple's Siri software, is working with Ford and General Motors to enable motorists to use conversational commands with their infotainment systems. So if a driver asks, "Do I make you horny?" Sync (Ford) or MyLink (GM) assumes the questioner wants help finding the closest escort service. Or if the driver says, "I need to hide a body", the software will provide a list of reservoirs, metal foundries, mines, dumps, swamps — or underneath the RenCen in the case of a GM product — to help them achieve their goal. So, it seems reasonable to assume that if the vehicle's infotainment system can determine intent, motorists can use similar conversational language to operate their infotainment systems — rather than buyers being shown by a dealer how to use nested voice menus to operate the system, forget how to use it on the way home or grow bored with the novelty, and discard use of the service within a week.
---
4th Gear: Porsche To Kill Manual Transmission On New 911 GT3
Edmunds' Inside Line reported last night that Porsche is evaluating a PDK gearbox for the next-generation GT3, due next year. In a conversation with August Achleitner, the project chief of the 911, he confirmed that Porsche's motorsport division is currently testing both manual and PDK versions of the new GT3. But, apparently, there will be only one transmission to rule them all. And since manny trannys only account for 30% of sales, we'd have to believe the PDK will win out. Sad stick-shifters are sad!
---
5th Gear: Production BMW i8 May Keep Concept Scissor Doors
CarScoop's got a set of spy photos yesterday that would appear to indicate the BMW i8 hybrid will keep the killer scissor doors seen on the concept car. So at least it'll have cool doors going for it, right? Also, 350 HP and a lightweight Carbon Fiber-Reinforced Plastic body shell. OK, so it'll have two things going for it. Almost makes us want to ignore the dual-drivetrain thing.
---
6th Gear: Again, No, Virginia, There Will Be No XTS-V. Stop Asking!
How is it that Cadillac not building an XTS-V was news yesterday for some car outlets? I thought we reported that they wouldn't be building an XTS-V back when they unveiled the XTS at the LA Auto Show back in November and at the Detroit Auto Show a year and a half before that? Oh, I know why. It turns out that when Cadillac said there would be "a -V version or a Platinum version for every model in the Cadillac lineup," some outlets deleted the word "or" and inserted the word "and." Pay attention, kids! To be fair, Mark Kleis at LeftLaneNews did remember. So while we're at it, let's debunk some other vehicles Cadillac's already said they aren't building and see if we can make some news on it. They won't be building a Cadillac CTS or XTS convertible. Also, sadly, no XTS wagon and no XTS-V wagon. Remember, you heard it here first, folks!
---
Reverse:
⏎ Next-Gen Ford Mustang SVO, Focus RS to Share 2.3-liter Turbo-Four. [Top Gear]
⏎ Which Car Costs The Least to Insure? [New York Times]
⏎ Suspension Walkaround: 2012 BMW 328i. [Edmunds Straightline]
⏎ New Caterham coming in 2015. [World Car Fans]
⏎ NHTSA investigates TrailBlazer door fires. [Detroit News]
⏎ Hot Hyundai i40 planned. [Autocar]
⏎ SsangYong's 'convertible' crossover. [GoAuto]
⏎ New vehicles' fuel economy hits record. [Detroit Free Press]
⏎ Alfa Romeo's U.S. relaunch will finally take place at the Detroit Auto Show... in 2014. [Autocar]
---
Today in Automotive History:
Sakichi Toyoda, whose textile machinery company spawned the Toyota Motor Corporation, is born in Japan on February 14, 1867. In 2008, Toyota surpassed the American auto giant General Motors (GM) to become the world's largest automaker. [History]
Show us your tips!
Got tips for our editors? Want to anonymously dish some dirt on a competitor? Know something about a secret car? Email us at tips@jalopnik.com.
Lost in our new layout?
Click here for the Opposite Lock or Tips forums. Want a more "blog-like" look? Click the button up top next to "Top Stories."
Get more Jalopnik!
Want even more Jalopnik? Want to know which of your friends read us? "Like" us on Facebook and follow us on Twitter.