The Cadillac XTS Platinum Concept was designed as a luxury sedan/personal headquarters — built for luxury and connectivity. It's like a giant Vertu cell phone encased in a cocoon of blubber hiding in a sleek, stylish spaceship-like metal muumuu.
OK, so sleek and stylish rarely equate to muumuu, but bear with us. For starters, ignore the powetrain. It's a concept fercrissakes. Cadillac says the XTS Platinum Concept uses Cadillac's 3.6-liter V6 Direct Injection gas engine paired with a "plug-in hybrid system" — whatever the hell that is. To us that sounds a lot like a Volt-like Converj — which bores us a bit. No, the real story here is two-fold — first, why Platinum? And second, where this takes the Cadillac design language for the DTS and STS sedans — the current Cadillac of old fogey-mobiles.
Let's take that in reverse order. The concept previews a new integration philosophy guiding the development of future wreath-and-shield models' in-car electronics. The intent is to progress Cadillac's intuitive in- car electronics systems from deployable touch-screen navigation systems in the CTS and SRX product lines to a minimization of traditional buttons and switches.
Designers blended the display screens into a flowing instrument panel they call a "dead front" design, because the panels appear black until the car is turned on and the screens illuminate. Also, because in the XTS concept's current incarnation — the STS and DTS — it's probably the last car many owners will ever own.
You know, because they're in their 80s.
On the outside, the XTS Platinum Concept has a distinctive proportion that supposedly "transcends the traditional aesthetic of luxury sedans and carries the brand's Art and Science design in a more progressive manner."
G/O Media may get a commission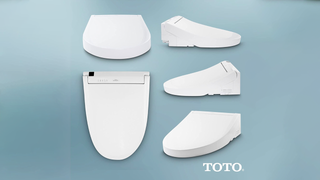 44% off
Toto Washlet Electronic Bidet Toilet Seat
We think the sleek profile and short, high deck lid makes it look like a spaceship on steroids. We kinda like it — but only in that "wow, look, it's a techno-barge from the 21st-and-a-half century" kind of way. It's the kind of thing we hope we never end up buying, but it we did, we'd play with all the toys and run our hands over the piano black instrument panel until we'd rubbed the gloss right off.
Because frankly, it's just damn sexy. Is that American luxury? Not lately it hasn't been, no.
But to the second story here —why the XTS being shown as a Platinum concept. Cadillac execs tell us it's because they plan on offering either a -V series trim or a Platinum trim on every vehicle in the lineup — allowing Cadillac to push both their messages of luxury and performance for their models. For the XTS? Platinum all the way, baby — and not a -V in sight.
While that might make the enthusiasts cry a little bit in their beers — then good. Because that's not who this car is for. Wouldn't want any old people to break their brittle bones now, would they?