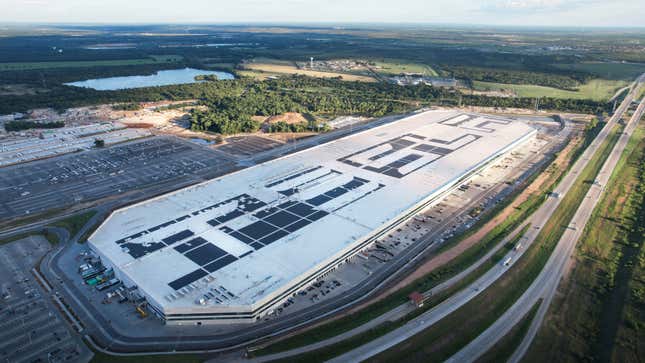 When Tesla decided to move its headquarters from Fremont to Texas, the company didn't have a shuttered Toyota/GM facility to move into. It had to build something new—a factory outside of Austin, one that could serve as both production facility and corporate HQ. But construction was mired in complaints and safety violations, and—allegedly—death.
In case you missed it:
A new report from the Texas Observer details a months-long investigation into the death of one worker who helped build the Tesla Gigafactory. Antelmo Ramirez, at age 57, was working on the Gigafactory site one 96-degree day when he fell victim to hyperthermia—pronounced dead due to high temperatures by that very evening.
The Observer reports that, in exchange for generous tax incentives, the local Travis County government required Tesla to log workplace accidents during construction and operation of its Gigafactory. Yet, according to the report, Ramirez's death was never filed with the county as a workplace accident.
The conditions on the worksite, according to the report, could have contributed to Ramirez's condition. Water was sparse, shade was nonexistent, and breaks appeared to be far from the mind of the site's foreman. Workers would toil in the heat, in the direct sun, without protection from the elements. It's a wonder more people weren't hurt.
The full piece from the Texas Observer is worth a read, detailing how jobsite conditions and a lack of care from officials and corporations let Ramirez die—and how his death, despite its tragedy, was never made to register with the Travis County officials who mandated such disclosures.