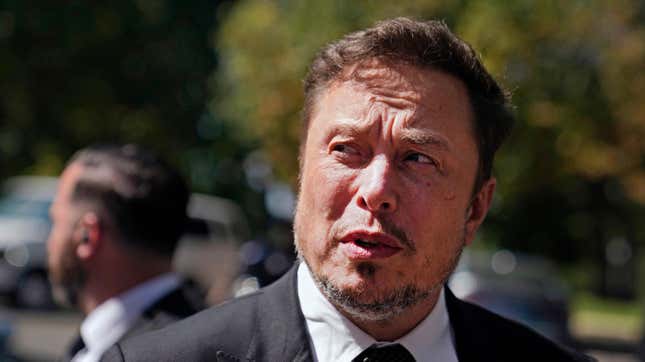 If you haven't already heard, the United Auto Workers union is officially on strike against Ford, General Motors and Stellantis. Currently, only three plants are involved — Stellantis' Toledo Assembly Complex, Ford's Wayne, Michigan plant and GM's Wentzville, Missouri plant, but you can expect strikes at more plants in the future if the Big Three don't manage to reach a fair contract with the UAW. So, of course, it appears Elon Musk decided the best thing to do would be to remove the UAW's Twitter verification.
2024 Nissan Z NISMO | Jalopnik Reviews
(Update: The original article has since been updated to include previously unreported information that the UAW changed its profile picture for the strike. Twitter's policy is to temporarily remove verification whenever a verified account changes its profile picture. It should still be noted that Twitter only sent an auto-response when The Intercept requested a comment before publishing the original article.)
The Intercept reports that according to a UAW official, Twitter removed the union's verification badge without giving them any notice after they went on strike. As of 11:32 a.m., the time the article was published, the UAW Twitter account was still missing its verification badge despite paying for verification. When the Intercept contacted Twitter for a comment on the decision, it received an apparent auto-reply that read, "Busy now, please check back later."
Interestingly, though, it appears that at some point after the Intercept's article was published, someone at Twitter changed their mind and re-verified the UAW account. So they're not even committed to the bit enough to stand by it after other people noticed. Which isn't surprising considering what a small, weak little man Elon Musk is. Who else would play weird, petty little games with a social media network like that?
Musk is also well-known for his distaste for unions. Tesla's gotten in trouble with the law in the past for retaliating against workers pushing to unionize its factories. Not that there's any reason for them to want to unionize other than, well, all the racism, labor law violations, safety violations and, as the Intercept points out, lower pay compared to unionized factories.