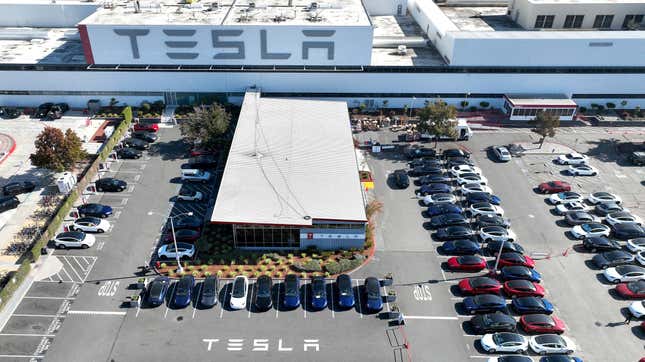 A Black former Tesla assembly line worker is moving to add hundreds of workers to his 2017 lawsuit that alleged the automaker's production floor was a "hotbed for racist behavior." According to Bloomberg, Marcus Vaughn — the original filer — says class-action status is the right move to address Tesla's failure to stop a "pattern and practice of race discrimination" and a hostile work environment at its factory in Fremont, California.
This NYC Garage Takes Vanlife To The Next Level | Jalopnik Visits
Bloomberg reports that his request, filed in court on June 5th, is backed by sworn statements from nearly 240 other Black former employees and contractors at Tesla. They all say they were offended by racist graffiti written in common areas and the use of slurs in the workplace. Some of those slurs were things like the "n-word," "boy" and "monkey," according to the outlet. Lawyers for Vaughn say as many as 6,000 Black workers would be eligible to join the case, though not all of them would seek monetary damages.
If a judge in Oakland agrees to let Vaughn broaden the case, it would spell bad news for Elon Musk's Tesla, Bloomberg says. Companies usually try to stop lawsuits from winning class-action status since it allows plaintiffs to pool their resources and exert greater leverage in settlement negotiations.
Tesla reportedly gave a very flippant response to Vaughn's suit in a blog post titled "Hotbed of Misinformation," playing off the "hotbed for racist behavior" remark Vaughn made earlier.
A female worker who was fired in 2018 said in a court declaration that a coworker told her she has "monkey toes," while another called her "Nicki Minaj," even though her only resemblance to the popular rap singer was that they are both Black women.

Another worker who quit in 2020 said he was told to "keep my head down and mind my business" when he complained about the use of "offensive language" and unfair treatment of Black employees to a White supervisor.

A third worker said he continued to "feel unwelcome and unsafe" after his verbal complaints over being called the N-word were ignored.
According to Bloomberg, Tesla has been hit with a number of high-profile lawsuits alleging racism. That includes one filed by the state of California in February of 2022 over the automaker's treatment of Blac employees and contract workers at the Fremont plant.
A hearing on Vaughn's request for class action status is set for July 14th.