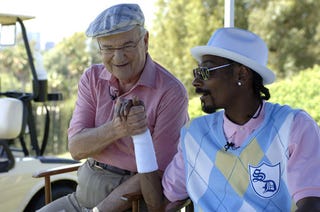 Automakers have a history of using celebrities and pitchmen to endorse their cars. Some of them are brilliant. Many of them are not. Here are ten of the worst, chosen by you.
This is Answers of the Day — a feature where we take the best ten responses from the previous day's Question of the Day and shine it up to show off. It's by you and for you, the Jalopnik readers. Enjoy!
Want to see this gallery in one slow-to-load page? Click here.
10.) Bar None Dog
Suggested By: Crossdrilled
Why They're Bad: It was very nice of Bar None to give the sock puppet dog another gig when his first dried up. The only problem is, he's the Pets.com sock puppet, and had no business changing companies. He was hilarious in his first role selling plastic hamburgers, but seems to have had a major personality shift now that he's financing cars and not delivering cat food.
Photo credit: Youtube
9.) Taylor Hicks
Suggested By: Is This The End of Millhouse
Why They're Bad: As commenter Is This The End... notes "He just looks like a guy that owns a 2003 Hyndai Sonata." From the American Idol winners' circle to a Ford-branded green screen circle singing nonsensical marketing lyrics like "Living out loud" and "I do it my way, cuz that's what I say," Taylor Hicks couldn't have dropped much lower. As if being a contestant on Idol wasn't bad enough already.
Photo credit: Youtube
8.) Celine Dion
Suggested By: mytdawg
Why They're Bad: Sounding like a sad cat, Ms. Dion howls behind the wheel of a Sebring convertible. All things considered, her howling is pretty much the expected response for someone stuck with a Sebring, but the additional shots of Chrysler's non-funcitonal air scoops, chintzy switchgear, and automatic transmissions being forcefully shifted combine to illustrate how uninspiring their lineup was. And Celine is still howling.
Photo credit: Youtube
7.) Mr. Opportunity
Suggested By: Scandinavian Flick
Why They're Bad: "I'm Mr. Opportunity, and I'm knockin'!" Well I wish you'd stop. Mr. Opportunity has been around for far too long, and gets no less annoying with the passage of time. I mean, come on Mr. Opportunity. At least put on a costume.
Photo credit: Youtube
6.) Leonard Nemoy
Suggested By: Buster Brew
Why They're Bad: As Spock, Leonard Nemoy was never warm and inviting. When I think of someone I'd want to build customer confidence with, he's not the first guy that comes to mind. His daughter isn't much better. They're both almost too awkward to function.
Photo credit: Youtube
5.) Snoop Dogg & Lee Iacocca
Suggested By: yoda2
Why They're Bad: There's nothing Snoop won't put his name on and sell; that's a given. But these ads with Lee Iacocca might be a step too far. Packed with Snoop doing his thing and Lee being awkward, there's no time left for the cars! All we get is a red Ram at the very beginning, and Snoop dropping knowledge: "If the ride is mo' fly, then you must buy!" Fo'shizzle Ica-sizzle.
Photo credit: Youtube
4.) Harley Earl
Suggested By: JonZeke
Why They're Bad: "Once upon a time I designed the cars that defined an entire era" says the man pretending to be Harley Earl in these early 2000's Buick ads. That time is long gone, Mr. Earl. Now, you're stuck pushing the Buick Rendezvous, based on everyone's favorite SUV, the Aztek, and the then-uninspiring Regal. The real Harley Earl's body would have spun in its grave if it knew what happened to Buick, and it's earthly image.
Photo credit: Youtube
3.) Sting
Suggested By: Joe_Bloe
Why They're Bad: C'mon, Sting. I'm pretty sure rule number one when being a car's spokesperson is that you don't fall asleep in the middle of the ad. We know the S-Type is mind-numbingly boring, but you should at least be able to stay awake while you're singing your song, right? Has anyone taken Sting to get checked for narcolepsy? Or did his sleep issues mysteriously fix themselves right after he was done with this commercial?
Photo credit: Youtube
2.) Ringo Starr
Suggested By: Maymar
Why They're Bad: I think the real problem here is Ringo's daughter spitting out lines like "fab-four door" and "living with my dad's a real scream." Of course, Ringo's jingle at the end doesn't help either. No Ringo, it's not her dad's Olds. You'd never own one in the first place, right?
Photo credit: Youtube
1.) O.J. Simpson
Suggested By: tempesjo
Why They're Bad: O.J. is not comfortable, cannot hold five adults, is not available as a coupe, and does not come standard with a V8. That being said, if the Nova killed anyone, it was probably in an accident. But at least he wasn't advertising a Bronco, right?
Photo credit: Youtube