For prospective consumers looking to purchase a car as more than mere transportation, we decided it was time for the Jalopnik commentariat to put the ten most beautiful cars in the world currently for sale on a pedestal. We've done the ugliest cars at home and abroad, now it's time to soothe your eyes with images of cars that'll evoke your inner dragon. To be considered truly beautiful, we decided a vehicle must transcend gimmicks and needless ornamentation to achieve an economy of design, eschewing the aggressiveness of most modern sports cars. Instead, these cars capture the classic feminine qualities that have encouraged owners to refer to their cars as "she." Given this standard, we think the ten below are almost indisputably the most beautiful — thought that certainly won't stop you all from adding your own two cents in the comments below.
10. Audi R8
Years of female empowerment public service announcements and deodorant ads have convinced us it's possible to be both athletic and beautiful. But even in a world without "Girl Power" the Audi R8 is extant proof that strong is sexy. Despite its Lamborghini heritage, there are no scissor doors or fighter jet inspired vents. The R8 is one of the few modern mid-engined cars that's actually subtle and, therefore, the object of burglar's desire.

9. Fiat 500
G/O Media may get a commission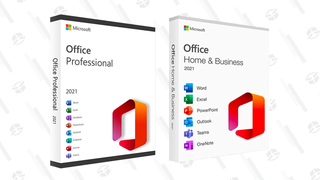 89% off
Microsoft Office Professional 2021 Lifetime License
Like a beautiful handle on the entrance to a towering gothic church, the Fiat 500 is the epitome of a brilliant design sometimes overlooked. Coming from the land and company that produces Lamborghinis and Ferraris it was the 500 that captured the European Car Of The Year trophy in 2007. Though quasi-retro, the inexpensive 500 stands out like a Hungarian wax pepper in a world of milquetoast economy cars. We applaud Layabout for selecting it.

8. Citroen C6
Louis Armstrong famously said that "If you have to ask what Jazz is, you'll never know." We think we can apply this sentiment to the Citroen C6. Clearly the funkiest car on our list, the Citroen nevertheless manages to capture everything wonderful about French car design. The designers effectively grab one line at the nose and effortlessly stretch it back to the uniquely designed taillights. It's as though the car was painted in one stroke. The integration of the Citroen logo into the grille is as attractive as it is clever. No wonder that both Chirac and Muhnkee_2 chose the C6 as their official state cars.

7. Jaguar XK Coupe
Though not always the most reliable cars on the market, Jaguar coupes have traditionally set the standard for elegance and beauty and the latest Jaguar XK coupe is no exception. An evolution of a design that goes back to the original E-type, the Jaguar is a design that gets better each time you look at it.

6. Audi RS6 Avant
Putting our bias towards wagons aside, the Audi RS6 Avant may be the most understated performance car on the planet. Powered by a twin-tubro V10, there are no huge wings, garish ground effects or blinding clusters of lights to hint at the car's awesome ability. As Parkington understands, the satin-finish trim around the Avant's lusty grille and subtle extra lines quietly nod to the car's ability while still maintaining it's obvious class.

5. Cadillac CTS
Few sedans can compete with the supercars and GTs in the aesthetic department, and the few that rise to their level have historically been European. It's therefore a grand occasion that the Cadillac CTS, an American sedan, can compete with this esteemed company. It's as if all of those years of talking about "Cadillac Style" finally erupted forth into reality with the new CTS. It's a car both muscular and delicate, modern and timeless, yet luxurious and distinctly American. The fact that Yoshi can actually afford one has nothing to do with its beauty though clearly something to do with its allure. We can't wait for the Coupe and Sport Wagon versions to go on sale to show the world what the "Art & Science" design is all about.

4. Masererati GranTurismo
The Maserati GranTurismo lives up to its name as one of the grandest of tourers. And even if it had the motor from an old Datsun and a transmission from a new Suzuki it would still be one of the quickest looking cars on the market. Whether in normal or GranTurismo S trim, the Maserati leaves broken hearts in its wake. Drop dead gorgeous from any angle, the integrated exhaust tips and triangular taillights combine for one of the best looking rears in the business. We think Sandwich Pants would take it over Beyonce any day.

3. Alfa Brera
A consensus favorite among anyone with working optic nerves, the Alfa Romeo Brera redefines the term "hot hatch." The low greenhouse and high beltline combine for a stance that's uncharacteristic of a hatchback and the sloping shoulders are surprisingly exotic. But it's the curved hood, which angles towards the nose in a way that's almost F1-esque, that causes our hearts to skip beats like Ferris Bueller skips school.

2. Aston Martin DB9
A list of beautiful cars without an Aston Martin would be as incomplete as a list of beautiful women without Scarlett Johansson. But which Aston? The Vantage? The DBS? Though all Astons are powerful and gorgeous, the Aston Martin DB9 is the most classic example of what makes the classic British brand a flag-bearing standard of luxury and elegance. Stripped of the menacing enhancements of those other Astons, the DB9 is like one smooth and flowing movement. They say Michaelangelo had an eye for stone, It's as if the designers crafted it from one piece of unadulterated marble for Dr. Danger to worship.

1. Alfa Romeo 8C Competizione
There's a reason why we devoted a day to the Alfa Romeo Competizione and it is embodied in the photo above. Not so much the creation of man, we assume, like the psalmists, it was God's will manifest through human hands. It outshines anything from Bugatti, Lamborghini or Ferrari while using a tenth of the lines of their simplest cars. With perfectly round taillights, Alfa's typical crest-shaped grille and ovular headlights it's hard to put into words what makes the car so special. We simply don't have words that are good enough. It's everything that's great about Italian cars and nothing that's bad about them. It's a dream come true and you can actually buy one.