On the fourth day, God created heavenly cars. On the fifth day, God created mighty engines. On the sixth day, our commenters combined them and created the ten crazy engine swaps we want to see.
This is Answers of the Day - where we take the best ten responses from the previous day's "Question Of The Day". It's by you and for you, the Jalopnik readers.
If you want to see this post in one long page click here.
G/O Media may get a commission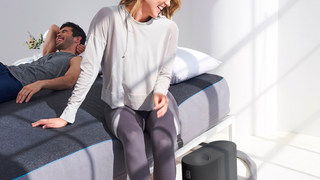 Eight Sleep Pod Cover
10.) The Corvair STI
The Swap: Subaru STI turbo flat-for in a classic Chevy Corvair
Suggested by: Rawtoast
9.) The Whythefuck?
The Swap: Lamborghini LP 670-4 V12 into an AMC Gremlin
Suggested by: Spiegel
8.) The AMG Class-Class
The Swap: AMG 5.5 V8 Biturbo in a W111/2 Fintail
Suggested by: Fintail
7.) Swedish Death Wagon
The Swap: Mazda 26B Quad-Rotor into a Volvo 240
Suggested by: Dirt Pirate
6.) The Leaf-A-Busa
The Swap: Nissan Leaf + Hayabusa
Suggested by: Whack-A-Mole
5.) The Buick Roaddestroyer
The Swap: LS9 V8 into a Buick Roadmaster Estate
Suggested by: The Big Cone
4.) The Marty HickFly
The Swap: 376 ci two-cylinder John Deere Diesel in an '80s Toyota Pickup.
Suggested by: Elhigh
3.) The Sinner
The Swap: Volvo Turbo Inline-5 into Volvo P1800
Suggested by: D_Robb
2.) The Cimarron V
The Swap: CTS-V LSA V8 into a Cadillac Cimarron (mid-mounted)
Suggested by: SynthOno
1.) Triumph SR20 Spitfire Hot Rod/Nismoxy
The Swap: SR20DET with gt30r turbo in a Triumph Spitfire. He's actually doing it!
As per my name on here i am in the middle of attempting this one actually. Just secured the car. Built SR20DET with gt30r turbo is also secured. Next step? Actually build it. This one actually shouldn't be too bad to do since the lucas electric parts will ALL, yes I repeat, ALL be getting replaced. After all the shit it's gonna take to build this beauty I don't feel like watching it burn to the ground because I was lazy with the electrical system. It took me 5 years to find the exact car I wanted because I would only buy something that both wouldn't run and had minimal rust (I had to find one in the midwest and live in new england). Still. I cannot freaking wait to have a sweet little british hot rod with 500hp of reliable japanese turbocharged power.
Suggested by: SR20SpitfireHotRod