Chopping the top off a new car is much easier than it used to be thanks to a modern super rigid chassis and high-strength materials. Car makers should get back in the open-top game starting with these ten models.
---
10.) Chrysler 300
Imported from Detroit, with added sunshine. Doctor-G-and-the-wagen:
The Chrysler 300 is probably the closest we have right now to a traditional American luxury barge, and while there have been a few aftermarket jobs (which look okay!) Chrysler needs to figure out a way to make this work. Maybe it'll get Cadillac and Lincoln (PFFFFTAHAHAHAH... sorry, sorry) to follow suit and bring a revival of open top luxo-cruisers that have room for all your chums.
G/O Media may get a commission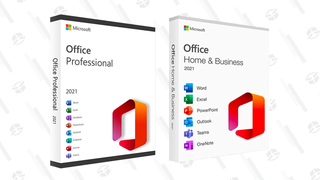 89% off
Microsoft Office Professional 2021 Lifetime License
Suggested By: Doctor-G-and-the-wagen, Photo Credit: Drop Top Customs
---
9.) BMW X6
Almost all X6 drivers are considered to be assholes by the general public, so to return the favor, why not show your face directly while cruising on the boulevard wearing enough gold to rewrap a McLaren F1's engine bay?
Suggested By: Stef Schrader, Photo Credit: Jason Torchinsky
---
8.) Toyota 4Runner
Great for hunting in style. It's been done before, so why not again?
Bring back the 80s, Yo! I lusted after the original for a few years and really wanted one as a summer vehicle, but at the end decided against it given that it's a 25+ year old SUV. Why can't we have a modern version of this?
Suggested By: e30s2k, Photo Credit: Jason Torchinsky
---
7.) Kia Soul
The Kia Soul is a family car, but even your kids would appreciate a bit of wasted practicality. Jonee:
It's like the second coming of the Isuzu Amigo and people loved those.
Suggested By: Jonee, Photo Credit: Jason Torchinsky
---
6.) Mercedes-Benz S-Class Coupe
The S-Class is luxurious. The S-Class Coupe is the ultimate version of that, so an S-Class Coupe Cabriolet would be some kind of ultra ultimate luxury. Like a giant bathtub filled with champagne and diamond dust.
Suggested By: MAXIMUMVMR, Photo Credit: Jason Torchinsky
---
5.) Dodge Challenger
It'd be the ultimate cruiser for long drives through the desert. Johnnyma45:
Seriously - Ford and Chevy do, so I feel like Dodge is missing out on an entire sub-market. 2015 would have been the perfect time to roll it out with the redesign. X-brace that bitch and chop the top!
Suggested By: My X-type too is a real Jaguar, Photo Credit: Jason Torchinsky
---
4.) Jeep Renegade
The 2015 Jeep Renegade has an optional targa top, but what if you want more freedom? More beach buggy experience? Less UV protection? Renegades can take it.
Suggested By: Tony_Cipriani, Photo Credit: Jason Torchinsky
---
3.) Ferrari F12
The Ferrari F12 Berlinetta is probably the fastest GT there is. But customers clearly want more noise and less roof.
Suggested By: For Sweden, Photo Credit: Jason Torchinsky
---
2.) Chevrolet Spark
When it comes to small cheap convertibles, Italians have done it a billion times, and it's a brilliant concept. Forget the Geo Metro Cabrio, the Spark would be in a different league. Cheap fun sells!
Suggested By: Neon - Smart STIG, Photo Credit: Jason Torchinsky
---
1.) SRT Viper
They need something to fight this, and we would be happy to take it for spin.
Suggested By: reverberocket is nipping the apex, Photo Credit: Jason Torchinsky
Welcome back to Answers of the Day - our daily Jalopnik feature where we take the best ten responses from the previous day's Question of the Day and shine it up to show off. It's by you and for you, the Jalopnik readers. Enjoy!
Top Photo Credit: Toyota