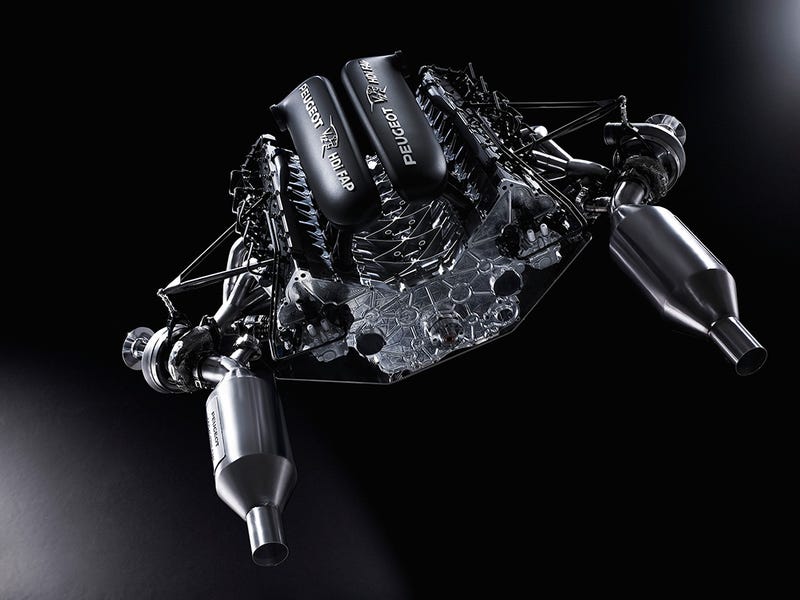 Who doesn't love a V12 engine? Some automakers, like Ferrari, based their entire product line around it for decades. Although tough to find the ten most awesome examples that sprang forth from your minds, but here they are.
This is Answers of the Day — a feature where we take the best ten responses from the previous day's Question of the Day and shine it up to show off. It's by you and for you, the Jalopnik readers. Enjoy!
Want to see this gallery in one slow-to-load page? Click here.
10.) Aston Martin Vantage V12
Suggested By: LuckyChuck
Why It's Awesome: "Right, let's take the biggest engine we've got and shoehorn it into the smallest car we make."
"Jolly good idea, chap. Tally ho!"
And so, a few men in a very nicely appointed British shed set about their new project. And they came up with a doozy. Six liters of pure, unfiltered awesome are wedged into the front end of the generally more well-mannered Vantage, producing one of the coolest cars to come out of Warwickshire.
9.) BMW E38 750iL
Suggested By: shinjukuDLJ
Why It's Awesome: Understated elegance, and a V12 engine that rocks. This is the only modern touring car on the list today, so that means it's got to be special. Featuring a 5.4 liter twelve banger under the hood with 322 horsepower and 361 pound-feet of torque, the 750 was a rapid car, with style. How bad could it have been, James Bond drove one (even though it was 1990's Bond).
Photo credit: BimmerForums.com
8.) TVR Cerbera Speed 12
Suggested By: CRXPilot
Why It's Awesome: If you're not extremely careful, this monster will turn you around so fast you'll think you're on the carousel from hell. 7.7 liters of British fury could be unleashed by your right foot, but caution is highly recommended. Apparently, when testing the car's power on a 1,000 horsepower-rated dyno, it broke the output shaft. Each bank of cylinders had to be tested individually, and their totals added. So next time you're lusting after one, remember: if it can tear apart a dyno, imagine what it would do to your face.
7.) Ferrari 456 Venice
Suggested By: j1mbo
Why It's Awesome: The 456 is a pretty unloved modern Ferrari. Often called too fat, too slow, and too soft, it's got a bad rap. One man's attempt to fix the maligned reputation of the big Ferrari was to make it into one of the coolest wagons ever. The Prince of Brunei contracted Pininfarina to produce seven of these 5.5 liter V12 powered cars, (with engines based on the Dino V6, instead of Ferrari's more commonly used 412 or Daytona designs) though he only purchased six. The location of the seventh is unknown.
Photo credit: omglog
6.) Jaguar XJS Touring Car
Suggested By: cobrajoe
Why It's Awesome: Take one large Jaguar coupe, and remove several hundred pounds of unnecesary weight. Lower racing suspension, add flared wheel arches. Instill feeling of sheer terror in all who see it in their rearview mirrors. With 5.3 liters of angry Jag V12 under the hood, the XJS was pretty successful at the hands of the Group 44 Racing team in the US and Tom Walkinshaw Racing in Europe and Australia.
Photo credit: Roadfly Forums
5.) Mercedes Benz CLK GTR
Suggested By: yoda2
Why It's Awesome: There are twenty-five of these beasts that are legal to drive on the road. They all have 6.9 liter engines in them that produce 612 horsepower. Go out and find them, and ask whoever owns them for a ride. Pretend you're at Le Mans, screaming down the straight at 200 miles per hour (but not breaking down, like both cars entered in the 1997 24 Hour race).
4.) Voisin C21
Suggested By: Dave7
Why It's Awesome: There is only one Voisin C20 in the world today. It was built in France in 1931 and was last shown at Pebble Beach in 2009, when it won the 'Best in Show' award. It's got a 4.9 liter engine, and makes 113 horsepower; not bad for a naturally aspirated car of its era. But just look at it- it's like a tank on wheels, with a leather interior- not to mention the most amazing hood ornament I've ever seen. It's definitely not the quickest or most powerful car on the list, but it is arguably the most beautiful.
Photo credit: Ultimate Car Page
3.) Ferrari 250 GT GT Drogo
Suggested By: Surly1
Why It's Awesome: The Breadvan shares its engine with every other 250 variant: 3 liters, Columbo design, Italian speed. The difference is how it looks doing it. Originally a 250 Short Wheelbase, it was taken by Italian coachbuilders Bizzarini, and with the help of Piero Drogo, had the car built in just two weeks. It's lower and has the engine mounted further back than the GTO, and is supposedly at least 7 km/h faster than the GTO on the long Le Hunaudières straight at Le Mans. Also, it looks like it could deliver baked goods at 160 miles per hour, and that's just great.
2.) Lamborghini Countach
Suggested By: Andy Carter
Why It's Awesome: Before it was be-winged and be-scooped, the Countach was one hell of a good-lookin' car. And surprisingly, even though it was decades younger, it originally shared the same four liter V12 powerplant with the Miura. Eventually, it would grow in size to 5.2 liters, and come with electronic fuel injection, but by then it had sprouted wings and bulbous protrusions, and would never be quite the same.
Photo credit: ssip.net
1.) McLaren F1
Suggested By: Filmomaker
Why It's Awesome: This is it. The Godfather. After some negotiations with Honda and Isuzu for a V12 lump, Gordon Murray eventually got together with BMW's M Division, and the rest is history. It was a 6.1 liter engine, producing 627 naturally-aspirated ponies, yadda yadda yadda... All that matters is that it was the fastest car in the world for a long while, was up with the Countach on every kid's wall, and still stands as a monument to amazing design and technological achievement.
Photo credit: VOD Cars