You've heard it a thousand times, but there really is no replacement for displacement. Yesterday, we asked for your suggestions for cars that make the most out of giant engines. Here are ten of the best.
These are cars whose personalities are tied to the engines that move them. In culling this list from your suggestions, we went for machinery that best exemplifies what a large engine can do. This is the stuff that does more with more.
This is Answers of the Day — a feature where we take the best ten responses from the previous day's Question of the Day and shine it up to show off. It's by you and for you, the Jalopnik readers. Enjoy!
Want to see this gallery in one slow-to-load page? Click here.
G/O Media may get a commission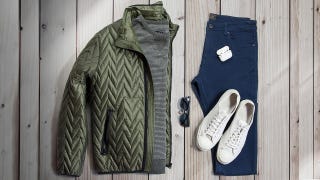 60% off
Jachs NY Fall Sale 60% Off
10. Top Fuel Dragster
Suggested By: Fordboy357
Why It's Awesome: Limited by NHRA rules to 500 cubic inches, Top Fuel racers work with what they've got, turning out cars that can get from zero-to-100 mph in 0.7 seconds. Drivers hit about 5.7 Gs on their way to speeds that routinely exceed 280 mph. They've got big ol' superchargers on top of those 500 ci beasts, which require 900hp just to spin up. These guys clearly are not messing around.
Photo credit: Autoline
9. 427 Shelby Cobra
Suggested By: Alfisted
Why It's Awesome: The original batshit insane car. Seven liters. Seven liters. Think about that for just a second. Seven liters in a tiny little British sports car. The blueprint for awesome that's followed to this day. The image every little kid thinks of when they hear "race car". I'm still stuck on the whole seven liters thing.
Photo credit: Take Flight
8. 1933 Napier Railton
Suggested By: englishwhitetrash
Why It's Awesome: Between 1933 and 1937, the Railton broke 47 land speed records at Brooklands, Montlhery and the Bonneville Salt Flats. It is powered by a 24.9-liter naturally-aspirated W-12, putting out somewhere around 600 hp. It gets 5 miles per gallon. It only has brakes on its rear wheels, and a custom three-speed transmission. In short, the Napier Railton is an exceptionally cool car, especially when you consider its age.
Photo credit: Bluecol
7. Radial-Engined Goggomobil
Suggested By: CABEZAGRANDE
Why It's Awesome: It's powered by a 10.22-liter Vedeneyev radial engine, originally designed to power Russian aircraft in the 1930s. It is a Goggomobil, a German-built microcar constructed sometime after the war. Out of the factory, the most powerful version was good for 20 hp. Now it puts out 460 — and looks awesome in the process.
6. Hennessey Venom GT
Suggested By: irishman72
Why It's Awesome: What happens when you take a Lotus Elise, stretch it, and add 4.4 liters to its engine? You get the Hennessey Venom GT- a Lotus on really crazy steroids. The mad scientists at Hennessey pulled the standard Toyota 1.8 liter motor and replaced it with a very special 6.2-liter Chevy LS V8. They did some other stuff too, but the important bit is that it's an Elise with a V8. And twin turbochargers. Whoa now.
5. Dusenberg SJ
Suggested By: nataku8_e30
Why It's Awesome: There are only 36 Duesey SJs in the world. They are said to be able to hit 100 mph in second gear and will generally top out around 140 mph. With an engine that was many times larger than most of the era, that's not surprising. The Dusey had 419.6 cubic inches under its hood, and more style than you can shake a stick at.
Photo credit: Wallpapers Free
4. The Beast
Suggested By: Zedith2010
Why It's Awesome: The Merlin is a 27-liter Rolls-Royce V-12 most famous for powering the Hawker Hurricane and Supermarine Spitfire, as well as the Avro Lancaster heavy bomber during World War II. In the 1960s, one of these massive hulks found its way into a homemade chassis, which was then sold to a man named John Dodd. Dodd put a body on it that looked something like a Ford Capri. Unfortunately, that body was destroyed in a fire, though the engine, drivetrain and chassis escaped. The car now wears a two-door shooting brake body and lives in Spain.
Photo credit: Retro Rides
3. Dodge Viper
Suggested By: icntdrv
Why It's Awesome: What's not to love about an 8.4-liter V-10 stuck in the front of something rolling out of the Dodge plant? Usually, crazy things like the Viper are the exclusive property of guys working in their garages on hot rods. In original trim, the first models produced 400 hp, though the last models produced just a few weeks ago spit out 600. That's 600 snarling, ill-tempered horses, controlled only by the muscles in your right foot. Because remember kids — when you screw up in a Viper (no stability or traction control!), you have only yourself to blame.
Photo credit: http://lasvegasexotics.net/dodge-viper-srt10-car-rental-in-las-vegas-nevada.cfmLas Vegas Exotics
2. Bugatti Type 41 Royale
Suggested By: AlexG55
Why It's Awesome: The Royales were 21 feet long, weighed about 7000 pounds, and were equipped with a 12.7-liter straight-8 engine. Ettore Bugatti produced six of these cars, three of which were sold to the public. He had planned to produce 23 more, but the Great Depression got in the way. The 23 remaining engines eventually found their way, in detuned form, into locomotives for the French National Railway. All six Royales have fascinating histories, many of which include being hidden in the Paris sewers or being built into solid walls to keep them out of the hands of the Nazis during World War II.
Photo credit: Shorey.net
1. Fiat Mephistopheles
Suggested By: Mister Scroggs
Why It's Awesome: The Mephistopheles began life as a chain-driven Grand Prix car in 1908. It had an 18-liter engine, which is impressive, but not as impressive as it would eventually be, later in life. After significant engine failure, the car was purchased by a man named Ernest Eldridge, who just happened to have a 21.7-liter Fiat engine originally made to power an airship lying around. He completely rebuilt the car with parts of a London bus chassis and draped new, beautiful bodywork over the top. It became embroiled with Delage in attempts to secure the land speed record at the time — when the Mephistopheles eventually came out on top with 146.013 mph over the flying kilometer, it was parked in Paris across the street from the Delage showrooms.
Photo credit: MyHQ.com