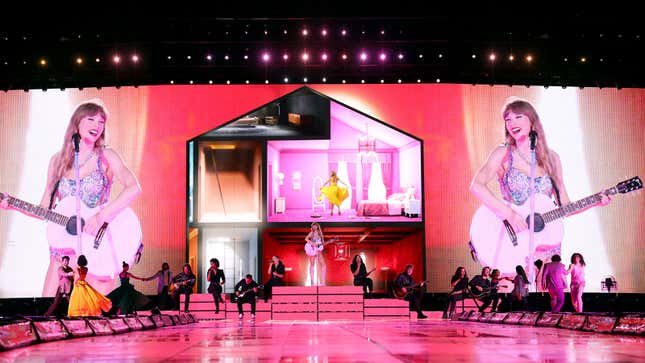 Taylor Swift's "Eras Tour" is quite the performance feat. Since tickets went on sale last year, it's been dominating headlines and breaking all kinds of records. Off the back of the tour, Swift has set attendance records at stadiums across the U.S., broken the record for the highest-grossing U.S. tour in history and she set a new benchmark for the most concert tickets sold in a single day.

But, I hear you ask, why does Jalopnik care about one of the hottest tickets in town? Well, as well as being an all-out musical spectacle, the show is also a feat of logistics that, according to a source familiar with the show, requires 50 semi trucks to set up. That's because of all the costumes, color-coded microphones, massive LED screens and illuminated staging that the "Hits Different" singer takes to each and every show with her.
The stage for the tour is huge, and it features an expansive LED screen as Swift's backdrop. There's also an enormous illuminated catwalk-style section that stretches almost the length of a football field. It's an impressive site to behold, as the stage can rise and fall to match Swift's needs, and also projects all manner of images to showcase each era in the singer's career – including a barrage of snakes when she kicks off her Reputation era.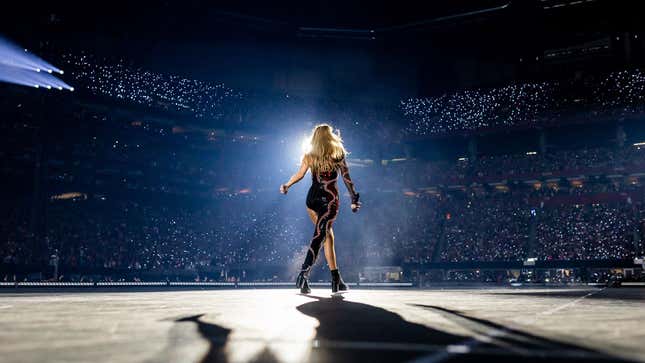 On top of all that, there's the innumerable speakers, lights and everything else you need to put on a psychedelic show that all needs taking with the "Getaway Car" singer across the U.S.
Shipping all that kit from place to place takes an effort almost as large as Swift's back catalog. According to a report from the New York Post, the effort begins more than a week before the show, when a barrage of trucks takes to the stadium.
The site spoke with Dave Brooks, Billboard senior director of live music and touring, about the show to find out what it takes to put the spectacle on. The Post reports:
For a stadium tour of this magnitude, Brooks said, "They have advance teams that can be prepping and pre-building."

Closer to the date, a team of an estimated 90 trucks pulls into the venue to construct the sprawling scene for Swift to sing career-spanning hits ranging from her 2006 self-titled debut album to her latest LP, 2022's "Midnights."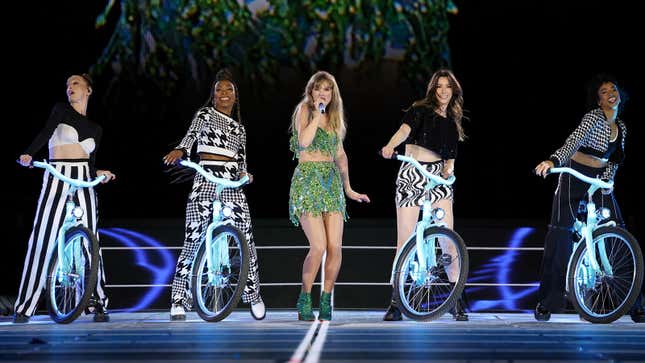 While Brooks' estimate is close to the 80 semi trailers that Swift needed for every stop on her last stadium show, it's a little off the mark for her 2023 tour. Instead, a person who is deeply familiar with the tour told Jalopnik that The Eras Tour requires 50 trucks to traverse America.
In those trucks, Swift crams the stage and all manner of props, including a mossy house that forms the set for the Folklore section of the show, and a fleet of illuminated bikes for 1989. There are also numerous costume changes and more guitars than you can shake a stick at.
Once all that is unloaded, Swift puts on two or three nights in each city she stops at. After that, it's all packed up and moves onto the next stop on the tour.
Correction (11 A.M. ET June 20th 2023): This story initially stated that The Eras Tour required a fleet of 90 semi trucks to transport Taylor Swift's latest show across America. However, a person familiar with the show confirmed the figure is closer to 50.